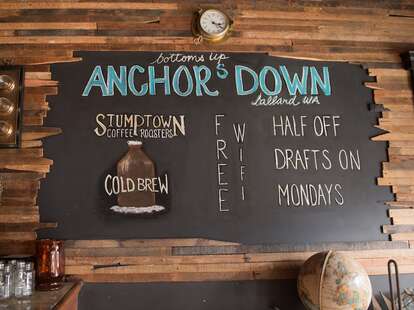 You drink coffee in the morning, and cocktails in the evening... but when do you drink coffee cocktails? Duh! You drink 'em anytime... or at least any time Anchors Down is open, 'cause this boozer from the lady behind Po Dogs, Auto Battery, Grim's, etc., is the first place in the city serving 'tails made with Stumptown Coffee that's cold-pressed AND poured, Guinness-like, from a nitro tap.
In addition to the nitro-poured cold brew, AD is also using House Spirits Coffee Liquor outta Portland, which is made with... waitforit!... Stumptown beans, in their small selection of new coffee cocktails, including...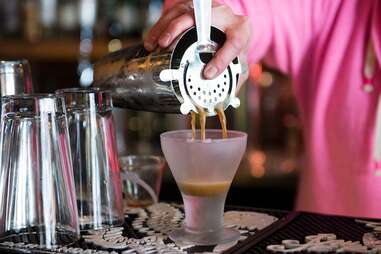 ... the Headspin, which adds some Sailor Jerry rum and Frangelico to the aforementioned nitro Stumptown cold brew and house spirits... that, unlike House M.D. spirits, don't haunt you after you get them killed in a bus accident.
Next they take a... sorryboutthis... latte care adding a stumpt-uous milk foam float to the concoction.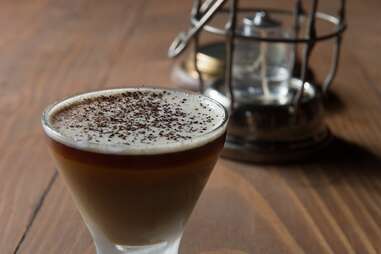 Finally, they add an array of spices (so Scary, Baby, and gangsta rapper One, presumably) and some coffee dust on top.
Slushies are some of Anchor Downs most popular drinks, so it only made sense to do a coffee version. This one's simple: just milk, cold brew (on nitro, of course), House Spirit Coffee Liquor, and ice.
Stumptown Coffee uses oranges in their roast, so any guess as to what AD garnishes this coffee slushie with?... Yup, apples! Just kidding, it's oranges.
And there you have it: Seattle's first-ever coffee cocktails made with nitrous… and you didn't even have to go the dentist, just Ballard.