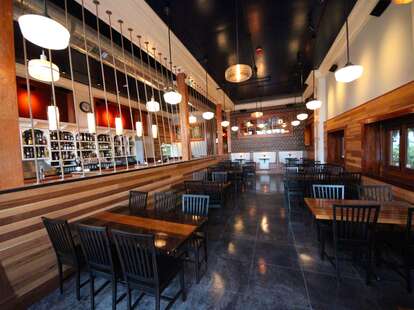 History is rife with examples of annexation, like the time in 1955 when the British took the tiny North Atlantic islet of Rockall over the continued objections of Denmark and Ireland, or that time in 1995 when your high school set up a math annex behind the tennis courts over the continued objections of the people who smoked cigs and made out there. So it should be no surprise how smoothly the crew behind Kickin' Boot Whiskey Kitchen and The Matador have taken over the old Thaiku and turned it into the Ballard Annex Oyster House
This is the oyster bar where they're serving scratch-made chowders, plus a shton of oysters either on the half shell or as shooters. Behind it is the booze version.
They'll also be serving guys like this... but not exactly like this, 'cause they'll be cooked and either served whole, or turned into crab cakes. Either way, say your goodbyes now.
The space is filled with custom woodwork, including this wall dividing the main dining room, which is curved to resemble the lines of a ship, and secured with nautical rope.
Looking through some windows can get you hit by Lorraine's dad's car and eventually invited to the Enchantment Under the Sea dance, unless your son Marty comes back in time and screws the whole thing up. But looking though this window gets you a look at their sizable back bar
Swillables are mostly classic 'tails like the gin/ Chartreuse/ Maraschino/ lime Last Word, made popular by Murray Stenson at Zig Zag
But they'll also be making a ton of Bloody Marys/Caesars garnished with things like bacon & shellfish, which, if you buy them for the portion of the Annex customers described by this sign, should make you almost as popular as those kids behind the tennis courts.