Opened by the lady behind The Whale Wins and next-door's The Walrus and the Carpenter, this petite (less than 800sqft), copper-bar'd boozer is pouring simple, unfussy cocktails, and, predictably for a place helm'd by Renee Erickson, is focused on serving sweet seafood-based eats, and is named after a mutant supervillain from Marvel Comics' The Acolytes who somehow almost killed one of the X-Men with his power to create an impenetrable shell sea creature.
Barnacle's dominated by the above-mentioned 13ft copper bar, which boasts seats for 13 (the whole place only fits about twice that), and a highly curated collection of wines, digestifs, aperitifs, liqueurs, etc.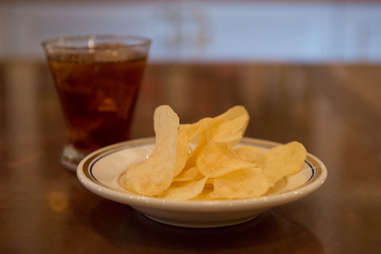 They're turning those distillates into a small range of simple -- and ultimately old-fashioned -- sip-ables like... waitforit!... an Old-Fashioned, which they'll also generously pair with gratis Lays potato chips.
Aside from the chips, there're about eight small plates that, because they don't have a full kitchen, are what The Rock did to Steve Austin at WrestleMania XIX: served stone-cold. Case in point, this Fermin pork leg is sliced right on the bar.
The mussels come on bite-sized bits of Filore bread, atop a vivid green cilantro escabeche sauce.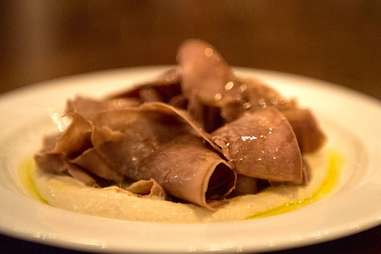 This pork tongue tonnato is so good you'll want to... waitforit!... slip it some tongue.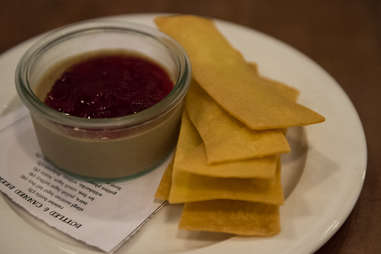 Additional deliciousness includes this liver mousse w/ plum compote & crackers, and good from the boss' original spot, the (surprise!) also-nautically-named Boat Street Cafe.