Your favorite brewery's opened your new favorite tasting room
In addition to making sweeter-than-usual suds, the crew at Georgetown's Odin Brewing are finally providing you with a place to enjoy them in... um, Fremont? Yup. The Asgard Tavern is a satellite facility where, as Dave Matthews predicted back in '95, imbibing one too many of their Norse-inspired brews means you'll end up Under the Table and Dreaming.
The AT's located just across the street from Gas Works and the Burke Gilman Trail, which you should totally use to work off the beer you just put in your gut.
Inside, they're recycling things like this beer/wine barrel, which they've turned into a table for two... so, a double barrel?
They've helpfully spelled out their name on the side of the bar so you don't confuse OBC with a phonetic (and incorrect) answer to the question, "When's the last time people actually believed in Odin?"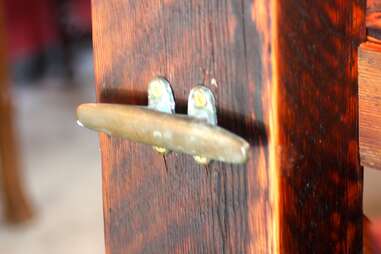 The reclaimed wood bar is decked with nautical touches, presumably there to remind you of Vikings. Vikings that had the seriously advanced metal-working techniques needed to produce this horn cleat, but still... Vikings!
That they've named all the stuff they're serving behind the bar after Norse gods would seem weird, if everyone didn't already know that Freya rides a chariot pulled by two cats, wearing a cloak made of falcons.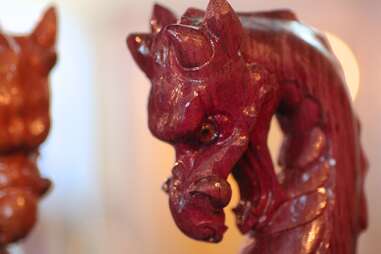 These tap handles were hand-carved in Vancouver and each cost $1000, which, with the exchange rate of 1.02041, is... uh, something more in Canada, presumably.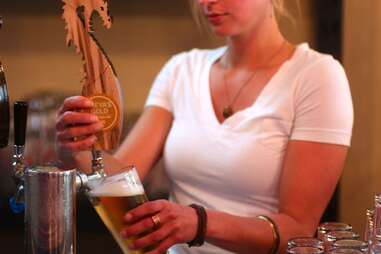 Even better, brews like Freya's Kolsch-style Gold are poured by a comely Nordic-looking bartender wearing nothing but falcon feathers. Though, if you think she'll go out with you, you're dreaming.
Maybe if you buy her some swag? Nope, still no shot -- so you might as well proceed with winding up under the table.