Sigh. You know how when you meet someone at a bar, and instead of getting to know you, all they really want to do is play games... like corn hole, or shuffleboard, or mini-golf? Wait, you don't? Then clearly you aren't spending enough time at the Seattle bars on our list of places with the best bar games.
Pioneer Square
This stunning subterranean spot would be a can't-miss drinking destination if it were just a sprawling brick-heavy basement bar rife with industrial touches, whimsical wall art, and a few tabletop games. But it also boasts an impressive mini-golf course that actually spells out "Seattle" in big block letters across the concrete floor and ends at a towering replica of the Space Needle -- the tip of which just brushes the high ceiling. Behind the two bars FP's pouring 34 exceptional Washington beers (a digital menu on the website tells you how much is left in each keg), including Reuben's Crikey IPA, Maritime's Old Seattle Lager, and a beer from Schilling called Too Much Sauce, the latter of which is also the only possible explanation for Curt's behavior after leaving the Red Sox.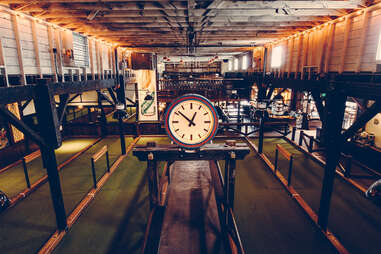 Capitol Hill
One of Seattle's most popular bars -- so much so that the crew behind it (and Bastille, Poquitos, and other local spots) have opened one in Denver, and are planning one in Tacoma -- this vast German-inspired beer hall has two massive bars, its own sausage making operation, and two mezzanine areas where you can look down over the main room, which is entirely dedicated to bocce -- a confusing game brought over from Italy via Brooklyn hipsters that you can pretend to know how to play for a few minutes, before eating some of the aforementioned house-made sausage, a giant pretzel, or a Flammkuchen (crispy German flatbread pizza on house-made sourdough).
Capitol Hill
Judging by Hillside's charmingly kitsch Facebook page, it might just be the most enthusiastic trivia destination in the city. That -- plus pool tables -- might be enough games for most places, but not the Hillside, oh no sir. Upstairs (which, by the time you've climbed back up from the recessed room with said pool tables is pretty much at street level) there is a sizable collection of pinball and arcade-style games like Big Buck Hunter where you can spend whatever bucks you haven't thrown toward something from the spot's sizable list of whiskeys.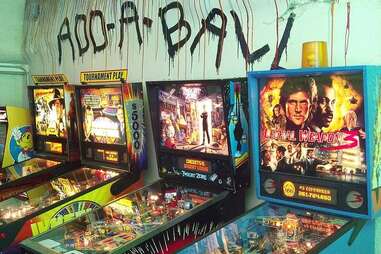 Fremont
Add-a-Ball's a booze-equipped basement arcade inside an old scooter repair shop stocked with a mess of vintage pinball machines and 8-bit-era video games like Ms. Pac-Man and R-Type. Plus it's got a mechanical 900lb soccer game with players that only move in a straight line, a range of slightly ironic beers (Oly, Rainier tallboys), and the only popcorn vending machine with a coin-operated microwave in the world. Also, the whole place is run with a refreshingly casual nothing-costs-more-than-25-cents (and) sensibility.
Belltown
Constructed almost entirely from polished wood (from the row of high-backed banquettes, to the oversized L-shaped bar), this cavernous dive from the people behind one of Seattle's most secret bars, Bathtub Gin, is known for its boisterous atmosphere as well as its retro-style pinball machine and the Skee-Ball tables (they even host a tournament every Tuesday) that are posted up in back.
Eastlake
Aside from the gorgeous views of Lake Union from the underutilized balcony in back, the Zoo's an old-school dive. It's a little dingy, there are peanut shells strewn everywhere (peanuts are the only food they offer), and it's cash-only. It's also got pretty much every old-school bar game you can think of, from pool (including one of the city's only snooker tables), to ping-pong, darts, and shuffleboard, as well as an Indiana Jones pinball machine, and a stand-up arcade game that was presumably named after what Indy always said was the thing he hated to do before taking off on one of his adventures, Pac(k)-Man.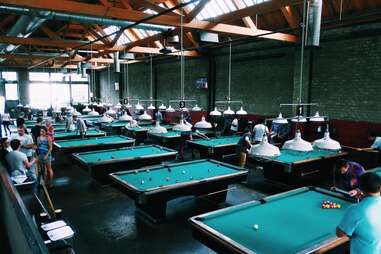 Capitol Hill
With 20 lanes of play, 25 pool tables, and six bars, the Garage is a massive entertainment center that gets bonus points for its seven-day-a-week happy-hour specials that don't just only apply to drinks (you can get game time for more than half-off from 10pm to 2am daily). There's also an onsite restaurant that slings "street" tacos filled with braised beef, lamb, or pulled pork, a selection of rustic 10" pizzas, and a multitude of other creative takes on classic bar eats like bacon mac & cheese, pork rinds tossed in Japanese Togarashi powder, and truffle potato chips.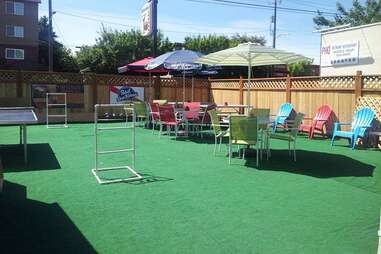 Ballard
Known for karaoke (and bingo, and trivia) and some surprisingly good fried chicken, this tiny dive is set back from 15th, giving it room for a huge front "yard" (it's astroturf) that's screened off from the street by tarps. Waterwheel also hosts all kinds of lawn games including ping-pong, ladderball, and cornhole -- none of which you'll actually be able to play after too many of the $2 domestic drafts they pour during happy hour.
Sign up here for our daily Seattle email and be the first to get all the food/drink/fun in town.
Shhh, don't tell anyone but years before Bradley Foster started working for Thrillist, like in the '90s, he used a fake ID to sneak into the Zoo on Eastlake and ate wayyyy too many peanuts.