The Best New Breweries in Seattle
Ryan Warner/Courtesy of Figurehead Brewing Co.
With so many new breweries planting roots in Seattle, it's a gargantuan task to actually keep track of 'em all. Within the city limits, there are 59 beer makers (or 60 if you include Elysian's production-only facility) but hey, who's counting? Certainly not you after a couple pints at one The Town's best new breweries.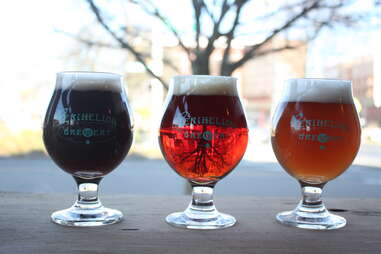 Courtesy of Perihelion Brewery
Beacon Hill
Named for the point in an object's orbit that's closest to the sun, and posted up behind a salon across from Beacon Hill's light-rail station, this 'hood's first brewery has a dozen taps that are dominated by PB's specialty: Belgian-style ales. Try the crisp Little Belgian Blonde, and a Quasar Belgian Tripel, which is also the size of the order you'll place for the pan-fried oysters with spicy Cajun butter -- just one of the seriously delicious food offerings coming from the kitchen.
Courtesy of Ravenna Brewing Company
Ravenna
In an old garage space just north of U Village -- and a block east of Ravenna Park -- RBC has created a homey, reclaimed-wood-heavy destination for creative brews like The-Presidents-of-the-United-States-of-America-repping Millions of Peaches Hefeweizen, a bourbon vanilla porter, and a jalapeño kolsch. You can pair all the brews with eats from one of the rotating food carts (505 Chile Cart, Das Brat Wagen, etc) posted up outside.
University District
Opened over the summer next to one of the 21 best dive bars in America (in the former Fusion nightclub space) this brightly lit/painted brewery creates a slew of easy-to-drink drafts, ranging from a handful of IPAs, to a pale made with coconut and tropical fruits and an only-in-Seattle rhubarb saison. There's no food, but FB has a handy list of nearby delivery and takeout spots if you're hungry.
Ryan Warner/Courtesy of Figurehead Brewing Company
Interbay
Located across the street from Fishermen's Terminal, Figurehead is a suitably utilitarian space that was launched in September by a couple of former neighbors/homebrewers (and another guy one of 'em met in business school). The guys didn't like their beers "over"-hopped, and it shows in their product. They turned out an IPA called Legless Rabbit that lacks the bitterness of some similar NW beers, but is still decidedly an IPA, as well as a range of other beers like an English-style brown that's been "kicked up a notch" (Bigger Than Big Brown), and a Trappist-style dubbel.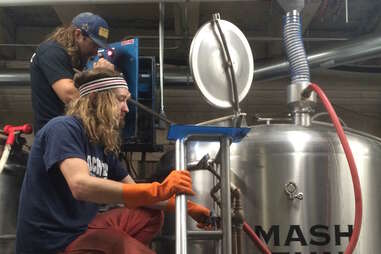 Team Cloudburst
Belltown
This zero-frills operation in a former bike shop is helmed by a former Elysian brewer who cares way more about beer than anything else (like comfortable chairs), but it's totally cool, since the result is a collection of impressively inventive small-batch beers often inspired by seasonal ingredients sourced from Pike Place Market down the street. Current highlights include a spiced-out Smoked Pumpkin Porter, the Pom Pom IPA made with five different hops, and a "Market Fresh" number with raspberry and jasmine.
Downtown
Posted up in Pike Place Market (it's on First between Pike and Pine right now, but will move once the new Marketfront expansion opens next year), this place literally has an old stove from 1905 in the window, as well as vintage-inspired touches like an old-timey neon sign and old-school wall mural. That said, the beers are straight from 2016, as evidenced by the Fallout Citra Ale made exclusively with the popular Citra hops, and a fresh hop beer that's been dry-hopped.
Alki
Started last year, WSB has already opened a second location in the old Slices pizza spot. This shingled beachside space only has a half-dozen or so seats inside, but boasts a sprawling patio overlooking the Sound outside, featuring a deck and even its own "beach" with a row of red lounge chairs. Oh, and the best part? It still serves pizza, only this time you can pair it with the solid lineup of craft suds, like the Avalon Way Amber or Sounder Stout.
Courtesy of Four Generals Brewing
Renton
OK, technically this one isn't in the city limits, but Renton's basically been without a brewery for 15 years, so it's big news. Located in the old city hall building, 4G's taproom is quintessentially Northwest (it's got original brick, cedar log tables, and even an old jail door to what is now the grain storage area). The beers, which include a West Coast IPA, a Cascadian Dark Ale, a coffee-infused bitter, and a pumpkin ale that resembles "pie in a glass," are also some NW-style brews that won't disappoint any local's palate.
Sign up here for our daily Seattle email and be the first to get all the food/drink/fun in town.
Bradley Foster is a former Thrillist editor who's exploring Seattle one brewery at a time.