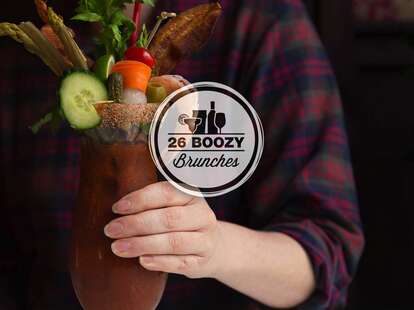 There's nothing better than a lazy, booze-filled brunch... except getting a sweet deal on said brunch. But, given all the AM-eating options in this town, and the bad decisions you were probably making the night before, how can you possibly make a good decision about where to drink/eat this weekend? You can check out our hood-by-hood guide to Seattle's 26 best Boozy Brunch deals, that's how.
Lost Lake
1505 10th Avenue
The deal: $5 breakfast burritos, $3.50 wells, $2 domestic drafts, and $3 local drafts Monday to Friday from 6-9am.
The Pine Box
1600 Melrose Avenue
The deal: One of Seattle's best beer bars does brunch from 11am to 3pm on the weekends: start out with a classic Bloody Mary for $8 and add skewers of bacon, cured meats, and more for just a couple extra bucks.
Smith
332 15th Avenue E
The deal: Pitchers of mimosas with the freshest grapefruit/orange juice around for $25.
Manhattan
1419 12th Avenue
The deal: Swing by before 11am on the weekend for half-off brunch entrees and out-of-control Bloody Marys.
Linda's
707 E Pine Street
The deal: Snag a Montana Breakfast (a Hamm's w/ a splash of orange juice) for just $2.50. Also noteworthy is the Dewdriver (vodka and Mountain Dew) for just $4.50, and the beef jerky-loaded Bloody Mary.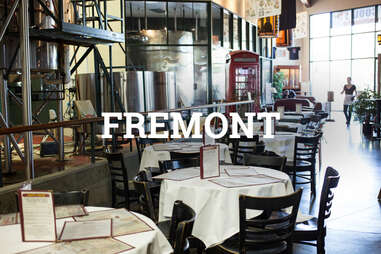 Hale's Ales
4301 Leary Way NW
The deal: $4 mimosas and Bloody Marys and a Burke-Gilman Special that comes complete with two buttermilk pancakes served with real maple syrup, bacon, fresh fruit, and two eggs any style for $9.50.
9 Million Dollars in Unmarked Bills
3507 Fremont Place N
The deal: 9 Million hosts Industry Brunch every Sunday, which means you get a handsome reward (aka steep discounts) for dealing with drunk people all Saturday night.
Roxy's
462 N. 36th Street
The Deal: $2 mimosas, $4 double mimosas, and $4 mini Marys.
Norm's Eatery & Alehouse
460 N. 36th Street
The deal: $4 Bloody Marys and mimosas all weekend from 10am to 2pm, and plenty of space for your dog, since pets are pretty much the... sorry'boutthis!... norm at this place.
The 5 Point
415 Cedar Street
The Deal: All-day breakfast is great (and rare in Seattle), but even better? From 6-9am on weekdays, you get a Bloody Mary, mimosa, or coffee w/ Bailey's for a Lincoln, and a basic breakfast (two extra large eggs any style, toast, and bacon) for $3.75.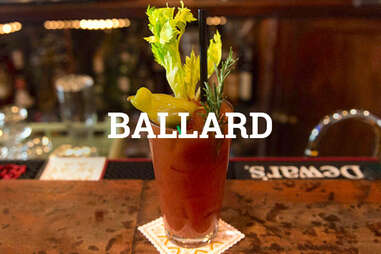 Hattie's Hat
5231 Ballard Avenue NW
The deal: Take your pick from any of Hattie's seven ultra-boozy Bloody Marys and get in on their Early Bird Special (one egg, one slice of bacon or one sausage patty, hash browns, and one piece of toast) for $5.50.
King's Hardware
5225 Ballard Avenue NW
The deal: Score one of their Bloody Mary options for just $4... and stuff your face with a Plain Jane cheeseburger for a well-rounded brunch on the cheap.
The Hi Spot
1410 34th Avenue
The deal: Pint-size doubles made with Skyy Vodka or Sauza Gold Tequila make your $6.75 morning cocktail considerably better than your usual Bloody Maria or screwdriver.
Toulouse Petit
601 Queen Anne Avenue N
The deal: Monday through Friday from 8-11am, all items on Toulouse Petit's menu are $8. Nab a fancy-pants Creole Bloody Mary or any one of Toulouse Petite's huge selection of cocktails for $7.50.
Paragon
2125 Queen Anne Avenue N
The deal: Bottomless mimosas on Saturdays and Sundays from 10am-3pm with the purchase of any food item.
Peso's
605 Queen Anne Avenue N
The deal: Swing by between 10am and noon Tuesday through Friday to enjoy most of Peso's breakfast entrees for just $7.50, and start your day off right with a carafe of Spanish pomegranate sangria or Peso's Apple Pear Canela Sangria for $18.
Easy Street Records
4559 California Avenue SW
The deal: Crack into a Redbeer (V8 and a Rainier) for $3.50 and enjoy fantastic rockstar-themed breakfasts like the Beck Omelet, Lil Kim, and Billy Breakfast Burrito for less than the cost of a CD.
El Chupacabra
2620 Alki Avenue Southwest
The deal: $15 pitchers of mimosas and $4 screwdrivers and greyhounds.
Skylark
3803 Delridge Way SW
The deal: Three-for-$9 breakfast tacos (take your pick of five varieties), cartoons, and mimosas or bellinis by the carafe.
Ma'ono
4437 California Avenue SW
Infinity mimosas at Ma'ono for just $12 would make this place worth it even if they didn't serve the city's best fried chicken.
Blue Star Cafe & Pub
4512 Stone Way N
The deal: Not only does Blue Star have an awesome breakfast special for every day of the week, it also has $5 Bloody Marys that the regulars swear by.
Ivar's Salmon House
401 NE Northlake Way
The deal: Along with a build-your-own Bloody Mary and oyster shooter bar, you can snap up a mimosa for $3 or make it grand (this entails an extra splash of Grand Marnier) for a buck extra.

Georgetown Liquor Company
5501 B Airport Way S
The deal: Build-your-own behemoth Bloody Mary for just $8 and tack on some skits and gravy for a cool $7.73.
Square Knot Diner
6015 Airport Way S
The deal: Screw drinking mimosas by the glass, this beloved 24-hour diner's got 'em by the pint any hour of the day.
Cafe Racer
5828 Roosevelt Way NE
The deal: Re-up with a hearty breakfast burrito for $5.50 and throw a beer with a splash of orange juice in there for good measure.
Atlantic Crossing
6508 Roosevelt Avenue
The deal: On Saturdays and Sundays, all full breakfast entrees come with your choice of Bloody Mary or mimosa between 9am and 1pm.