It seems like every bar -- with the exception of Seattle's most ardent dives -- has a fairly sophisticated cocktail program. This makes picking the best of them (instead of the ones that want to charge you $15 for a gin & tonic) an extremely difficult decision. But not an impossible one… unless you've had one too many gin & tonics, which we didn't. We swear. 
Some of these bars focus on one particular spirit, while others focus on scratch-made ingredients. Some look to the past for inspiration, while others inspire with their creativity -- all of them make something as common as "having a drink", something very special indeed. Even if it is just a G&T.
Recommended Video
Thrillist's Best (and the Rest): What's the Perfect Fast Food Meal?
Belltown
The drinks at this elegant addition to Seattle's cocktail row lean French, but ultimately this is a bartender's bar (it's helmed by a Zig Zag vet), and thus the menu includes agave spirits, rums, and Japanese whisky, along with the brandies, cognacs, and gins. Food, like the décor, is effortlessly simple but sophisticated -- tinned seafood, charcuterie, and snacks -- with a playful note, like the "Horns of Plenty:" caviar served with crème fraîche and Bugles.
Capitol Hill
When it opened a decade ago on what was then an out-of-the-way block on Olive, KHSC was at the cutting edge of a speakeasy resurgence. But in 2017, in an effort to keep up with the times, it expanded its Filipino-inspired menu, and expanded the bar itself by adding a slightly misshapen subterranean space with rich wallpaper and a crystal chandelier. This effort more than doubled the space and made it so you don't have to text ahead to get a seat anymore. The following year they even added a walk-up window operation off the kitchen called Jeepney. But one thing hasn't changed: there's still almost no way to tell if there's a bar there if you don't know where to look.
Belltown
Posted up in an alley behind popular Tapas joint Pintxo, this bourbon bar from the crew behind the late, lamented (and former member of this list) The Upstairs sets itself apart with Southern classics like the Mint Julep (Makers Mark Bourbon, mint, sugar, over shaved ice) and the rye-based Bluegrass Lemonade with lemon, St. Germain, lavender, as well as a range of cocktails on tap.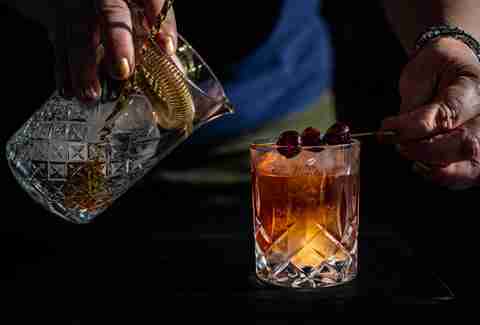 Downtown
Located inside The State Hotel, and named after a notable Seattle sportsman and entrepreneur who once owned a bar in the same building, BP elicits a kind of old-timey Americana with its decor, its food menu (fried chicken, Crab Louis, etc.), and its cocktail list -- which puts creative twists on classics like the 3 Martini Lunch (three different mini martinis), or the Gin Griffey Juniper, which is basically just a gin & tonic made with botanicals bought fresh from Pike Place market across the street.
Fremont
This whimsical drinks destination in an old house on 36th is run by a Reno native who spent years working in some of Seattle's best bars, and is designed to attract industry folks with its stylish and colorful (yet cozy) interior, sprawling patio, and a focus on killer cocktails with great names like the grappa-based A Lovely Day For Bloodsport, and the Desert Poetry made with tequila, passionfruit, and pineapple.
Belltown
This dark, intimate destination is a fixture on 2nd street, and a go-to for serious drinkers thanks to creative concoctions like the rum blend/ Campari/ pineapple Jungle Bird, or the rum-based Gunpowder Punch, which also features gin, citrus, turbinado sugar, "old world spices", and actual gunpowder. Seriously.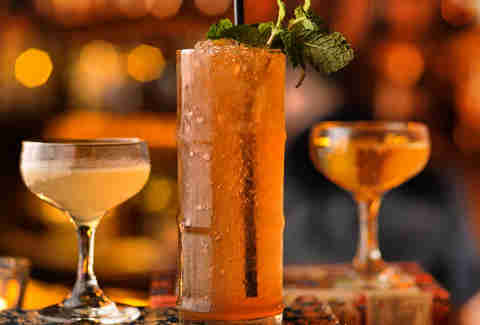 Capitol Hill
Inspired by '50s-era Cuban drinking rooms, Rumba's rife with nautical touches like vintage sea-charts and a giant swordfish, and a bar loaded with rum. With over 200 bottles, they have the largest selection of the spirit on the West Coast. Said rums are used to make a large selection of daiquiris (the "king of rum cocktails"), a slew of punches, tiki-style drinks, and other tropical beverages, as well as more spirit-forward cocktails like the Tick Tock with two types of rum, Punt E Mes, Laphroaig, clove-mint & bitters.
Capitol Hill
One of the best cocktail/whiskey bars in America, this Cap Hill joint offers 1) the largest selection of American whiskey in the world, 2) a 94-page spirits menu, and 3) space-age devices like centrifuges to make cocktails with, but all of that is overshadowed by its apothecary-style space where every piece of wood (and there's LOTS of it) is stained with Angostura bitters.
Capitol Hill
This coffee shop/ sushi restaurant/ speakeasy is run by a guy who's been President of the Washington State Bartender's Guild and Vice President of the Washington Distillers' Guild, so it's got a lot to live up to cocktail-wise. And it does, namely by making everything it can from scratch (they hand squeeze juice when your order), or with dozens of housemade ingredients ranging from bitters, to tinctures, syrups, and infusions.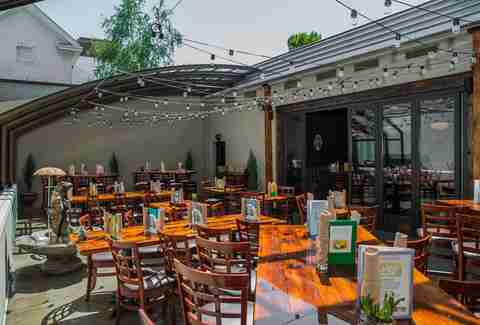 Capitol Hill
We once named this Broadway tavern Seattle's best cocktail bar thanks to its smart and mature drink menu centered around Italian amari: aperitifs, digestifs, and fernets, etc., and a spectacular space in which to enjoy them. Read: a dark tin ceiling, a beautiful chandelier, and an oversized patio with a retractable roof that might be one of Seattle's best outdoor drinking spots.
Belltown
This joint can still be a little hard to find thanks to its mostly unmarked entrance in an alley between 1st and 2nd streets, but the secret's been out on this speakeasy-style bar in a Belltown alley for more than a decade. It makes some of the best cocktails in the city (the bourbon/ fig & maple syrup/ lemon juice Death Star, etc.), all in a tiny, two level space with a tin ceiling, and (surprise)… an actual bathtub in the middle of the floor.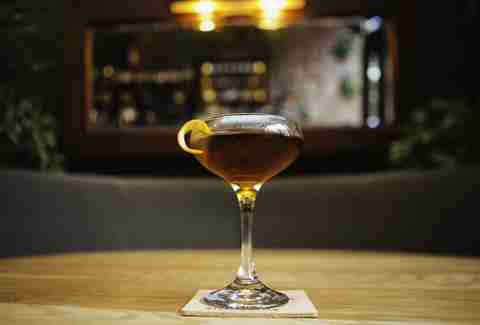 Ballard
A stunning apothecary-style spot from crew whose past credits include places like King's Hardware, Rudy's, and The Ace Hotel, Percy's is serving up a sophisticated selection of eats (confit chicken leg with slow-roasted carrots, wilted pea vines & sweet corn purée), and drinks that, as the parsley-sage-rosemary-&-thyme infused gin-based Garfunkel demonstrates, are practically works of... Art.
Sign up here for our daily Seattle email and be the first to get all the food/drink/fun in town.