In Seattle, there are few things that can put a little extra pep in your step. One is sunshine. The other is a good cup of coffee. And Seattle is pretty famous for those. And, no, we're not talking about any mega-chains that can be found elsewhere. In a city known for our classic shops and semi-underground coffee cart scene, it's all about finding the best spots in town for a perfectly crafted cuppa.
This list has you covered, from serious coffee cocktail nerdery to Filipino flavors. And because reading this will automatically make you a coffee connoisseur, pop on over to our rundown of the best roasters in the U.S. and learn even more.
White Center
Small, sweet, and scrupulous
The sophomore effort from the owners of beloved Burien Press comes in the form of this simple shop dedicated to espresso drinks. Barely bigger than a hallway, it pairs the warmth and coziness of its size with big windows and plenty of plants for alluring Instagram aesthetics. Brewing Olympia Coffee Roasters beans, Moonshot's staff are among the best in town, making small talk as they expertly pull the shots. Along with the espresso standards, the menu offers seasonal mixed drink options, like the mapleine mocha and horchata cold brew latte, and pastries from Olympia's Left Bank Pastry.
International District
Filipino-sourced coffee, infused with Filipino flavors
After catapulting to local fame with the brilliant purple miniature ube cheesecakes served from her Ballard bakery, Chera Amlag expanded on her talent for weaving the Filipino flavors she grew up with into new culinary places. Along with her signature desserts and new savory treats like bitter melon quiche, the cafe serves coffee from Kalsada, which sources from the Philippines, and Fulcrum, which sources from around Asia. House-made syrups inform the specialty drinks, including the calamansi espresso tonic and pandan latte. In the evenings, the same flavors show up in cocktails.
Capitol Hill
Coffee mixed drinks and espresso nerdery reach new heights on the Hill
It can be easy to write off coffee mixed drinks as a fad tangential to the focus on beans and expert craftsmanship, but Ghost Note proves why that's a terrible idea. All drinks here start with single-origin beans, with even the brewed coffee made on a modified espresso machine. The menu features bean options and tasting notes that would help both a newbie and a nerd find their favorite flavors. But the specialties of the house are on the following page, which features seasonal offerings like a flight of vegan drinking chocolate with espresso and signature drinks like the Sun Ship: espresso mixed with smoked grapefruit rosemary syrup, coconut water, lime, and sparkling water, served in a martini glass with torched rosemary.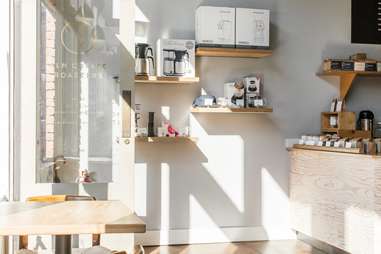 Pioneer Square
Seattle's signature blonde bombshell
Blonde wood and big windows frame this trendy, open space in beautiful natural light. But even the just-twee-enough modern decor can't outshine the impeccably sourced beans roasted in-house here. Espresso is their strong suit, and the carefully pulled shots go perfectly with pastries from neighboring London Plane.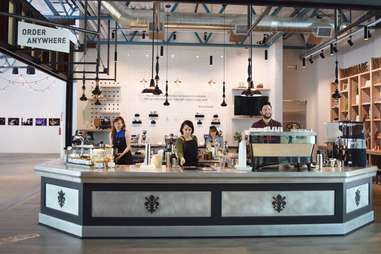 Seattle Center
A distillation of Seattle in coffee and music
More immersive coffee museum and shrine than simple cafe, this shop serves as the showroom for the Italian espresso machine company of the same name. The space displays coffee history while creating the coffee future through its rotating roaster program. Each month, a new roaster from around the world takes up residence, serving as a cafe-within-a-cafe. The experience brings in beans, techniques, and coffee knowledge from around the world. And the soundtrack isn't bad either -- it's located inside the studios of Seattle's world-renowned KEXP radio station.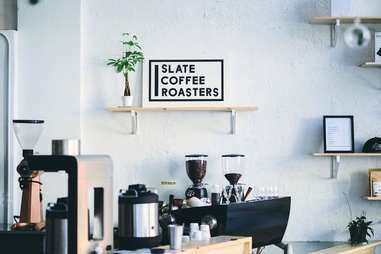 Ballard (& other locations)
Bring your patience to Slate and you'll be rewarded with the perfect coffee for you. Knowledgeable baristas will ask you questions about your preferences until they can line you up with just the right cup -- or perhaps a tasting flight, if you're all about variety.
Downtown
A historic location pouring out modern coffee
Send your tourists to the original Starbucks to snap a few photos, but if they want to see the forefront of today's coffee scene, send them here, just up the street. For those looking only for a quick pick-me-up, there's the usual coffee bar, but for those wanting to learn more, watch a variety of brewing methods, or have an in-depth discussion about beans, there's the other side -- the Slow Bar. Don't miss it.
Central District (& other locations)
Sips that tell a story
Opened in 2007, it clocks in as one of the oldest of the hardcore coffee-nerd shops (also one of the least snobby), and that age shows in experience. Down-to-earth baristas understand every nuance of every bean and brewing method, and are happy to share that expertise with customers -- but they also read a customer well and know when to just hand over a cup of their best brew without much more than a smile.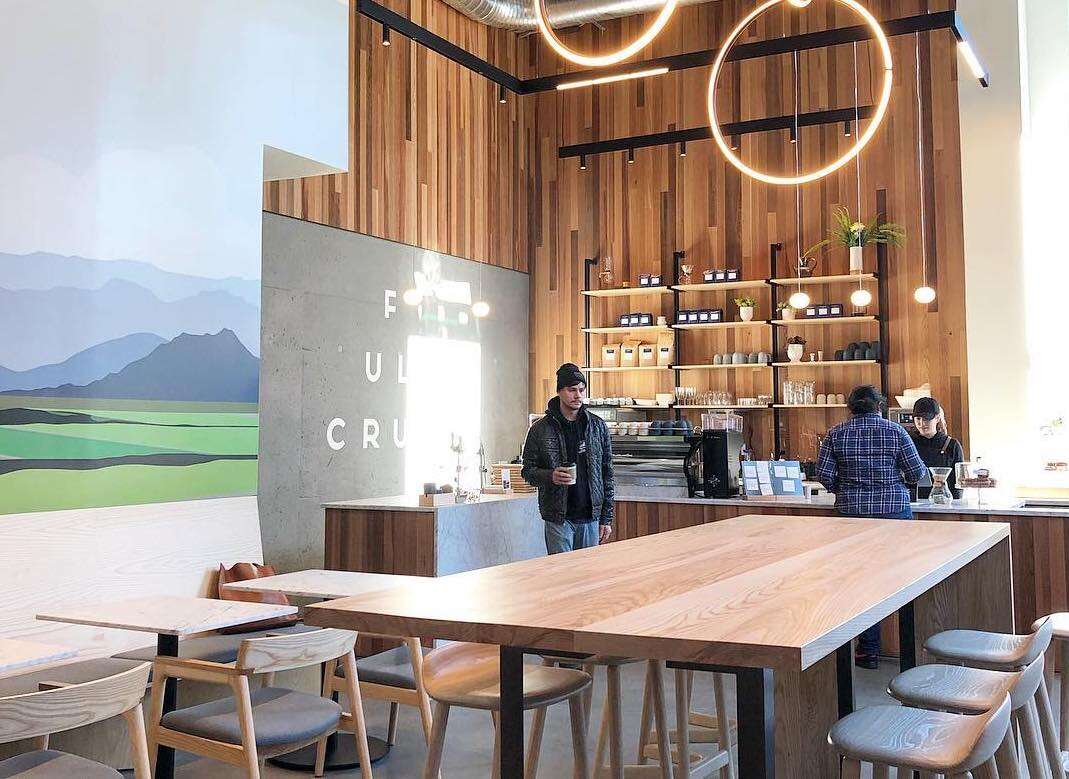 Belltown
Cutting-edge coffee and mixed coffee drinks
When this SoDo roaster opened shop on Sixth, it channeled its seven years of coffee expertise, tasting, and teaching into the most coffee-forward cafe experience it could. That includes featuring some of their most interesting beans -- like the ones from the Yunnan province of China -- and also getting creative with their drinks. Sure, in the wide-windowed space you'll find perfectly-crafted pourovers, but also drinks like the nimbus: chilled espresso with mulled-apple-rosehip-cascara syrup and orange zest, shaken and charged with nitrogen for foaminess.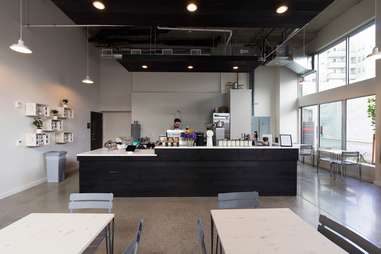 West Seattle
A multi-roaster paradise (with wine and beer to boot)
If Instagram were a coffee nerd, this is the coffee shop it would create: design-forward, impeccably curated, and always in search of the next big thing without abandoning the classics. The shop always creates classic drinks and serves Portland's Heart Coffee, but it supplements that by rotating through two other roasters each month, from around the world (Sweden, Ireland, Canada) or the country (Omaha, Delaware, South Carolina). They've also got wine, beer on tap, and even canned sparkling cocktails, in the cutest of cans.
Sign up here for our daily Seattle email and be the first to get all the food/drink/fun in town.
Naomi Tomky is a Seattle-based writer who may or may not be on her third cup of coffee right now. She is definitely on twitter @gastrognome.