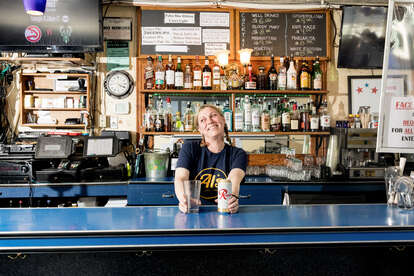 It's fun to be in the know. To say, "Yeah, I've been there!" when someone asks about the hottest places to eat in the city. But sometimes it's better to go someplace that isn't in right now—someplace timeworn and rough around the edges, that inevitably has cheap tile and wood paneling and very little natural light, that has more than craft beer on tap, that has some history. And we don't mean, "Oh I used to get cheap drinks there when I was in college," kind of history. We mean bars that opened almost a hundred years ago and haven't closed since. That's why we've assembled a list of Seattle's best dive bars—some may or may not be haunted, some serve peanuts and sell drinks for peanuts, but all of them guarantee a good time, anytime.
White Center
The facade of this relatively new White Center spot is clad with the side of a retro blue and white mobile home, through which you enter what—thanks to the Christmas lights hanging from the ceiling, the funky furniture, and ironic nude paintings on the wall—feels like the kind of basement where the kids from Dazed and Confused would have felt right at home. And where you will probably will too after partaking in their excellent and adventurous Tex-Mex menu highlighted by a fried chicken burrito, which is reason enough to stop by all by itself.
North Seattle
This lively neighborhood joint in a funky, pitched-roof building awkwardly located on the backside of a golf course is known for its' diverse crowds (and we do mean crowds—sometimes it's hard to find a seat), friendly staff, and the fun things you want in a bar, including a pool table, pinball, and a jukebox.
Belltown
Like some of its' neighbors (Shorty's, The Rabbit Hole, etc.), Jupiter Bar feels like an unassuming dive at first—like it's been there forever, casually serving drinks to regulars while modern Belltown sprang up around it—but there's actually a lot more going on once you look around. Inside Jupiter Bar is a sort of art-meets-arcade bar that features a riotous collection of murals and other artwork up front and 29 retro pinball cabinets in the back. That fun combination earned it a place on our list of best Seattle bars for singles, but really it makes for a good night out whether you're trying to score a date or just get the high score on Hardbody, a pinball machine tribute to '80s-era aerobics instructors.
Shoreline
Formerly the Echo Lake Tavern, Woody's location on hard on the side of Aurora give it a sort of roadhouse feel in the best possible way, especially since you can occasionally find live music to go with the usually array of games and other attractions, plus a solid pub menu highlighted by a surprisingly good hot dog, served by a friendly staff that does its best to make you feel at home, even if like a certain someone who writes for a website that rhymes with "illest," you only stopped there one day to avoid the traffic on your way back to your actual home.
SoDo
We've met some interesting people at The Siren over the years, but that's not the only reason we keep going back. No, we do that because we still can't quite figure it out. Is it called The Siren because it's so close to the port? But then why does the logo look like a fireman's emblem? How does it feel like it's in the middle of nowhere when it's on one of Seattle's busiest streets? Unclear. But what we do know is that despite its sort of hardscrabble appearance, it's the perfect place to grab a drink after a hard day at work.
Lake City
Not to be confused with The Backdoor (one of Seattle's best speakeasies), the Back Door Pub is a boisterous little spot in the heart of of Lake City, where the mom-and-pop shops and neighborhood restaurants lining the street make just going there feel a little like stepping back in time, only to get inside and find a kind of timeless, laid back bar with a slightly older, culturally diverse crowd and a bar staff with more than slightly heavy pours.
Fremont
The unpretentious spot's stubborn resistance to change earned it the late Anthory Bourdain's approval on an old episode of Parts Unknown. But why would they want to change? They're like, a block from the northshore of Lake Union, they've got a nice little patio out back, and they serve a spicy and extra crispy take on fish & chips that just happens to be one of the best in the city.
Ballard
First, you should know that Thunderbird Tavern is connected to one of Seattle's best strip clubs. After shuttering in 2013, this iconic dive reopened the following year with help from the guy behind the Secret Sausage food truck. Meaning you can always score a hotlink with housemade cream cheese to go with their better than average beer selection.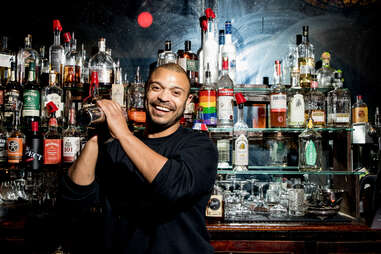 Pioneer Square
Purported to be the oldest bar in the state, Merchant's Cafe, with its tin ceiling, and worn polished wood bar, certainly looks like it from another time. A time that was apparently much more interesting: Not long after opening, the owner famously (infamously?) hosted "seamstresses" in a makeshift brothel he ran in the rooms upstairs. Today, paintings of some of said ladies still hang in the back of the bar—one of them is even supposed to be haunted, which has turned this popular game day spot into a bit of a tourist destination for people who are into ghosts.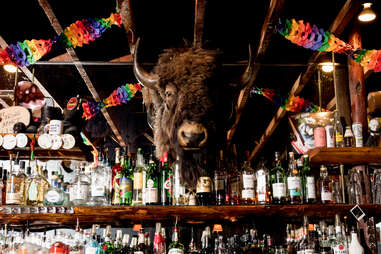 Capitol Hill
For almost 30 years, Linda's Tavern has been a destination for... well, everybody. From Capitol Hill locals, to people looking for an "authentic" place to drink, to musicians getting ready for a show (or bartending, serving, or working in the kitchen). That last one is evidenced by the fact it's supposedly the last place Kurt Cobain was seen alive.
Bradley Foster is a former Thrillist editor who goes to the Thunderbird because it's close to his house, and not 'cause there's a strip club next door. He swears!