In a summer of record-breaking heat and near constant sunshine, rooftops have earned new status as the place to be in Seattle. Think about it: a bit of shade, a lot of stunning views, ice cold cocktails, and if you're lucky, perhaps a little mister spraying your sunburnt face just so. There's nothing better on a sleepy Saturday afternoon. But summer will come to a close (eventually…), so here are all the rooftop bars to hit up before that happens.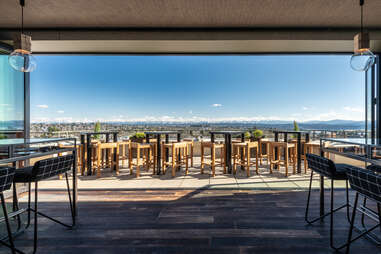 U District
Perched atop The Graduate Hotel in U District, Mountaineering Club has sweeping views of Mount Rainier, downtown Seattle, the Puget Sound, and soon, tiny little UW freshmen running off to class. Order the Rainier Cherry Bomb and some Hama Hama oysters if you're feeling extra local and make sure to make a reservation (they're required).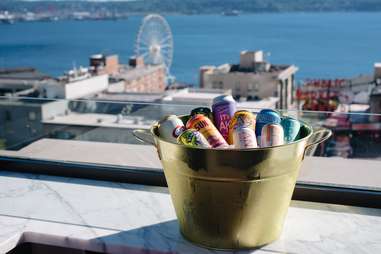 Downtown
Last year, in response to COVID-19 restrictions and a new emphasis on outdoor dining, Ben Paris unveiled a sleek new rooftop dining/drinking space on an 8th floor terrace overlooking Pike Place Market and downtown. Fast forward to this summer: Indoor dining is back, but the rooftop still takes the cake. Make a reservation to guarantee your spot, and consider adding some of their special activities to the bill, like a tour of the market with the chef or a curated flight of whiskey or tequila to go with dinner.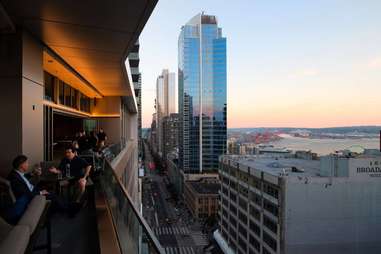 Downtown
Opened in 2018 atop the new Charter Hotel, this 16th-story bar is named for Seattle's perpetually cool, gray skies and boasts a spare interior and muted color-palette to match. But you'll hardly notice given the impressives views of the waterfront and the excellent cocktails they're serving, including a range of classic ones invented in famous hotels, all of which you can now order via touchless menu at each-table.
Downtown
​​Perched atop the Thompson Hotel, this 12th floor space offers up some stunning views of the city and Elliott Bay, and serves a selection of snacks from the people behind Westward (Dungeness crab sliders with bacon & Fresno chilies, barbecue prawn skewers, etc.), as well as a range of classic and specialty cocktails poured over housemade pieces of ice, all of which you'll want a reservation to enjoy thanks to limited capacity and high demand in the wake of COVID.
South Lake Union
Helmed by the people behind Mamnoon, this 14th story spot is accessed through a small street level bar/waiting room. From there an elevator takes you to a short windowed corridor strewn with neon light that opens into a sprawling 2,800 square foot space—two-thirds of which is outside—where, in addition to Middle Eastern fare you will also enjoy unparalleled views of Seattle Center and the Space Needle, Queen Anne, and Lake Union just two blocks to the north.
Downtown
Five stories above 4th Avenue, in what used to be The Red Lion, this sprawling indoor/outdoor drinking destination is 4,000 square feet full of fire features, Gatorade-colored ping-pong tables, and plenty of ice cold summery cocktails to help you beat the heat (if you're actually too hot, though, you can always sit inside, as indoor dining is once again available).
Capitol Hill
A welcome addition back in 2015 to this Vietnamese mainstay on the back side of Cap Hill, Monsoon's roof deck allows you to down some crispy drunken chicken, barbecued Carlton Farm pork spare ribs, or crab fried rice under the summer sun while a breeze gently blows through the trees lining 19th Street below.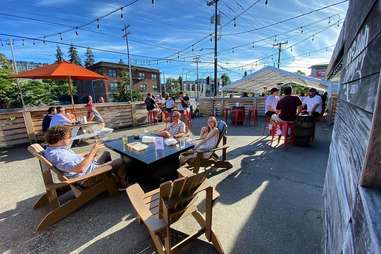 Queen Anne
Opened in 2015, this rooftop patio space features 10 taps pouring a rotating selection of at least 13 brews, including five IPAs, a creamsicle pale ale, and an impressive variety of other styles, all of which taste just a little better each time you catch a glimpse of Salmon Bay and the Fremont Cut between the buildings across the way. And if you're not lucky enough to snag one of the spots on the roof, don't worry—you can still sip beer under the sun thanks to their expanded patio in the parking lot out back.
Capitol Hill
Everything on this stunning, triangular-shaped restaurant's "earth to plate"-inspired menu tastes better when you're surrounded by an edible garden, one story above the considerable fray of the always bustling Melrose Market. Especially the Korean-style short ribs or the Monday Night Paella. But if you want to score a spot on what was an already crowded rooftop you'd better make a reservation, or settle for one of their extensive to-go options.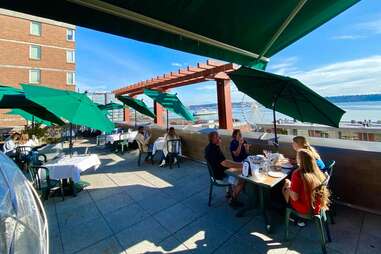 Pike Place Market
Set away behind the mongers throwing fish in the Pike Place Market, it's easy to overlook this charmingly authentic French restaurant... but it's impossible to forget once you're ensconced at a table overlooking the waterfront eating escargot in garlic & parsley butter on a spacious deck where it's actually easier to social distance than their cramped in-door space.
Pike Place Market
Like the rest of the beguiling Post Alley eatery on which it sits, this most unlikely of all Seattle's rooftop decks is reached by going down a long staircase, through the newly reopened in-door dining room, and out onto the patio, which is both below street level and breathtakingly above what few streets remain between it and the waterfront, giving you the sense that you're safely hidden away, and sitting on top of the world, at the same time. Reservations are highly recommended due to limited seating, and most important to note, The Pink Door is now requiring proof of vaccination upon entry.
Sign up here for our daily Seattle email and be the first to get all the food/drink/fun in town.