Hey. Hey you. Come here. We have this secret that we've been dying to get off of our chest. You know how Seattle has all these amazing happy hours? And a ton of phenomenal establishments to drink wine in? Well, we've also got a few secret bars that -- if you know the right people -- you can get into without a hitch. Lucky for you... we're those people.
Recommended Video
This Mojito Hot Toddy Is the Destroyer of Colds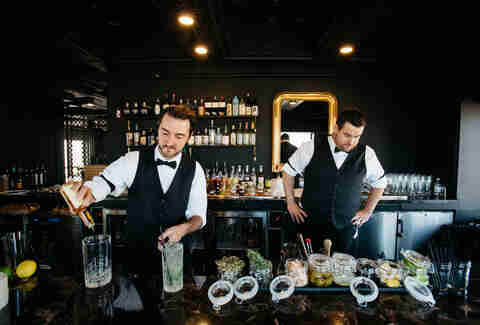 Pioneer Square
Opened over the summer, and located 35 floors up on the recently renovated observation deck of the city's oldest skyscraper, this sedate roaring '20s-inspired spot has windows that stretch from the floor to its dark, richly detailed ceiling, and provide stunning views Seattle's skyline, and Elliott Bay. It also has a menu that pays respect to the Northwest via things like fresh Pacific Oysters, and a Beecher's grilled cheese sandwich -- as well as the Tower's Asian influence by offering a selection of Chinese dumplings, banh mi sandwiches, and more. Get there before 8PM -- that's when the last elevator heads up.

How to get in: The only way to get up to Temperance is by purchasing a Legends of Smith Tower ticket for $12 (or $10 with a WA state ID) that includes a self-guided tour through historical exhibits, films, and interactive stations. Get the ticket at Provisions General Store on the ground floor of Smith Tower.
Fremont
Posted-up in an old video store space behind the Center of the Universe's venerable Roxy's Diner, this is a classy, chandelier-laden, time capsule of a bar with Prohibition-inspired cocktails and a late-night menu (from 10-11pm, Sunday through Thursday) w/ oyster shooters for $2 and mugs of fries with aioli for $4.

How to get in: It was harder to find before they slapped a giant, honking mural plastered on the side of the building, but just pretend you don't see it and look for the door at the end of the dark parking lot.
Capitol Hill
This tiny, basically signless cocktail spot located at the apex of the triangular building between Olive Way & Olive Place offers up a delicious and ever-rotating array of seasonal cocktails, along with small plates and entrees.

How to get in: Ring the doorbell and turn up the charm for whoever opens it up... or text a reservation to the maitre d', but good luck if you've got a big group on a weekend -- they can seldom seat more than a handful all together.
Capitol Hill
This bar is actually hidden (behind a door from a steel safe) inside one of Cap Hill's most exceptional cocktail bars, Tavern Law, and befitting its status as a genuine speakeasy, this 25-seat space boasts a bunch of Prohibition-style cocktails -- think egg whites and Scotch.

How to get in: Try your luck with the phone located next to the entrance inside Tavern Law... or phone ahead and make a reservation.
Belltown
One of Seattle's original craft-cocktail spots, this miniature, hooch-inspired bar boasts a cozy downstairs area, an actual bathtub, and a can't-miss selection of retro-cocktails hidden in the basement of the Humphrey Apartments in Belltown.

How to get in: Slip into the dark alley and eyeball the walls for the nondescript door.
SoDo
During the week, this tavern fronting the massive nightclub in back boasts craft cocktails, small plates, and a gastropub vibe... but it's hard to miss the massive elevated balcony overlooking the dance floor that, come the weekend, basically transforms the place into one big VIP area for the party below.

How to get in: On Fridays and Saturdays you should probably hit the website for a reservation, then slip on a collared shirt and dress shoes, and after a few drinks, slip through the bookshelf that hides a door into the actual club.
Pioneer Square
This tiny 14-seat bar is hidden behind shelves stocked with gear and apothecary-style goods -- including bottles of homeopathic hangover recovery medicine, naturally -- and is serving herbal-, fruit-, and floral-inspired liquors married with classic cocktails that make for an eclectic take on good ol' fashioned imbibing. Try the Black Lemonade (vanilla black tea infused tequila, limoncello, lemon, and soda), or their Gold Rush made w/ rum, Cocchi, curry tincture & lemon.

How to get in: Slip in through the rustic haberdashery to the very back of the space.
Belltown
Located above the mainstay small-plate spot Pintxo, in what, years ago, was an actual secret bar (technically it was an "art gallery") called the McLeod Residence, this oddly welcoming spot boasts a dark all wood-bar in back -- where they serve even darker cocktails like the Corpse Reviver #2 and Diablo's Revenge -- and a brighter, more homey space overlooking Second Ave up front.

How to get in: Climb a flight of stairs from Second Ave (there wasn't always a sign, but there is now), to the two room bar on the left. The owner's apartment is on the right.
Sign up here for our daily San Francisco email and be the first to get all the food/drink/fun SF has to offer.