Chona Kasinger
Chona Kasinger
Canon Whiskey & Bitters Emporium
Central District
It's got 1) the largest selection of American whiskey in the world, 2) a 94-page spirits menu with nine pages worth of rare whiskeys, 3) space-age devices like centrifuges to make cocktails with, 4) a bar where every piece of wood is stained with Angostura bitters, 5) next-level 'tails like the Skull & Blackberries (made w/ their own Double Double Rye, dark rum, Rossbacher, blackberry & blueberry smoke), and 6) you on a barstool, presumably, after you finish reading the first five.
9 Million in Unmarked Bills
Fremont
The giant, neon sign that reads "PRESCRIPTIONS" looming above the bar is perfectly appropriate when you consider they've got a sick selection of whiskeys -- sourced from Kentucky (natch) and as far away as Japan -- that you can self medicate with, enjoy in one of The Town's stiffest Mint Juleps, or pair with some badass bar bites including popcorn shrimp, and mac & cheese w/ white truffle oil & white cheddar Béchamel.

Radiator Whiskey
Downtown
Helmed by the dudes behind Matt's in the Market across the hall, this barrel-aged cocktail specialist doesn't overlook the water like Matt's, but it does have tremendous views of... um, someplace with tremendous views (Showgirls!), some seriously sweet down-home vittles (half a pig's head, pork cheek stew, etc.), and a slew of creative ways to swill whiskey, including can't-miss Bourbon Margaritas.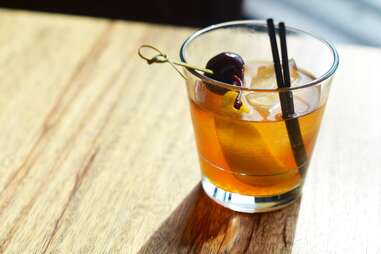 Kickin' Boot Whiskey Kitchen
Ballard
There's no kick in the pants quite like a short glass of firewater, which is why this Ballard behemoth doesn't settle for an awesome view of the water and some badass BBQ, but instead serves up over two pages of hand-selected whiskeys (including local stuff like Oola), eight different tasting flights, and a selection of new and old-school bourbon-based cocktails, like the Kentucky Gentleman w/ apricot, lemon & sugar.
Americana Restaurant
Capitol Hill
This just-off-Broadway boozer is helmed by a chef who grew up in the South, and boasts a correspondently large selection of the South's favorite spirt and some creative 'tails, like the Seattle Sour, which is made by suggesting the 49ers are in any way better than the Seahawks, or by combining Fremont Mischief whiskey, Manny's Pale Ale & lemon juice.
Old Sage
Capitol Hill
Dressed up like an old-school drinking club (right down to shelves stocked with second-hand books and an ironic portrait of a teetotaling city father), this place pairs incredibly attractive smoked meat/seafood dishes, with a huge range of smoky, Scotch-based cocktails. Our sage advice? Try this Summer Smash w/ peach, Amontillado sherry, lemon & Demerara.
Tavern Law
Capitol Hill
Already on countless "best bar" lists (in America, let alone Seattle), this brown liquor-specialist from the guys behind the aforementioned Old Sage boasts a Prohibition-style space, in which some of the city's best bartenders are slinging classic 'tails and custom numbers made with traditional techniques, freshly squeezed juices, and house-made syrups and tinctures.

The Whisky Bar
Belltown
A place called The Whisky Bar has to be on our list, right? Right?! Right, 'cause whatever it's called, it's still got over 50 bottles of the water of life, along with smoked duck, veal shoulder, and other meat-tastic drunchies.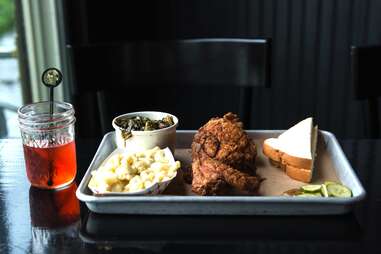 Bourbon and Bones
Fremont
The Southern-inspired Bourbon and Bones might fool you into thinking you've stepped into a red state, thanks to its out-of-this-world fried chicken, brisket, tacos, etc. Oh, and did we mention a slew of whiskey drinks, aptly served in mini Mason jars? We have now.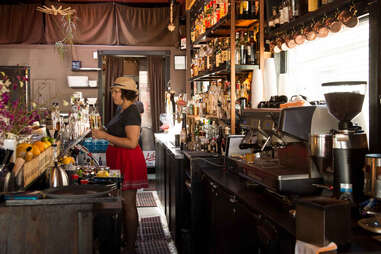 Liberty
Capitol Hill
Sure, Liberty's a coffee house, and a sushi restaurant... but it's also one of Seattle's best cocktail destinations, thanks to a huge selection of local spirits including Woodinville Whiskey Company's White Dog, its pioneering barrel-aged cocktails, and some seriously knowledgeable bartenders who're at... sorry'boutthis!... liberty to create one-off custom 'tails just for you.