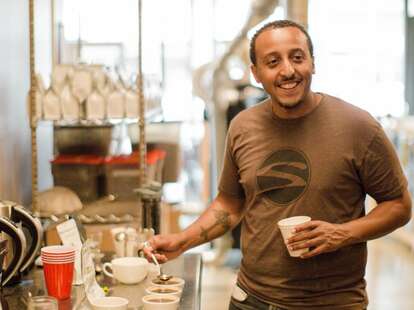 Growing up in Seattle, Efrem Fesaha straddled two coffee worlds: at home, his family roasted green beans and prepared the traditional East African coffee ceremony, while Starbucks and similar shops dotting Seattle street corners rapidly turned out espresso drinks for the masses. But on a visit to family in Eritrea in 2011, Fesaha saw how coffeeshops there married the two styles and started dreaming of bringing that combination of slow, social sipping and grab-and-go drinks to his hometown: Coffee represented an answer to Fesaha's struggle to find a way to bring his heritage into his daily life.
It took years of work and many iterations of the business, but the 2019 opening of Boon Boona in Renton brought his concept to fruition. This spring, buoyed by his success in the suburbs, Fesaha adds a second shop, at 12th and James in Seattle. The decade since his first realization of how a coffee shop could allow him to bring his African heritage to a Seattle business—and share it with the public—led him along a wandering path of rejection and adaptation. And while the second location represents a jumping off point to more success rather than an end to that path, it does so from a particularly meaningful location, in a place near the heart of the city's East African community.
Selling ideas and beans
Freshly home from his travels to Eritrea in 2011, Fesaha delayed his return to work as he tried to start a business the way he—someone with a background in finance for local companies like Nordstrom, Amazon, and Holland America—saw as standard. He created a business plan and started applying for loans. "But then I took that to the banks," he says, "And they were like, 'Heck no, you're crazy.'"
Undeterred, he returned to his day job, instead incorporating Boon Boona as a side hustle selling green coffee beans sent from East Africa by his family. Like him, members of Seattle's large Somali, Eritrean, and Ethiopian communities roasted their own coffee at home. Fesaha credits the small Somalian shopkeepers of SeaTac and Tukwila for not only giving him the opportunity to succeed by carrying his product, but for solidifying his philosophy on supporting other businesses.
The business grew from green beans on to roasted ones, and then in January of 2019, using a Small Business Administration loan through a non-profit community development lender called Craft3, Fesaha opened the doors to the enormous space in the heart of downtown Renton. He filled it with that philosophy of support: pop-up shops and food purveyors, non-profit fundraisers, and a monthly rotation of local artists on both the walls and through events. Librarians held story time, reading picture books to circles of small children, a Nigerian chef sold plates, and Washington's only Black-owned winery held a tasting.
Creating a community space to slow down
One side of the sprawling space gathers low-slung chairs and small tables, ideal for idling away hours with a traditional coffee ceremony. Sparse tables give customers the room to relax without feeling crowded out or pressured to move along—customers stay an average of anywhere from thirty minutes to two hours, says Fesaha.
That unhurried culture of coffee comes from the traditional Eritrean coffee ceremony. "My parents really hyped Africa for me," says Fesaha, imbuing him with a deep love of his ancestral homeland and the traditions they practice an ocean away. "There's a section in our homes dedicated to the coffee ceremony," he explains, and they are always prepared to start the multi-hour ceremony, whether early in the morning or the middle of the night after a late-night church service. "If you offer a guest coffee or tea," he says, "and they ask for coffee, well, then okay, we're gonna be hanging out for the next three hours." The ceremony begins with the roasting of the beans, and the coffee making techniques vary around East Africa, with some adding butter, ginger, or other spices. But the purpose and ritual stays the same. "We really get to socialize," says Fesaha.
His family does the coffee ceremony at least daily, if not more, and particularly on holidays or any time of celebration. It stands in stark contrast to what Fesaha calls the transactional, "how fast can we get you in and out" nature of corporate coffee in America. But until his trip to Eritrea, it never occurred to him that both styles could co-exist. Their convergence from Asmara to Seattle, he knew, held a deeper challenge than just setting up a big space with a few types of tables and a counter.
Boon Boona takes its name from two words for coffee in different East African languages, and Fesaha hopes it presents a deeper exploration into the origins of coffee than the surface narrative he sees presented in photos of farmers picking coffee cherries on the wall of a shop. "I knew this would be more enriching for those that consume coffee," he says. Instead, while local art decorates the seating area, three panels hang next to the roastery area, where customers can watch the process. One features the syllables of the alphabet used by Tigrinya and Amharic, major languages of Eritrea and Ethiopia, a second portrays Kaldi, the goatherd who, per legend, discovered coffee over 1,000 years ago. The third shows Kaffa on a map, the birthplace of coffee in Ethiopia. An enormous mural dominating the wall behind the main counter, painted by Yeggy Michael, offers a more artistic interpretation of the story of coffee. "It takes the story away from it being like, 'Oh it came from Italy, Starbucks is the inventor of coffee'" says Fesaha. "No. It's not Folgers, it's not Nestle. It's from Africa, from Ethiopia specifically."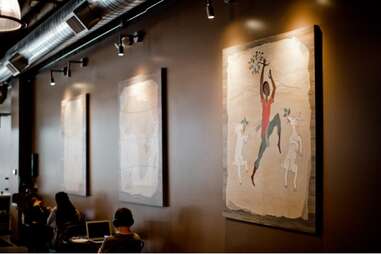 Shifting and sourcing
Beyond educating the consumer on the roots of coffee, Boon Boona considers supporting the people and land at the source of their product as part of their duty. "So much of the history of Africa in the last 500 years has been that of exploitation," he says, and, since his start, he did his best to find exporters there that chose producers carefully. When the pandemic hit, a shift in business pushed Boon Boona into a better position to proactively seek out producers that fit that mission.
Selling small-scale batches in local stores kept Fesaha from the buying power needed to exert any pressure down the supply chain. But as one of Boon Boona's core purposes—a community space—closed and customers bought coffee only from a table at the door, something changed. Two months after the end of in-person dining, having let go of more than two-thirds of his 15-person team, Fesaha noticed people trying to buy coffee on their website. He rushed to overhaul it, making it customer-friendly, selling coffee subscriptions, and offering shipping discounts. Around the same time, he received a PPP loan and brought his team back as they focused on the production side—with a renewed mandate and increased buying power for sourcing.
When flooding wiped out the washing station at one farm, Boon Boona purchased as much coffee from them as they could, sending back an additional dollar from every pound to support the rebuild. The shop created the Mama Oya box to highlight women-owned farms, each bag telling the story of its female producer in Rwanda, Burundi, and Kenya. "Not to say we're doing it perfectly in all things," Fesaha says, "but that's what we're striving for. Intentionality."
Expanding the community
Fesaha hopes Boon Boona shows the potential of running a socially conscious for-profit business, and pre-pandemic, he saw enough to start seeking out a second location. The overhead cost of operating the roastery made a second location a smart business decision, but he had to hit pause last March. Then, over the summer, business picked up and the online sales gave enough of a boost that he began asking around. When Cherry Street Coffee House began to close some locations, Fesaha expressed interest in the one on the western edge of the Central District.
The shop, at 12th and James, lands in a particularly poignant spot, in a neighborhood once filled with Ethiopian and Eritrean businesses. "A lot of them haven't been able to survive the gentrification," says Fesaha. He grew up learning the Tigrinya and Amharic alphabet at community centers a few blocks away and going to church nearby. "There's a long history there," says Fesaha, and he hopes to extend it, helping the few remaining ones stick around—and ideally even bring more in. Boon Boona still sells a lot of green coffee beans to those community members, and the new location makes space for the traditional coffee ceremony, along with the same community events as in Renton, while also hoping to draw new crowds from Capitol Hill.
"We're trying to make the space really lively," says Fesaha, with music, art, and poetry. "I'm grateful to be able to do that because I remember the times in corporate America that were just torture for me," he adds. "I didn't get to feel like I was my true self. And in this space, I do. I feel like I get to reflect who I truly am and get to share and celebrate my history. And be able to share it with the community that you know has an appreciation affinity for a beverage."
Award-winning Seattle-based writer Naomi Tomky explores the world with a hungry eye, digging into the intersections of food, culture, and travel. Her first cookbook, The Pacific Northwest Seafood Cookbook, was declared one of 2019's best by the San Francisco Chronicle. Follow her culinary travels and hunger-inducing ramblings on Twitter @Gastrognome and Instagram @the_gastrognome.