This is Seattle's first cider bar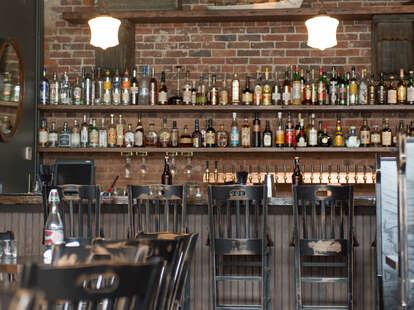 If Good Will Hunting proved anything, it's that no performance by Ben Affleck can possibly top his work in Mallrats... and that there's no good answer when someone asks if you "like apples". Now, thanks to Capitol Cider -- a 4000sqft boozer serving over 130 kinds of cider, craft beers, and gluten-free pub fare that's actually awesome -- the next time someone asks if you "like the fermented beverage made from apples", you'll sound like a genius.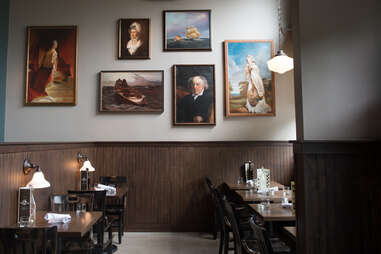 Let's face it: they've got sweet oil paintings (including a portrait of reported cider fan John Adams) and shuffleboard tables in their basement game room, but you're there to drink. With that said, below are some sweet food/cider pairings from owner Spencer Reilly, who helpfully based 'em on something you're probably already very familiar with -- beer.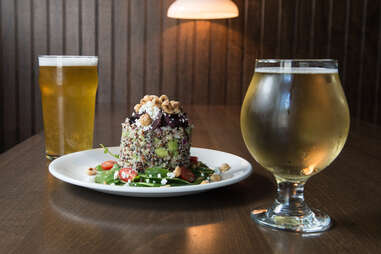 If you like: PilsnerYou should try: Tieton Dry-Hopped Cider, which has the same summery brightness of a Pils but with a low sweetness and a floral bite from the hops that pairs well with a cheese-/nut-topped tower of veggies & quinoa seeds, which, despite being a salad, will definitely grow on you.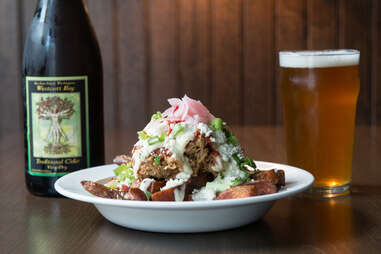 If you like: IPAsYou should try: Bone-dry ciders like the Wescott Bay Very Dry, which has enough acid and Tannen to completely screw-up your formerly idyllic hometown using a sports almanac from the future tannin to cut through the pile of pork, fries & cheese curds that is their braised pork shoulder poutine.
If you like: ESBsYou should try: The Val d'Ornon from Spain's Sidra Menendez and the not-at-all-gluten-free-seeming fish & chips. These fried fillets need something rich and bitter to go with 'em, and the Vd'O gets it done via an acidic finish and a mild sweetness, the latter of which is exactly what Ben's character on Mallrats used to convince girls to have sex in an extremely uncomfortable place.