The only lady-brewed beer in the state
In the Pacific Northwest, successful pioneers always leave St. Louis in May, are sure the game's set to "banker" so they can afford to start with 18 oxen, and try not to get eaten by bears on the way to Oregon. OR they just open the first woman-owned/-operated brewery in Washington, like the ladies behind Columbia City's Spinnaker Bay Brewing.
Built in 1910, this former filling station is now responsible for filling your belly with delicious beer.
The Spinnaker ladies gutted the space and filled it with vintage woodwork, including a mahogany bar that dates back to 1929 and still boasts a secret Prohibition-era alarm button that you are absolutely prohibited from using... even if you can find it.
They've parked the brewing equipment in the old garage and are using it to make big, flavorful beers with a lot of malt, including a pale ale the brew mistress is still experimenting with and a porter called Don't Panic!. Both of which are pictured above, so don't... err, panic.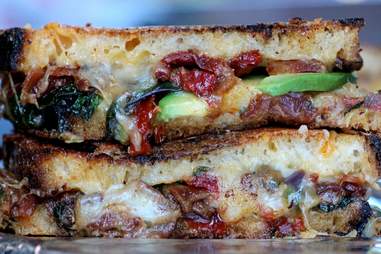 To enhance your beer-drinking experience, there's a roster of food trucks, including the Grilled Cheese Experience and Ezell's Express, that'll be there slinging eats, none of which, sadly, is made using stores supplemented by hunting deer at the Oregon Trail's Kansas River Crossing.