The city's best rooftop bar... is in a Red Lion?!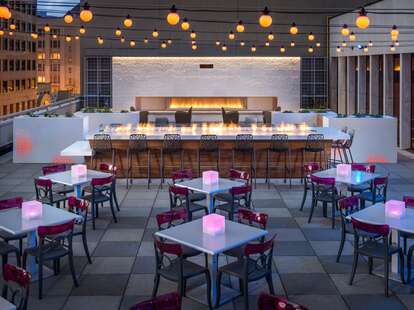 It takes serious B-A-L-S to purposefully misspell the name of your drinking establishment, but apparently the crew behind Frolik Kitchen + Cocktails have them, considering they've just seemingly created the perfect (and only!) downtown rooftop bar in which to swill Summery cocktails, play ping-pong, eat bon bons made of grapes, and adopt a casual attitude towards proper spelling
You'll be red-faced if you miss out on this 4000sqft, fifth-floor patio with multiple fire features just 'cause it's in the Red Lion
There's also a ping-pong table the color of Gatorade, despite the fact they're only serving less electrolyte-filled refreshments like the vodka- and Clear Creek Pear Williams Eau De Vie-based Charge It, Effie! Which is actually good advice for the ping-pong match, too
Had enough table tennis? You can always lounge in the... um, lounge, post up at the 24ft bar, or fire up the Microsoft Kinect on one of their four flatscreens
Straight facts time: these lamb sliders come with tomato jam & braised greens.
For dessert, they've got grape/goat cheese/pistachio "bon bons", which they've managed to spell correctly -- though it takes B-A-L-S to make 'em with fruit instead of ice cream and chocolate.