8 Seattle Bars You're Not Allowed in After 30
Remember when a night out didn't automatically mean you were hungover the next day? When it didn't matter what was in the drink, as long as it was cheap? When you were... um, in your 20s? Oh, those days. And while we've done our best to help find you Seattle's best hangover cures, an ounce of prevention is worth a pound of "what the hell were you doing in that bar anyway?" So here are eight local bars that you should stay away from if you're over 30...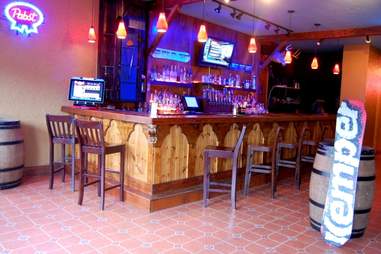 Bradley Foster/Thrillist
Fremont
If, upon learning what a goldfish race is -- held here on Tuesday nights -- you are relieved that it doesn't involve swallowing an actual living animal, you might be too old for this bar. You're probably also too old for another of the ski-themed bar's favorite activities: the shot-ski, which involves shot glasses attached to a ski so that all of your friends can pound cheap liquor at once!
 
University District
Here's the thing about college bars: they're full of college kids. That means if you're receiving pamphlets about your 10-year reunion, this is not the place for you.
Capitol Hill
If you run into people from your high school once at a bar, it's a coincidence. If you run into people from your high school twice at a bar, it's a bit weird. If every single time you're at that bar, you run into someone else from high school at that bar, it's a sign that you need to find a new bar.
University District
If beer pong tournaments sound good to you, remember this: "Beer pong tournament winners are super sexy," said no girl over the age of 22, ever. Besides, the thing about beer pong is that once you graduate from college you're probably not good enough to win anymore, or intoxicated enough to care.
 
Pioneer Square
It's bad enough when only one out of every five people in the club looks old enough to be there without a fake ID, but it's even worse when that one in five includes every dude there... and none of the ladies.
Fremont
It's deceptive, really: you stopped by with a few friends on a Wednesday afternoon, enjoyed a few beers and some thin-crust pizza for happy hour, and went home thinking, "what a nice bar." Only to return the following Friday night, hoping to catch up with your buddies, but instead discovering... a frat party? The Ballroom makes this list with an asterisk: weekdays, OK; weekends are a no-go.
Capitol Hill
Reaching 30 shouldn't mean being too old to snicker at menu items like "unicorn balls," but it should mean knowing how you'll feel tomorrow if you house a Snickers bar deep-fried in Coca-Cola batter. Which is to say, similar to how the people at the seven different 21st birthday parties you're sharing the bar with will feel, but for very different reasons.
 
Queen Anne
We agree that karaoke is fun, but somewhere around the age of 28, we realized it was better to do it someplace where it wasn't punctuated by woo girls, the sound of people rushing to the restroom to vomit, and security escorting people out for poor behavior.
Sign up here for our daily Seattle email and be the first to get all the food/drink/fun in town.