How One Man Is Making an Obscure Korean Liquor Seattle's Next Big Thing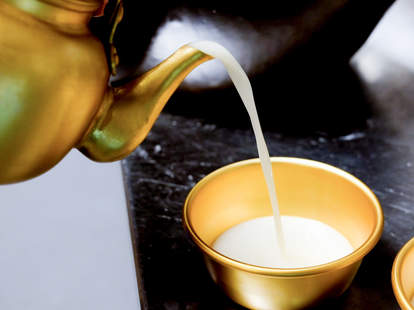 When you spot a server at Girin, the Korean steakhouse in Pioneer Square, pour from a golden kettle, it's not due to a sudden surge in the popularity of tea. The kettles are the traditional vessel for a long-established Korean liquor called makgeolli (pronounced "mock-ew-lee"), and Girin is, as far as they know, the only place brewing it in the US.
The drink, which is made from fermented rice and has long been a part of Korean culture, tastes like a cross between kombucha and horchata. Until as recently as the 1970s, it was the country's most popular alcohol -- in a country that now drinks the most per capita. Armed with this information, Cody Burns (brewer, Girin partner, and sake sommelier) set out on a mission to find out more.
Naomi Tomky/Thrillist
As Burns and his partner Steven Han (the team behind Umi Sake House and Momiji) prepared to open Girin, they visited Korea for research. There, Burns first sampled -- and fell in love with -- fresh-brewed makgeolli, a drink typically reserved for grandparents and poor farmers. "I'd tried the mass-produced, pasteurized kind," he said of his previous experiences, "but drinking it in a little tent restaurant outside a fish market in Seoul... it was alive, it was symbiotically perfect."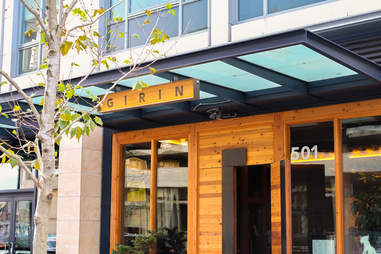 Naomi Tomky/Thrillist
In his role as somm, Burns has become well acquainted with boozy beverages. And when he returned to the States, he began to experiment with making makgeolli himself. It was his first stab at home-brewing anything, but he luckily had an excellent resource: a brewing college in Korea, which has garnered support from the Korean government in an attempt to revitalize the traditional drink. Burns describes his batches as having a wild flavor spectrum, focusing on a yogurt-like tartness and tanginess, with the sweetness of white grape or stone fruit from the yeast. The drink's grainy texture gets complemented by the naturally occurring carbonation, and the high acidity has a palate-cleansing effect -- a perfect accompaniment for the rich meats and sauces of Korean cuisine.
At Girin, as downstairs diners sip makgeolli out of flat, golden bowls whilst feasting on ssamjang-marinated steaks, they likely have no idea what's bubbling upstairs. That's where Burns goes to work, in a tiny closet of a room. There, he soaks and steams the rice and hydrates his nuruk -- a yeast and enzyme compound that creates the fermentation -- before mixing them together in giant Korean clay vats. For the first two days, Burns will stir it every eight hours, then let it sit for three to five more days. If you put an ear to the vat, you can actually hear the fermentation happening as the mixture transitions to alcohol. According to Burns, studies have found it's the same frequency as that of rainwater.
Naomi Tomky/Thrillist
Once the drink is ready, Burns strains and bottles it in two variations. The first variant, Samjoko, remains relatively untouched with about 12-14% alcohol by volume, while the Lunar Brew gets diluted a bit to 6.5-8.5%. The stronger version, however, goes down with the ease of a beer, despite its wine-like potency. It was that easy-drinking style and refreshing effect of the acidity and light carbonation that convinced Burns to ultimately keep brewing his own fresh batches.
But he hit a bit of a roadblock with the government of Washington State. Since nobody had been licensed to brew makgeolli before, the Liquor Control Board was a bit stymied on how to deal with it. To avoid excess challenges, Burns took advantage of the work sake importers had done and pitched it as a Korean version of sake. The plan worked, and after a long licensing process -- nearly two years -- makgeolli was finally legal to sell in Seattle.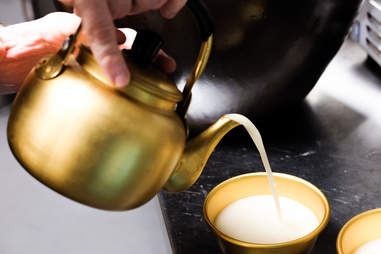 Naomi Tomky/Thrillist
"I want local Koreans to embrace it," said Burns of what it was like to be a non-Korean producing the only version of the traditional drink in the US. So far, he says, they've been impressed. One of his many goals is to do a service to Korean food by making the right beverage to pair with it, but most of all, he wants to make a great drink. "If you make something quality, people will enjoy it," says Burns. "If I can help bring makgeolli to the forefront, I've done it proud."
Sign up here for our daily Seattle email and be the first to get all the food/drink/fun in town.
Naomi Tomky is a freelance food and travel writer who does the difficult work of researching everything you should eat or drink in Seattle. Follow her edible adventures on Twitter @Gastrognome and on Instagram @the_gastrognome.