Thrillist's Patio Power Rank: The 7 finest outdoor establishments in Seattle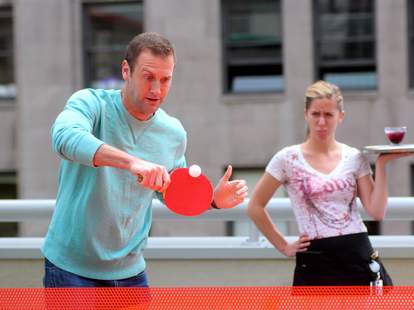 When Parliament-Funkadelic urged their listeners to "tear the roof off the sucka" it was probably out of a sense of frustration they couldn't Give Up the Funk they'd been in over not having one of the seven sweetest roof decks, patios, or other outdoor spaces on which to spend the day drinking… or eating, but really drinking, in Seattle. See if your favorite al fresco dining/drinking facility made the list: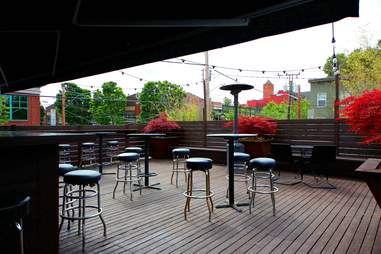 7. 95 Slide
722 E Pike; Pike/Pine; 206.328.7666
A Cap Hill sports bar that has chicken & waffles on the menu, Ken Griffey, Jr. paintings on the wall -- and a bar on the roof? It totally makes the list.
6. Marination Ma Kai
1660 Harbor Ave SW; West Seattle; 206.328.8226
This Hawaiian-inspired street-food slinger's colorfully furniture'd patio might be too laid-back for some people, but it is the closest thing Seattle has to a legitimate beach hang… or it would be, if it wasn't in West Seattle.
5. Frolik
1415 5th Ave; Downtown; 206.971.8000
You'll be red-faced if you sleep on a 4000sqft, fifth-floor patio with multiple fire features, a sweet Gatorade-colored ping-pong table, and a shton of Summery cocktails just 'cause it is inside a Red Lion.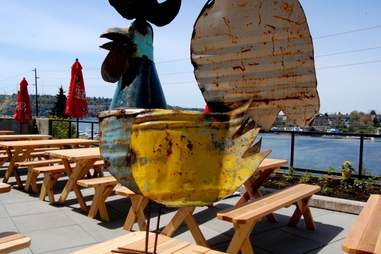 4. Little Water Cantina
2865 Eastlake Ave E; Eastlake; 206.397.4940
Badass Mexican eats, sweet craft cocktails, and a giant deck with expansive views of Lake Union make this the perfect place to have a little... uh, something other than water.
3. The Pink Door
1919 Post Alley; Downtown; 206.443.3241
The view may be a little better from the deck at nearby Maximilien, but you can't beat this Post Alley spot's sun-dappled patio for charm -- or for the burlesque dancers dangling from the ceiling just inside.
2. Ray's Cafe
6049 Seaview Ave NW; Ballard; 206.782.0094
The views of Puget Sound/the Olympics get even better when the crew at this Ballard mainstay brings you some calamari or steamed clams... or even a fleece blanket if it gets cold out.
1. Terra Plata
1501 Melrose Ave; Capitol Hill; 206.325.1501
Iron Chef vet Tamara Murphy takes her "earth to plate" concept a few feet above the earth via TP's steel-/wood-heavy deck, which has stunning views of Dowtown/Cap Hill and full access to deliciousness like water buffalo burgers and pressed pork belly.