Pretty much everyone, except, presumably, the USDA, knows that the two most important food groups (after bacon, obviously) are pie and booze. Clearly, the twin sisters behind new-ish Cap Hill drinkery Pie Bar (it's exactly what it sounds like: a bar that serves pie) think the USDA is stupid and that you should consume more of both, so we asked them to tell us/you the best ways to combine 'em. Check out the recommendations from ladies behind the late Seattle Pie Company, below:
Recommended Video
This 2-Foot Slice Is Covered in Donuts
After "moving to the Northwest", the best thing inspired by the Southwest is this chicken/ chopped garlic/ sautéed peppers/ ranchero cheese Fajita Pie paired with a chili-cucumber margarita.
The sweet but slightly tart taste of a Manhattan goes perfectly with this tart stuffed w/ sausage, eggs, peppers, cream cheese & cream, the last two of which are both slang for what you'll feel like after eating it: money.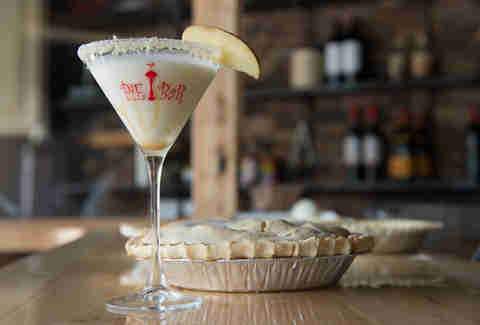 The best of PB's signature "pietini" cocktails is the Dutch Apple, made w/ butterscotch, apple Schnapps & vanilla vodka. It's also garnished with an apple slice, which should give you some clue as to what kind of pie to have with it. Hint: it's apple.
If you don't like apples, it's gonna be wayyy harder for Matt Damon to mock you from outside the diner, and you might want to try their pumpkin version.
If you don't actually want any pie, there's an Imperial Stout Float made w/ Rasputin Imperial Stout, vanilla ice cream & chocolate curls. It's basically a slice of pie in a glass that, if you really want to piss off the USDA, you'll pair with a piece of pie anyway.