Inside Seattle's smallest craft cocktail bar
Shopping 'til you drop is A) probably not a real thing, and B) nonetheless pretty much every dude's worst nightmare... unless said shopping takes place in a badass haberdashery like E. Smith Mercantile, and said drop is the result of one too many craft cocktails made with rare and unusual liquors in the tiny 14-seat boozer they opened in back.
To get to the Back Bar, you gotta drag yourself away from shelves stocked with dude gear like denim from THVM, and apothecary-style goods including Natural Aftershave by Fig & Yarrow, and, most helpfully, a bottle of homeopathic hangover-recovery medicine.
If you make it to the back, and are lucky enough to grab a seat, it's time to decide what to drink...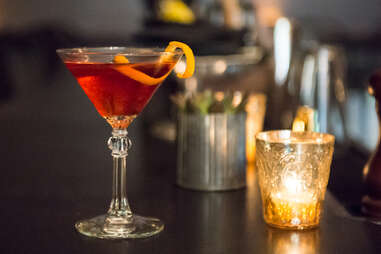 ... like this old school Negroni made w/ gin, vermouth rosso & Campari.
At this point, you say, "Doesn't every place make a Negroni?", and we say, "Yeah, but does every place use old-timey Campari that, instead of new-fangled ingredients, is colored like they did it back in the day, with actual red beetles?". Well, this one does.
Next up: atomized Absinthe is sprayed into a glass, then combined w/ scotch & sweet vermouth...
... the result is the Robert Burns, named for a Scottish poet who said things like, "Scots, wha hae wi' Wallace bled", so clearly naming a cocktail after him is appropriate.
Need a snack between cocktails? They've got a handful of bar eats, like applewood-smoked scallops that're bacon-wrapped, and served with what it normally takes several of for you to enjoy shopping: a shot... except in this case it's a shot of cocktail sauce.