Every Sunday this football season, John Howie's SPORT has decided to let you build your own Bloody Mary by using up to 70 different ingredients designed for AM alcohol consumption. Now that sounds pretty sweet, but you're probably wondering if this massive ingredient menu includes things like wagyu beef sliders? Or tempura fried bacon? No... but the off-menu Ultimate Bloody Mary that Chef Howie created just for us/you does!
Recommended Video
Pizza Acrobatics Is a Real Sport, and You're Going to Love Watching It
SPORT's spicing up its usual -- and already pretty sweet -- BM's with your choice of 32 different hot sauces.
You can also pop a shton of pickled things into that sucker.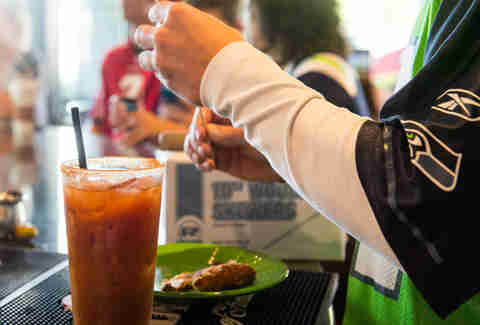 The result will probably be a badass tomato-based cocktail that looks something like this...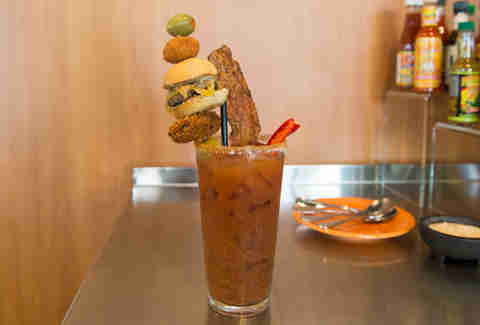 But we asked Chef Howie to come up with something even more badass, and he did! This off-menu monstrosity has a bacon-salt rim, some of the aforementioned pickled veggies, a pepperoni straw, tempura fried bacon, deep fried jalapeños, a wagyu beef slider, AND some fried mozzarella!
Wait, there's more! We had 'em toss in some lemon & lime, a fresh celery spear, some pickled onions, and a deadly amount of Tabasco. The result is John Howie's Ultimate Bloody Mary, a drink which, at only $18, is just like the ghost it's named after: A killer (deal). Bam, nailed it!
Previous Venue
Next Venue
Venue Description
1. SPORT
140 4th Ave N, Seattle, WA 98109
This memorabilia- and flatscreen-heavy sports emporium from the guy behind Seastar and John Howie Steak (quick, guess what his name is! No, silly, it's John Howie!) solidified its place on our list by recently improving its already awesome menu of dude-approved eats with the addition of apps like Crispy Corn & Jalapeno Fritter w/ honey butter, and breaking-fasts like the Canadian and regular bacon-topped Three Little Pigs, too many of which'll cause you to huff and puff and...god you're a fatty.