Celeste Clark wakes up each day around 4am. She hits the road by 5:15 to load up the old milk truck she converted into an espresso stand. She picks up her coffee, water, and gas, and parks Celesto Espresso in front of Seattle's King Street Station, with the window open to customers before the clock strikes 6:00. This particular routine is fairly new -- Celeste started working the truck full-time in November of 2016 -- but the muscle memory of operating a mobile coffee business on a day-to-day level wore into Clark's body decades earlier.
In the '90s, when coffee carts dotted Seattle streets in a sea of Nirvana shirts and flannel, Clark operated the first incarnation of the business -- a cart parked in the pre-Amazon, pre-"South Lake Union" neighborhood of Cascadia. She was hardly alone. In front of bustling office buildings, on street corners, next to grocery store entrances, coffee carts were a way of life in pre-millennium Seattle. But as more brick and mortar shops opened, offering amenities like comfy plush chairs and free Wi-Fi, one question loomed over every cart owner's mind: Would it be possible to maintain a roving shop after the great migration indoors?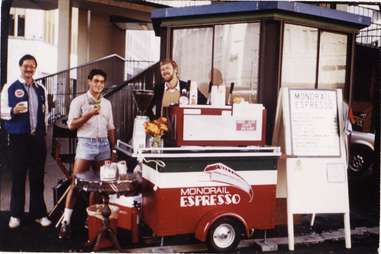 Though Starbucks grew up in Seattle in the '80s, many Seattleites at the time preferred to buy their coffee from folks like Chuck Beek, who opened Monorail Espresso in 1980 -- widely considered the first espresso cart in the world.
According to Rebekah Denn's Edible City, the frenzy of coffee carts opening in the late '80s numbered in the hundreds. David Schomer, who started the renowned Espresso Vivace in 1988, recalls hurrying to secure a spot for his cart at 301 Broadway Avenue E. before anyone else opened one, because laws restricted how many carts could operate within a certain number of feet. A 2010 Seattle Times article on the death of coffee carts suggested that at the time, 15 or 20 companies were devoted to manufacturing carts -- that's more companies than carts that exist in the city today.
Schomer has a theory for the decline: "It's more expensive than people think," he explains. In 1992 he switched Espresso Vivace over from a cart to a walk-up café that's still in operation today. Later, he opened brick and mortar locations, and went on to become one of the most knowledgeable authorities in the city (and world) on pulling espresso shots -- a far cry from the difficulties of making coffee outdoors. The carts faded, Schomer says, because of hidden business costs: off-site commissaries, transportation, labor, and even rent for the space. On top of that, owners had to contend with snowstorms, freezing pipes, humidity, and temperature swings that disrupted the consistency of the coffee. Schomer's answer, when I asked what was better about working from a cart, was a simple "Nothing."
By the late '90s, many carts moved to permanent locations, or simply closed. But in the heyday of carts, coffee -- along with hot dogs, and popcorn -- was among the only foodstuffs permitted to be sold on the streets of Seattle. Whether it was over-regulation, as the Times posits, or simply a bad business to be in, the cart industry died down well before the food truck trend pushed the city to loosen restrictions in 2011. But then a curious thing happened: As the food truck scene blew up, a new class of coffee carts rode (some literally) into town.
After she sold her coffee cart in 1998, Celeste Clark rose from retail to roaster and onto trainer at Tully's (now closed), then took a break from the coffee biz to help friends open restaurants. Eventually, she ended up as a roaster at Zoka. But there was something about the mobile food explosion that caught her eye. "I saw food trucks happening… but no espresso."
In 2013, when Clark bought "Annie," the name she tenderly calls her truck, "So many things didn't work, we had to buy gas just to test drive it… and the brake pedal was held on by a pink zip tie." With a weekend spot at the Center for Wooden Boats, she found herself right back in the same neighborhood she'd started in -- yet in a completely different environment. In 1994, South Lake Union had an estimated 17,000 jobs and was expected to add 4,500 by 2014. Today, Amazon, alone, employs most of its 40,000 Seattle-based employees in the neighborhood.
After work she biked around the city, looking for a full-time spot to park her truck, to no avail -- until another player in the mobile coffee world inadvertently gave her a leg up. It happened after Amtrak approached the bicycle-pulled Convoy Coffee cart, asking if they wanted to sell coffee outside the station (since it currently offered only vending machines). Because Convoy only sold pour over coffee, not drip or espresso, they turned it down -- and Celeste was quick to snatch up the spot.
Alex Johnstone and his business partner, David Rothstein, chose to do only pour over at Convoy because they had an additional challenge. Even with a truck equipped with fridges and an espresso machine, Clark described the mobile coffee business as "like going camping every day." Johnstone and Rothstein, then, go backpacking: Convoy is run entirely by bicycle.
A bike-pulled coffee cart like Convoy has its fair share of challenges -- wind, rain, and the main limiting factor for them: how much water they could pull around by bike. Consistency is still a big factor; they make minor tweaks like using paper clips to hold filters onto the Hario v60 setups they use. Today, they have an indoor kiosk in Pioneer Square, as well as the cart they bike to the U-District and Ballard farmers' markets. But Johnstone makes clear that they're on their way out-of-doors, not in. "Mobile is hard," he says, "but there's amazing potential to reach customers in a new way."
The idea that impermanent, weather-exposed stands might foster more interaction than a standard coffee shop is counterintuitive, but it's a sentiment that echoes with each conversation. In an old photo album, Clark shows pictures of her original stand in the '90s, a makeshift seat formed by a cooler, and a piece of paper reading "drive up window" taped to a square of wood. Customers gather around an old tree stump serving as a table. Clark recalls political conversations, romances, and the beginnings of friendships that still exist. "It's approachable," she says of mobile coffee, creating a gathering place in a way that a standard café can't quite mimic. Re-opening Celesto, more than two decades after the original, Clark knew she was preserving an indispensable piece of Seattle's storied culture. "It was missed."
Even Schomer, the elder statesman of the industry, admits that his sidewalk café, just a few blocks from one of his stores, has a je ne se quois that imbues it with a sense of community not found at his stores: his staff love working there and it has the most regular, most long-term customers of his outlets. "It's just nice that the world is going by while you have coffee."
The best carts around town:
Celesto Espresso
Cute customized food truck from an industry vet
Where to find it: Outside King Street Station at 303 S. Jackson St.
Convoy Coffee
Pour-over coffee pulled by bicycle
Where to find it: University District Farmers Market, Ballard Farmers Market, and Impact Hub Seattle (220 2nd Ave S.)
Tripod Coffee
A converted horse trailer by an unlikely entrepreneur
Where to find it: Stay tuned to the Facebook page for seasonal re-openings
Sign up here for our daily Seattle email and be the first to get all the food/drink/fun in town.