In the last few years, more craft breweries have opened in Ballard than in... say... Atlanta, and it's pretty clear that so many sweet suds producers in one single 'hood can only mean one thing: improved quality of life in the area? An increasingly creative beverage scene? Nope, it means you can hit 'em all in one day! So, obviously, the crafty (ha!) move for us to make was creating a step-by-step crawl though Ballard's sweetest micro-brew spots. Here it is:
Recommended Video
Drink This Winter Bourbon Smash and Conquer Cold Weather Forever
Stop #1: Hale's Ales
4301 Leary Way NW; Ballard; 206.706.1544
We start on the edge of Free-Ball (Fremont/Ballard) at the place that produced the first microbrewed pale ale in the Northwest, and now has 23 beers on tap, consisting of ten year-round craft beers, four seasonals, and nine alternatives.

Stop #2: Jolly Roger Taproom
1111 NW Ballard Way; Ballard; 206.782.6181
There's 14 craft ales and lagers (including cask-conditioned/nitro numbers), beer-battered bacon, and pan-fried oyster sliders, all of which pretty much insure you'll have a... waitforit... Maritime
Stop #3: Hilliard's Beer
1550 NW 49th St; Ballard; 206.257.4486
A leader in the recent trend towards canned craft brews, Hilliard's slings their signature tallboys for $4, and a handful of drafts, either of which can be had in the taproom, or on the spacious patio where you can expect a rotating line-up of food trucks and live music.

Stop #4: Reuben's Brews
1406 NW 53rd St #1A; Ballard; 206.753.9583
Opened in a converted warehouse by a 2012 National Homebrew Competition/2013 US Open Beer Championship award winner, this Kickstarter-funded taproom is serving up some seriously sweet small-batch suds, all of which are posted on a stat board listing things like price, ABV, IBU, and OG, which is the likely culprit if IBU ends up in the ICU. OMG.
Stop #5: Urban Family Public House
5329 Ballard Ave NW; Ballard; 206.861.6769
Start with a 1/3lb grass-fed burger called the California Smoke Shack, and grab a Belgian-style white beer that Ain't Nothin' To F**K Wit... seriously, that's what it's called. And it ain't.

Stop #6: NW Peaks Brewery
4912 17th Ave; Ballard; 206.853.0525
This nano-sized suds maker is "all about the beer", and you'll probably be all about their beer after trying one of their two standard options (Redoubt Red & Eldorado Pale), or one of two other brews they release each month.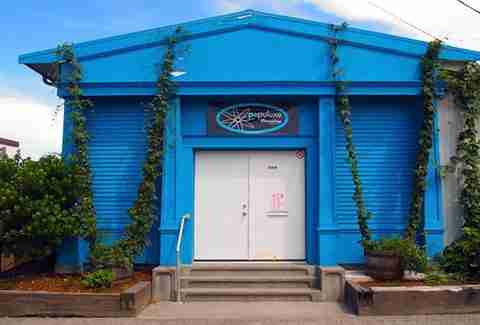 Stop #7: Populuxe Brewing
826B NW 49th St; Ballard; 206.706.3400
This nano-brewer's name is a portmanteau of the words "popular" and "deluxe", which're two things they want their spot to be. They've already insured the latter by making a few badass brews, like the Beer Snob Brown and a Euro Blonde, and they're working on the former by stocking the yard of their bright blue facility with cornhole and some of the city's sweetest food trucks. But if that doesn't work, expect some actual Euro Blondes.

Stop #8: Peddler Brewing Company
1514 NW Leary Way; Ballard; 360.362.0002
The final stop is the original Maritime location, which a couple of cycling enthusiasts took over and turned into an even sweeter place to... um, peddle beer, like a Kolsch and an IPA, which are just two examples from a list of small-batch suds that matches the number of breweries you've been to by now: Eight.