The Best Places in Seattle to Watch The FIFA World Cup
The biggest soccer decision you have to make this summer is... well, when to stop watching the Sounders embarrass themselves this season (for most of us it was after they lost to Portland. C'MON). But obviously, the second biggest decision is where to watch all the World Cup matches when they start next month.
Even though the US didn't qualify and the games are in Russia, you can still have fun by finally using soccer as an excuse to wake up at 8am and start drinking. Woo! The first-round matches kick off June 14 and run to the 28th. And to help you enjoy yourself even if you're not enjoying Panama get walloped by Belgium, we found Seattle's best soccer bars, loaded with food, drink, and futbol. We'll also be updating this list with new parties, events, and general revelry, so check back as the games begin.
Fremont
Seattle's quintessential soccer bar showing early-morning games
Named after a pub in London that dates back to the Middle Ages, it seems like The George & Dragon has been the most popular soccer bar in what is arguably America's most footy-mad city. Watching this World Cup will require more commitment than last time when it was in Brazil, as the time difference between Russia and the West Coast means some matches will start as early (or late?) as 3am. There isn't a bar in the city that'll be open then, but the G&D is planning to open for all the 5am matches, and will open a massive outdoor beer garden for England matches as well as the final.
Capitol Hill
A little piece of Paris in Pike/Pine, ideal for cheering on France
This cafe bar is unapologetically French, an effortlessly cool spot with a menu of casual Parisian café classics, foreign newspapers and magazines up front, and framed international soccer jerseys hanging on the walls. CP is preparing for the Cup with a very un-French level of enthusiasm: They're throwing a World Cup Kickoff Party from 7am-10am on June 14, and hosting a day-long celebration of France's first match starting at 7am two days later. They're also offering $14 bottles of white, red or rosé wine, and $10 cheese & charcuterie plates during all France matches, and $1 off Kronenbourg during all afternoon replays for people who get up at a civilized hour.
Roosevelt
Seattle's most famous -- and boisterous -- soccer bar
Thanks to a viral video of (overly?) enthusiastic fans celebrating Landon Donovan's goals against Ghana in 2010, AC might be Seattle's most well-known soccer destination, and thanks to partnerships with major supporters groups like the American Outlaws, Arsenal America, Emerald City Supporters, and more, you can count on it being packed with rowdy fans whenever there's a match on. Since the AC is already the kinda place to open early so people can watch soccer, you can basically just expect more of the same. Except they'll be open even earlier, including for some of the 5am matches.
Pioneer Square
Where to catch a match on your lunch break
One of almost a dozen locations spread around the world, Fado still manages to feel like a local Irish pub, partly thanks the traditional food and beer options, partly due to the timeless wood-heavy decor, and partly 'cause it's the kind of place where you're guaranteed to find Arsenal fans skipping work to watch their team have another disappointing season. Fado will be opening earlier (but not in time for the 5am matches -- that'd be crazy) and offering their brunch during the morning matches, no matter what day it is.
Capitol Hill
Three bars, five bocce courts, and a TON of TVs
In addition to the bocce courts, this massive German-style biergarten has a full menu of Bavarian favorites (think bratwursts, pretzels, schnitzels, and spätzle), a large draft and bottled beer list featuring Eastern European and Pacific Northwestern beers, and shows soccer all season long. They'll be replaying big matches during regular business hours and will be opening early at 8am for select games, including Germany vs Mexico on Sunday, June 17.
Green Lake
A modern English pub hiding in plain sight on Aurora with a lot of Scotch
A block north of the little strip of bars and restaurants (including Beth's and Olde 99) that overlooks Green Lake Park, and across the street from fairly noticeable gun and motorcycle shops, St. Andrews is easy to overlook... but don't do that. It's got 80 single-malt Scotches on offer, a solid pub food menu, and TVs on every wall and in every corner. Plus a 130-inch projection screen behind the bar. Last month, KUOW picked St. Andrews as the place to interview soccer fans about the rivalry between Seattle and Portland (something we already know a ton about), so expect to meet thoughtful yet passionate fans who'll totally tell you how disappointed they are in the Sounders this season during every break in the action.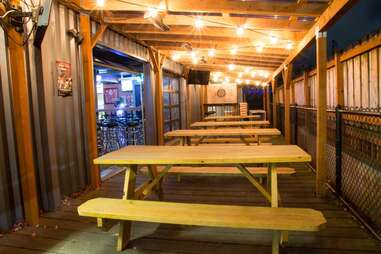 Fremont
All the soccer with none of the hassle
Let's face it, finding a seat at The George & Dragon during the World Cup will probably be even harder than understanding the offside rule, but just down the street, this corrugated metal-clad sports hang has plenty of outdoor seating/TVs, and a solid bar menu to choose from -- including a very underrated (by other people) burger. Celebrate your team's successes (or failures) with $3 drafts if you order in the five minutes after a goal is scored, or ignore the score entirely and focus on the new weekend brunch menu they'll be introducing in time for the tournament.
University District
A dark (in a good way!) soccer destination on The Ave
The guy behind Finn's owns four British Isle-inspired bars (including McGilvras, The Chieftain, and Madrona Arms), and all of 'em will be showing as many matches as possible during the World Cup. Finn's will open at 10am during the World Cup (8am for the final) and'll be offering $6 Heinekens or a Tecate & a shot for $6 throughout the tournament. Oh, and you can enter a raffle to win Sounders tickets while your there.
Sign up here for our daily Thrillist email and subscribe here for our YouTube channel to get your fix of the best in food/drink/fun.
Bradley Foster is a former Thrillist editor who used to skip classes at UW to watch soccer at Finn MacCool's. But he's not biased or anything.