Despite the naysayers, it's pretty obvious that Seattle is the number one beer city in America. Just look around at all the new breweries setting up shop here. Seriously, we've got neighborhoods with more craft breweries than entire states, and more breweries opened in Washington last year (83) than in any other state. In fact, there are so many new places opening up all the time it can be tough to keep track of them all, but that's where we come in. Here are Seattle's 11 best new breweries.
Snoqualmie Pass
Opened halfway through last ski-season -- just down the road from the Summit at Snoqualmie -- this warm and modern brewery/taproom takes advantage of the alpine water to create sessionable European-inspired beers like an ultra-pale Belgian wit, a Hop Session IPA that's only 4.7% ABV, plus a couple of German brews, as well as seasonal batches, like their new Pumpkin ale.
Queen Anne
So technically, this place isn't new (Rooftop's been around since 2013), but it certainly feels that way: their tiny original location was closed almost a year before this much bigger, and rooftop patio-equipped space down the street was ready. The taproom has 10 taps pouring a rotating selection of at least 13 brews, including a pair of IPAs (Stargazer and Coffee), a couple of pales, and... youguessedit!... at least two porters, as well.
Bellevue
Winning over 50 awards/medals for his home brews wasn't enough for the man behind RB+P, so he started his own spot in a strip mall in the brewery-starved Newport Hills. Inside the pale wood-/polished metal-heavy space you'll find a selection of house brews (plus a few from other regional brewers) that you can get to-go in one of Resonate's stunning reusable stainless steel bottles and, as the names suggests, one of 10 "Alfa-Romana"-style pizzas made using an incredibly flavorful dough they ferment for 72 hours.
Woodinville
Opened near Redhook, and employing a brewer who got his start at Redhook, Sumerian will still make you feel worlds away from Seattle's biggest craft brewer, not only thanks to incredible beers (try the American-style Narcissism IPA), but also because the refined yet comfortably rustic taproom is the opposite of what you'd expect to find in an exurban office park.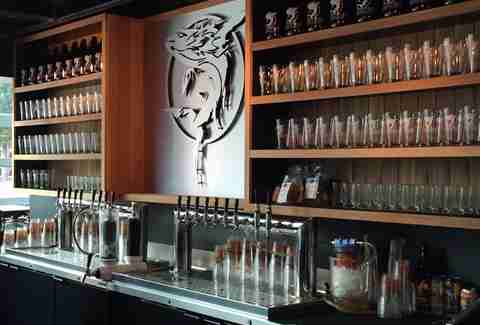 SoDo
Posted up within sight of Starbucks HQ (in the same building as Aston Manor), this inviting taproom is home to Seattle's first, and so far only, gluten-free brewery, where they serve suds made not with barley, but with alternative grains like millet and buckwheat. Highlights include signature brews like the Vanishing Point pale, and taproom exclusives ranging from seasonal options, to small batch "experiments."
Capitol Hill
Seattle's newest/most highly anticipated brewery has room for more than 400 customers inside an old car dealership they've turned into a stylish -- and sprawling -- beer hall with towering ceilings, a 20-barrel brewing system right out in the open, and a courtyard where customers can hit the various food trucks that'll be handling the food. Other things you should know: there's no table service, so you'll have to hit the bar if you want a beer (and you will want a beer, especially the signature One, or the Zest IPA), also they don't accept cash... or, strangely enough, tips. Oh, and the bathrooms are unisex. Have fun!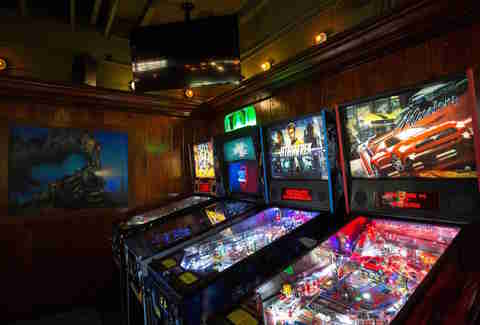 Bothell
The only brewery on this list that doesn't have a taproom per se, but what it does have are the various restaurants/bars inside Bothell's Anderson School, a stunningly ambitious renovation of an old, well, school by prolific PDX crew McMenamins. The School's 10-barrel brewing system is located in part of the old wood shop, as is what's probably the best place to drink said beer: the appropriately named Woodshop bar, where there is plenty of pub food, a huge spirits selection, a bunch of bar games, and of course a handful of house-made beers.
South Lake Union
From the crew behind the wildly creative, and now sadly closed, Epic Ales/Gastropod, comes this more polished undertaking where you can stuff yourself with an inventive combination of Northwest and international eats (baked or fresh oysters, a selection of curries, plus fish & chips or Waffle Okonomiyaki), and wash it all down with whimsically named beers like an oatmeal pale called Golden Geoduck, and the C+++ cream ale.
Greenwood
Five years after it started accepting memberships, one of the country's first community-owned breweries finally opened the doors on an airy, brightly colored brew-space/taproom, where a former Ram brewer is turning out a wide range of brash beers including a Belgian strong pale ale that's 9.4% ABV, an herb and spice-style "Winter warmer" called Show Shield and much more.
Ballard
Joining an already crowded Ballard Brewery line-up, this no-frills brew barn scores points for its dog- and kid-friendliness, its rotating food truck lineup on weekends, but mostly for an incredibly solid beer selection, highlighted by LE's Helles Lager, which won a 2015 Great American Beer Festival bronze medal, plus a few pales, and IPAs, etc. Oh, and because they're generous, they also save a couple taps for other local brews.
Interbay
Located in a garage that backs up to a railbed, this pristinely white/comfortably modern brewery & taproom opened in January but feels like it's been around forever, probably because -- in the year or so they've been selling beer -- HM's become one of the city's most beloved brewers, despite doing things a bit differently than most of their Northwest counterparts. They have a special focus on yeast-driven beers including saisons and farmhouse ales, and most of their brews undergo secondary fermentation, which means they're aged until the brewers think their ready, so you'll just have to show up and take what you can get. Happily, of course.
Sign up here for our daily Seattle email and be the first to get all the food/drink/fun in town.
Bradley Foster is a former Thrillist editor who has to drive by Holy Mountain to get to most of the other spots on this list, so obviously he hasn't actually made it to all of them.