Some patios get all the glory, get crowded the moment the sun comes out, and get put on things like our sweet Patio Power Rank. Some patios deserve all that, but they don't get it, either because they're underappreciated, or they're hidden away in alleyways/backyards/etc. Until now: here are Seattle's 10 most underrated outdoor drinking destinations...
Ballard
It's big and it's fabulous and Percy's produce-forward beverages are perfect for drinking outside. And yet, somehow, this deck manages to not be overcrowded absolutely 100% of the time. That will probably change soon, so get in your porch-sitting ASAP.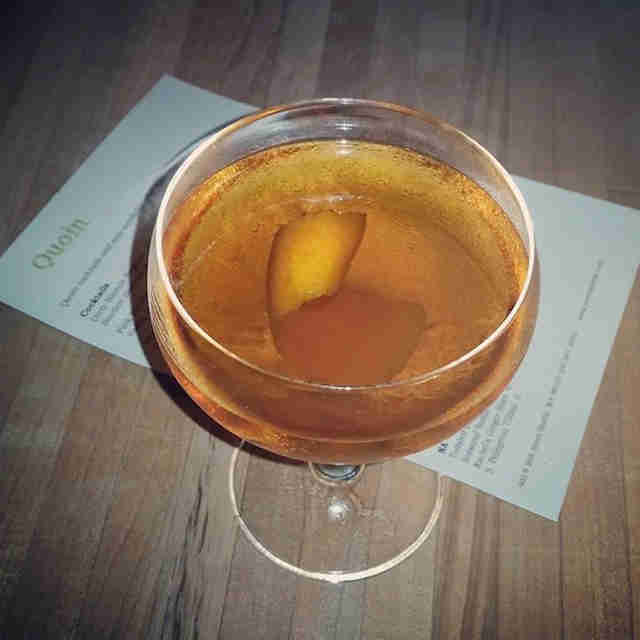 Fremont
Since Quoin mostly serves as a waiting space for sister spot and neighbor Revel, people hardly think to sneak out to the back deck, where the same killer drinks that are served at both places come on a balcony high above Fremont, in front of a fireplace.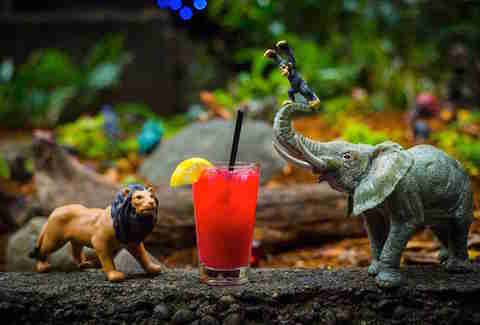 Capitol Hill
The back patio here is not large, so it's understandable that people forget about it. It's not, however, forgivable that they do, since it is basically like drinking in a garden oasis in the middle of the city, all green trees and blue tables, with strung-up lights lights twinkling in the fresh air.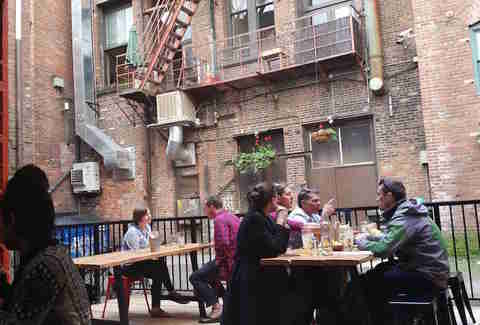 Pioneer Square
Five years ago you might have looked askance at anyone telling you that an alleyway in Pioneer Square was a great place to drink anything but Mad Dog 20/20 from a paper bag. But, hey, times change, and now the back of Casco Antiguo offers the new Pioneer Square alley experience, scented with mezcal and hot pepper margaritas.
Downtown
Another alley secret, this one hidden away behind some office buildings, making it the perfect happy hour escape from drone-dom. Enjoy sake and fresh fish and maybe even a bit of the scent of the sea, since it's just blocks from Elliott Bay.
Belltown
Squeezed in between buildings, and overlooking an alleyway in a crowded part of town, there's something romantic about the narrow patio's inherent secrecy. Or maybe it's just that we're a bit tipsy since there's no way to sit out there without wanting to stay for another glass of sangria.
Wallingford
The L-shaped patio wraps around the back of the building so tightly and so quietly, that you could eat many meals here without ever knowing you could have enjoyed your grappa under the stars. Which makes it all the better because it's just our little secret... oops!
Pioneer Square
When Il Terrazzo Carmine created its craft cocktail offshoot, the design was totally focused on drinking, but it kept the same principle as the original restaurant (which is named after its terrace): outdoors is best. Pull up a cushioned seat at the long fireplace, and let the bartender tell you about what's in your Arrivederci cocktail (hint: delicious things).
Downtown
It seems obvious, but hey, that great market overlooking the water? Yeah, it has restaurants with phenomenal views from adorable little patios. So, follow the directions ("Behind where they throw the fish") and order some of the fresh seafood that this place is known for and start in on the drinks, ideally as the sun sets over the water.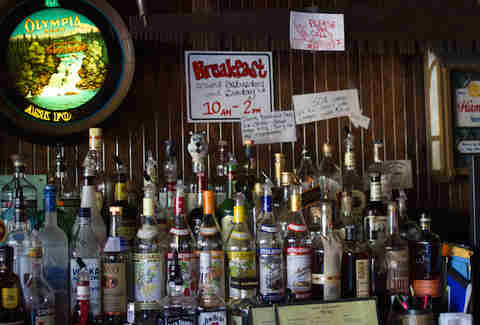 South Park
Don't ask why there's an old Airstream trailer back there. Or why the dive bar has such an otherwise adorable and classy patio. This place is not for questions, it's for cheap Rainier beer and drinking in the sunshine.
Sign up here for our daily Seattle email and be the first to get all the food/drink/fun in town.