From '70s-style beer bars to taxidermy-heavy spots that also serve burgers, these Seattle bars probably aren't the best places to take a first date, but they are some of the best places to get an unfussy drink (or six).
Recommended Video
Levels Unlocked Pub Is Washington DC's Newest Pop-Up Where You're Transported Into Your Favorite Video Game
Belltown
Its motto is "alcoholics serving alcoholics since 1929," they're pretty mean to anyone wearing Google Glass (they were the first bar in the country to ban them -- months before they came out), and every morning from 6-9am they (rather subversively) serve up bacon pancakes and quick-fried mini donuts, plus cheap wells, and $2 drafts during their morning happy hour, all of which actually make it, despite its dim black-and-white checkerboard interior, a pretty nice place to grab a drink at dawn, or anytime, really.
Capitol Hill
For almost 20 years, LT's been a destination for musicians getting ready for a show (or bartending, serving, and working in the kitchen), and is supposedly the last place Kurt Cobain was seen alive. Also, some of their bathrooms are really nice. Just kidding, but the Cobain thing is true.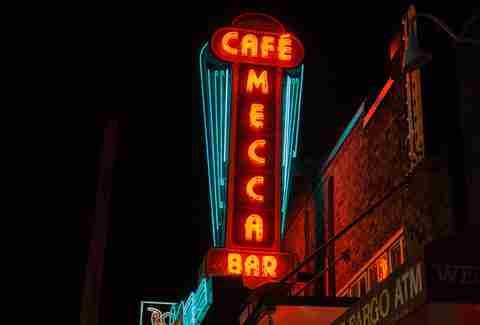 Queen Anne
Opened a year after The 5 Point (1930) by the same family, the Mecca's two narrow rooms boast all the usual dive hallmarks: surly bartenders, delicious & greasy eats, and drinks that are so stiff they'll put anyone where most people who go to the city it shares a name with are: on their knees.
Ballard
This taxidermy-heavy bar has some serious deals on Oly and 14 other drafts, 15 burger options (like the peanut butter/bacon-based After School Special), hot wings, onion rings, and other "sidekicks", a massive patio out back, bars games (Buck Hunter, skeeball, etc.), and bottled craft cocktails served at "beer speed," whatever the hell that means.
Wallingford
Opened by a pair of bar and restaurant vets, this black painted Erotic Bakery-adjacent drink spot's serving signature old-timey cocktails (the Italian vermouth/dry gin/brandy/lemon Victor) under the kind of muted red lighting ideal for displaying their ironic graffiti-style wizard mural, and playing all their games, like pin-ball, free darts, and a gratis arcade-style console loaded w/'80s classics like Galaga, Pac Man & Pole Position.
Capitol Hill
Opened by a Montana-born industry veteran (La Bete, Matt's in the Market, etc.) and the entrepreneur behind Rachel's Ginger Beer, this 40-seater's serving better-than-usual beers and a few classic cocktails in a charmingly awkward space that used to house the Buck's, now transformed thanks to stained wood and highway signs (some bullet-riddled!) into the kind of intentionally divey space where you're encouraged to carve your name into the tables.
Belltown
Enjoy it while you can. This Coney Island-themed hot dog-and-pinball emporium will likely close soon to make way for a 124-unit housing development (there is a last ditch campaign trying to save the building, so fingers crossed), but in the meantime the 2nd Avenue mainstay is still serving a half-dozen dog options, and pouring stiff drinks in its festive but casual space.
University District
Opened a mile or so from UW in 1934, when the law required bars to be at least that far from the school, this wood-heavy tavern spent the middle part of the century as a destination for literary figures like Roethke, Dylan Thomas, and Allen Ginsberg. Nowadays it's a destination for music lovers thank's to live shows almost every night.
Capitol Hill
Boasting low light, a low ceiling, slightly sticky surfaces, and a floor covered in the shells of free peanuts, this genuinely divey Cap Hill institution is another beloved bar that may soon be torn down by developers, but will remain a can't-miss establishment until its seemingly inevitable demise.
Capitol Hill
Everyone thought it was curtains for this well-loved bar in 2013, until new owners stepped in and launched a new, more polished version of the former venue/bar in 2014. Though music doesn't happen quite as often as it used to, they've still got a solid booze selection -- and $4 pitchers -- plus the bar connects to Lost Lake next door so you can grab a late-night breakfast/plate of tater tots.
Ballard
All you really need to know is that the TT's connected to one of Seattle's best strip clubs, but if that's somehow not enough for you, this iconic dive reopened in 2014 (after shuttering the year before) with some help from the guy behind the Secret Sausage food truck. Meaning you can always score a hotlink with house-made cream cheese to go with their better than average beer selection.
Sign up here for our daily Seattle email and be the first to get all the food/drink/fun in town.
Bradley Foster is a former Thrillist editor who is traumatized by the fact he'll soon have to buy peanuts instead of getting them for free at The Redwood.