Hey Seattle: happy hour isn't about picking one of the town's best bars or restaurants and devouring everything you possibly can before it ends, only to go back home and never come out again. No, it's actually about picking a convenient place to grab a drink/snack before heading home from work, or heading out on the town. So we've assembled this helpful list of great happy hours that will undoubtedly include one near you (hopefully).
 
Greenwood/Phinney Ridge
Teachers Lounge (address and info)
The deals during this Tuesday-Sunday happy hour aren't bad -- $2 off specialty cocktails; $1 off beer, wine, and food -- but we didn't pick it for that. We picked it because, in keeping with its theme, happy hour at the Teachers Lounge is one and 5/8ths hours long, or (in other words) from 5-6:37pm.
 
Recommended Video
This Enchanted Speakeasy Takes You Through a Revolving Door Back to the 19th Century
Green Lake/Ravenna
Shelter Lounge (address and info)
A handful of its palatable items -- poutine, the signature burger, biscuits & gravy -- are all 20-30% off, and drink deals are highlighted by $3 Rainier tall boys, so the twice-daily happy hours (4-6pm, and again from 10pm until close) are solid. But this pick is all about location, location, lo... behold, it's right next to Green Lake. Come spring (OK, early summer) when happy hour ends, you can wander over and sit on the shore watching the sunset before you go home/to the next bar.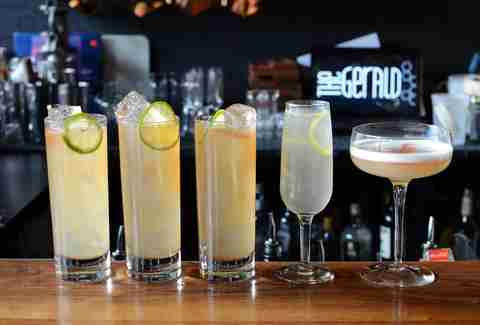 Ballard
The Gerald (address and info)
Ballard is crawling with happy hour spots (we seriously love King's Hardware across the street) but this underrated Ballard Ave joint gets the nod for simplicity's sake. During its twice-nightly happy hours (4-6pm, and 10:30 until close), everything on the appetizers menu is just $5. Draft beers, house wines, well drinks... they're all $5, too. And speciality cocktails? Yup, they cost just... oh. $7. OK, so maybe it's not THAT simple.
Fremont
Quoin (address and info)
Two words: Revel Ramen. And now some more words about said ramen: it's one of Seattle's best takes on the delicious noodle dish. You usually can't get it in its namesake restaurant next door, and they only make 10 a night, so better get your ass to the bar between 4 and 6pm and get some... and a Rainier & a shot for $5, naturally.
 
Central District
The Neighbor Lady (address and info)
This bar at 23rd & Union makes the list not for the number of things on its happy hour menu -- $2.50 Rainier drafts, $4.25 draft ales/well drinks... and that's pretty much it -- but for the sheer number of hours it offers discounts. Seriously, happy hour runs from noon-7pm everyday -- except Sunday, when it runs "all day and night."
Wallingford/University District
Westward (address and info)
What's special about this one? It's an oyster happy hour (weekdays 5-6pm, and 3-6pm on weekends), which means you get discounted bivalves on the half shell, plus specials on draft brews, cocktails, and more. The views over Lake Union are pretty special, too.
 
Magnolia/Interbay
Magnolia Village Pub (address and info)
Sure, the food at Mulleady's might be better, and the deals more comprehensive at Oliver's Twist ($2 off all cocktails, $1 off all food), but this sports hang has wayyyy better bargains. We're talking signature-MVP-burger-and-a-PBR-tall-boy-for-$6.50 better.
Queen Anne
Toulouse Petit (address and info)
Boasting the most ambitious happy hour in the city (and maybe anywhere), this New Orleans-inspired spot in lower Queen Anne offers up over over 50 food items under $10, plus specials on wine, house cocktails, beer, and more, every day from 4-6pm, and again from 10pm until late.
 
Belltown
List (address and info)
Everything on the food menu at this dimly lit Italian joint is 50% off, pretty much guaranteeing it the top spot in Belltown -- or anywhere, really -- especially since, in addition to its usual 4-6:30pm happy hour, it has one late-night Tuesday-Thursday, and all day Sunday and Monday.
South Lake Union
Brave Horse Tavern (address and info)
Most other happy hours offer a few dollars off stuff from their usual menus. But BH offers a tiny selection of stuff you can only get during its happy hour. Namely, some hand-dipped corn dogs or mini pretzels to go with not-terrible deals on drafts, boilermakers, and other drinks.
 
Capitol Hill
Barrio (address and info)
The Triple T (a Tecate can, a shot of Casa Pacific tequila, and a taco) alone would be good enough for us, but this popular Cap Hill hang's sprawling happy hour menu also boasts mini enchiladas, tacos, desserts, specialty cocktails, deals on south-of-the-border drafts, and... well, lots more. Get there between 3-6pm and check it out for yourself.
Downtown
Metropolitan Grill (address and info)
So the 3-6pm happy hour might be the only time you can actually afford to eat at what might be Seattle's best spot. Take advantage of it by scarfing three beef dip sandwiches with au jus for $5, or a works burger with cheddar, caramelized onion, and house-made Thousand Island for just $7... with the purchase of one full-priced drink.
 
Pioneer Square
Delicatus (address and info)
During the day it's one of Seattle's best sandwich shops. But from 3-6pm, "gathering hour" begins, which it hopes you use to relax after work or to wait out traffic. The charming bar hidden in back takes center stage, where everything from the appetizers and entree section of its evening menu is $2 off (that means pork rillette pasties for just $6!), and Rainier tall boys are just $2, too -- along with several other drink specials.
 
West Seattle
Ma'ono Fried Chicken & Whisky (address and info)
This bustling spot from one of Seattle's most celebrated chefs offers a handful of the kind of island-inspired eats (hoisin meatballs, Mac N' Kimcheese with grilled Spam) you can't get anywhere else in Seattle. It's all $5 during happy hour, 5-6:30pm Sunday through Thursday, at the bar. It has Rainier tall boys and a shot for $5, too, to help you wash everything down.
Sign up here for our daily Seattle email and be the first to get all the food/drink/fun in town.
Bradley Foster is a former Thrillist editor who wishes more places had morning happy hours like The 5 Point, but is still totally happy getting a drink (or four) at any of these places.