Seattle's Best Irish Pubs
Seattle's not exactly known for its Irish population. But, like other cities, it still has dozens of Irish pubs (strangely, the first one didn't open until 1992). Meanwhile, Ballard's famous influx of immigrants from Europe's far north has led to, like, four measly Scandinavian bars. What does all this mean, say, sociologically? Probably something. Practically? It means you could use this list of the best Irish bars and pubs in Seattle to settle in with a Guinness and celebrate St. Paddy's Day.

Magnolia
The most food-focused of Seattle's Irish joints, this gleaming two-level pub on a hillside overlooking Interbay boasts a delicious list of Irish whiskeys complemented by a creative collection of cocktails, including the bourbon/apple brandy/cinnamon syrup Fall Harvest, and a Scotch/fernet combination called Silence Falls. Its menu is loaded with bites way better than classic pub food, and is highlighted by confit pork belly with pickled beets & horseradish, the Plan B Burger with grass-fed beef, tomato jam, grilled onions, a fried egg, and Beecher's Flagship on a brioche bun, and mains like boneless braised lamb served with root vegetables and warm crusty bread.
Connor Byrne
Ballard
There's been a bar in this long, high-ceilinged space on the cobblestones of Ballard Ave for more than 100 years. But thanks in part to an update a handful of years ago, CB isn't the least bit dingy. Instead, the brick-laden and polished wood-heavy spot feels comfortable, like an old sweater -- albeit an old sweater in which you can pound Jameson and ginger cocktails, and a combination of Irish and local beers.
Wallingford
Reopened after a brief hiatus last year, Seattle's oldest Irish pub has cleaned itself up, added things like brunch and more live music, and stayed true to its hard-drinking history (it was the first bar in Seattle to put microbrews on tap). It has daily happy hour deals on the usual Irish drinks, and will pair them with solid old country eats like stout beef stew and smoked pork chops.
Madrona Arms
Madrona
The latest addition to the mini Irish empire helmed by the guy behind Finn MacCool's, McGilvra's, and The Chieftain, MA took the place of the similarly named Eatery & Alehouse late last year. And while its three sister spots might all be better St. Paddy's Day destinations, this fireplace-equipped establishment is a solid everyday hang, thanks to a laid-back atmosphere and a menu featuring Irish nachos (made w/ tater tots), a whiskey crab soup, and classics like shepherd's pie and bangers & mash.
Pioneer Square
It shares a building with Fado's (another fairly solid Irish pub), but the quintessentially Seattle Owl gets the nod thanks to its Post Alley location, basement setting, and livelier atmosphere. Of course, a four-hour daily happy hour, an eats menu highlighted by "Irish poutine," and all the usual entrées don't hurt either.
Downtown
Seattle's most well-known (and often most obnoxious) Irish pub, Kells can't be left off our list. It serves as the city's unofficial St. Paddy's Day HQ, and boasts an admittedly spectacular location that opens onto First Ave upstairs, and to Post Alley from the always boisterous basement. It also features a unique pasty menu that includes a corned beef option with shredded cabbage & Swiss cheese topped with a stone-ground mustard sauce, and a Ballycastle sausage roll.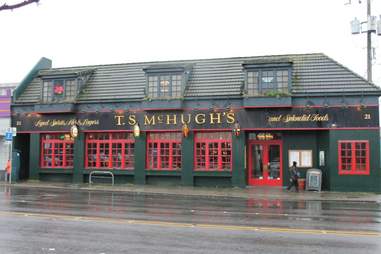 Norelle Done for Marketeering Group
Queen Anne
Famous for its soda bread (and its location in the meat market on lower Queen Anne), this sprawling space boasts 21 local and Irish brews on tap, a dozen Irish whiskeys, and what it claims is Seattle's best Irish coffee. It's a concoction which starts with Tullamore Dew Irish whiskey, a muddled pure cane sugar, and freshly brewed, locally roasted Caffè Appassionato coffee, and is finished with cream that's been lightly whipped.
Sign up here for our daily Seattle email and be the first to get all the food/drink/fun in town.

Bradley Foster is a former Thrillist editor who mostly goes to Irish pubs to watch English soccer -- and eat lots and lots of fried food.