These beer pros tell you the best suds to imbibe this Summer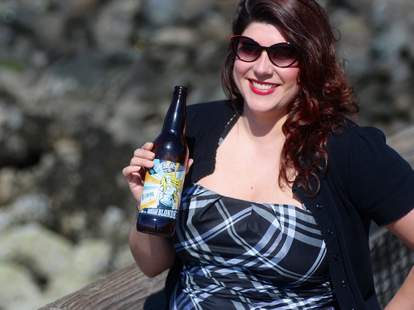 It can be tough choosing the best beer to drink on a hot Summer day because... well, almost any beer's pretty good to drink on a hot Summer day, and because you don't always have local beer-slingers, bar owners, critics, and other suds-experts on-hand to share their personal favorites. Luckily, we do, and we hit up five of them up for their sweetest Summer beer recommendations
Chuck Shin, Chuck's Hop ShopAnderson Valley Summer Solstice (Cream Ale, 5% ABV)Chuck says, "Honest to God, it tastes like cream soda.
Shiner's Ruby Redbird (Fruit/Vegetable Beer, 4.01% ABV)Chuck says, "Redbird's brewed with real Texas Rio red grapefruit, which gives it a real tart, citrusy bite that sets it apart from all those other beers that're perfect for sipping while you're out sitting on your porch.
Libby Tucker, Beer2Buds.comKona Brewing's Big Wave (American Blonde Ale, 4.4% ABV)Libby says, "If you're a fan of hops but look for something not too heavy, this is a great beer. It's light and refreshing but doesn't short you on flavor. You immediately taste the hops, but they aren't overpowering, and it's also very drinkable.
Abita's Strawberry Harvest Lager (Fruit / Vegetable Beer, 4.2% ABV)Libby says, "I'm not a fan of fruity beers but this is drinkable, even for the guys! In fact, it's two of my guy friends who introduced me to this beer. The strawberry taste is light, and the taste is balanced.
Sarah, The Danny Bonaduce Show & Sarah's Beer of the WeekFremont Brewing Company's Summer Ale (American Pale Ale, 5.2% ABV)Sarah says, "Summer Ale from Fremont Brewing Company is an amazing, warm, Summery kind of beer. I guess you could say it's named well. This brew is refreshing, crisp, full of flavor but won't weigh you down on a warm day. The smell is floral hops, the taste is pure beery goodness.
Alaskan Brewing Company's Alaskan Summer Ale (Kölsch, 5.3% ABV)Sarah says, "For me, Summer beer drinking doesn't involve fruit. Limes are for margaritas. Warm weather beers should still be full of flavor, yet not overly filling or too high in ABV. My go-to is Kolsch, and Alaskan Brewing Company makes a great one. Alaskan Summer Ale has light hops, sweet malt, and perfect carbonation making this German style beer an absolute summer must.
Miles Montgomery, The Men's Room on KISWAmerican Blonde from American Brewing Company (American Blonde Ale, 4.5% ABV)Miles says, "I think anytime is a good time for Elysian Men's Room Original Red since the beer benefits the Fisher House. But technically, not a "Summer" beer. So… I go for the American Blonde from American Brewing in Edmonds. A very crisp, light lager that is unique, darn tasty, and very drinkable on a hot day.
Ziggy Zoggy Summer Lager from Silver City Brewing (Keller Bier/Zwickel Bier, 5% ABV)Miles says, "Tasty German-style Summer beer with a little more hop and honey finish.
Rick & Ellen Kelly, The Noble FirPort Brewing's Summer Pale Ale (American Pale Ale, 5.2% ABV)Rick says, "A massively hoppy West coast-style pale, that's very cloudy when it pours, and is brewed without Crystal malt, so the Chinook, Cascade, Amarillo, and Simcoe hops really shine. The citrus hop profile is crisp and balanced, so we think it is perfect for the Summer season. When it's on tap, our whole staff gets in on one, pronto!
Cascade Summer Gose (Gose, 5% ABV)Rick says, "The Gose style is not commonly available in the US, and so it is fun for us to see Cascade embrace it. It is a German-style salt sour brewed with lemon peel, coriander, and other spices. With its low ABV and the salt and lemon acting as electrolytes, it is the perfect Summer beer for the folks who want to enjoy a couple and still stay active."