Spring in Seattle Means It's Time for THE Mint Julep Recipe
Photo: Eric Helgas/Styling: Ali Nardi
You can't throw a Kentucky Derby party without juleps. And while the classic is a classic for a reason, upping your game with exotic ingredients can take your bash to heretofore unseen levels of glory. That's why we asked 1st Ave bartender Bridget Maloney for a new julep take featuring some... exotic flavors. Chocolate? Better believe it.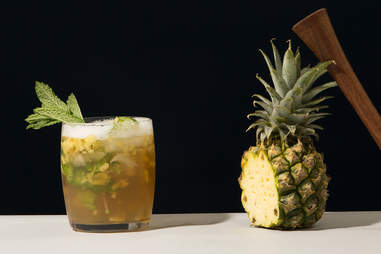 Photo: Eric Helgas/Styling: Ali Nardi
The Golden Luck
INGREDIENTS:
1.33 ounce Bulleit bourbon
1 ounce pineapple gum
.5 ounce Lustau Amantillado sherry
4 dashes Scrappy's chocolate bitters
6-8 mint leaves
Large scoop of fine pineapple chunks
DIRECTIONS:
Add all the ingredients and soft muddle.
Add ice and top with sparkling wine.
Garnish with a mint sprig.