Everyone knows that things (and people) start to look better after a few drinks, but why wait for the booze to kick in? Thankfully, if you do your drinking in a bar with 7,000lbs of handmade Moroccan tile, a spot where all the wood's stained with Angostura bitters, or any of Seattle's 10 most beautiful drinking establishments, you totally don't have to.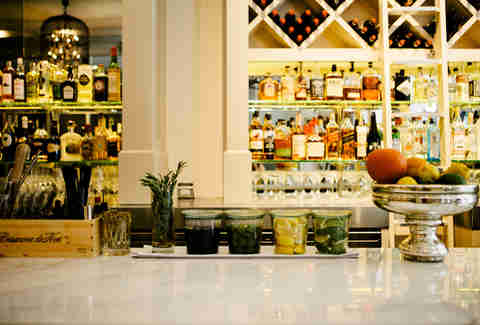 Pioneer Square
This newish street-front extension of Seattle's famed Il Terrazzo has a casually elegant (as if someplace in The Town can be any other kind of elegant) atmosphere thanks to a high ceiling, a serenely pale color palette, and a stone/glass-bedecked bar against the wall that quietly but impressively dominates the space.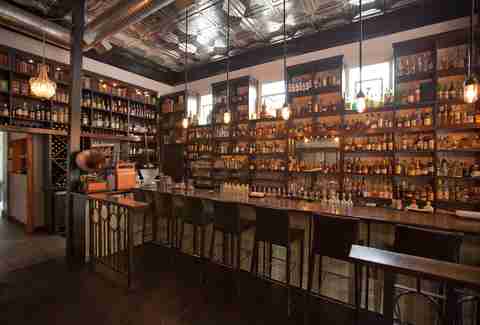 Capitol Hill
One of the best cocktail/whiskey bars in America, this Cap HIll boozer offers 1) the largest selection of American whiskey in the world, 2) a 94-page spirits menu, and 3) space-age devices like centrifuges to make cocktails with, but all of that is overshadowed by its apothecary-style space where every piece of wood (and there is LOTS of it) is stained with Angostura bitters.
Capitol Hill
The latest addition to Broadway's bar scene boasts a smart and mature drink menu centered around Italian amari: aperitifs, digestifs, and fernets, etc., and a spectacular space in which to enjoy them, with a dark tin ceiling, a beautiful chandelier, and an oversized patio with a retractable roof that might be one of Seattle's best outdoor drinking spots.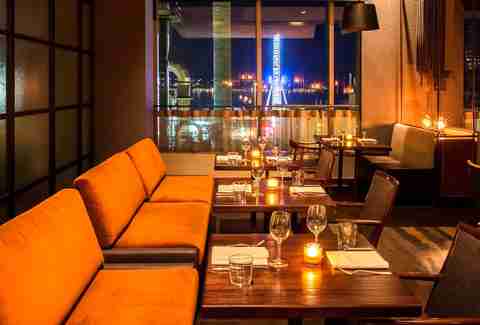 Downtown
This Four Seasons lobby bar from prolific Seattle super-chef Ethan Stowell boasts a light, airy space decorated with hand-blown glass lights, and is lent warmth by a fireplace near the bar, but the highlight is the floor-to-ceiling windows through which you can gaze upon the Great Wheel and the rest of the waterfront.
First Hill
A newly renovated drink spot inside Seattle's oldest boutique hotel (a hotel that was once traded for an orchard, BTW), the DR feels like the kind of swanky watering hole you might have found in colonial North Africa mostly thanks to its polished-wood shutters and ceiling beams, and over 7,000lbs of blue and white tile imported from Morocco.
Ballard
A stunning brick-walled, apothecary-style spot from a crew whose past credits include places like Rudy's and the Ace Hotel, P&C boasts an equally badass deck out back overlooking Salmon Bay and is strewn with herbs and other plants used in its sophisticated cocktails that, as the parsley-/sage-/rosemary-/thyme-infused gin-based Garfunkel demonstrates, are practically works of... waitforit... art.
Capitol Hill
This serenely sophisticated space boasts a cool (as in not warm) blue and white color palette that matches the fresh Greek-inspired seafood that graces the menu, a glass wall that opens to the street, and a modern, minimalist aesthetic that is meant to put the focus on the food, but is at least as memorable.
SoDo
So, technically it's a tasting room that's only open by appointment, but this 13,000sqft single malt whiskey distillery, boasting soaring industrial spaces, rough-hewn wood beams, concrete floors etc., is definitely one the most stunning places to get a drink in the city.
Downtown
Located in what used to be a members club for leading Seattle businessmen, the Polar Bar is easily one of Seattle's most overlooked drinking establishments, which means you can often have the sprawling old-school space, with fluted columns, a fireplace, and a subtly back-lit bar, all to yourself.
Wallingford
Opened by the crew behind Skillet, Westward is a nautically themed spot in a beautiful, but slightly rustic (and yes, twee) space that's built around a wood-burning oven, has a boat that surmounts the bar, and boasts stunning views of Lake Union and Downtown from its patio/beach.
Sign up here for our daily Seattle email and be the first to get all the food/drink/fun in town.
Bradley Foster was the founding editor of Thrillist Seattle who thinks it's really weird that the most beautiful view from Westward is southward.