You know what would make your sweet road trip this summer even better? A new car! Or, more practically, a stop at one of the eight best brewpubs in the state outside Seattle...
Recommended Video
This Massive Bacon Festival Takes Over an Entire Stadium
Yakima Valley
The big, log-cabin feel is a bit like a ski lodge, which makes food like Buffalo sliders and giant plates of prime rib feel right at home. Not what you're looking for? No worries, the menu also hits a cross section of food favorites: part steakhouse, part pizzeria, part gastropub. All go well alongside a refreshing beer made with hyper-local hops.
Spokane
There's something about sitting back and watching a river laze by that encourages an afternoon of drinking good beer -- which means No-Li's home just around a bend of the Spokane River is as good as it gets. And when the time comes to soak up some of those Empire No. 8s (session-style IPA) or its Mosh Pit Tart Cherry Ale, the beer-fueled creative takes on brewpub classics like ale-spiked nachos or a pulled-pork sandwich with Spin Cycle Red barbecue sauce will hit the spot.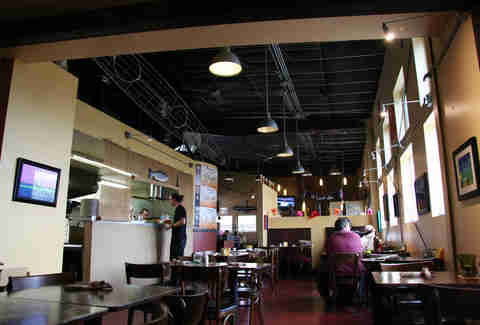 Bellingham
Clearly the beer is good: this is the only brewery outside of the Seattle area to make our experts' list of the 13 best breweries in the state, but with its focus on local foods (and an entire locavore menu), it has an equally solid approach to its hummus wrap, mac 'n' cheese, and signature bread pudding.
Bellingham
Forget everything you thought you knew about brewpubs: big windows, lots of greenery, and a great view of the entire operation make an ideal venue to showcase innovative beers such as the Disco Lemonade (Berliner weisse) and the Gargoyle Fresh Hop. Pair those with food that doesn't fit the mold (Mexican-style corn on the cob, waffle fry poutine, and a bison burger) and it's a change (for the better) from the classic brewpub.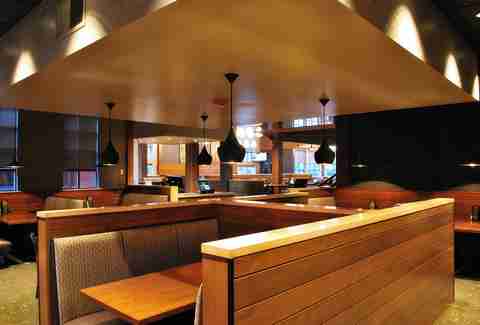 Silverdale
The food, like the beer from this Kitsap County favorite, is strong, exciting, and quintessentially Northwest. Just like the Whoop Pass Double IPA is brewed with more than 50lbs of Washington Cascade and Columbus hops, the menu is loaded down with heavy-hitting local favorites like hazelnut crusted Copper River sockeye salmon and mac 'n' cheese made with Tillamook cheese and rigatoni.
Olympia
You don't last more than 20 years without doing something right: and for this organic brewery, that mostly means keeping things simple. The menu sticks to classics (with the occasional fish-themed foray, like the oysters or the pub smoked wild salmon plate), and Fish Tale serves its own beers (which include Fish Tale Ales, Leavenworth Biers, and Spire Mountain Ciders) to throngs of happy customers.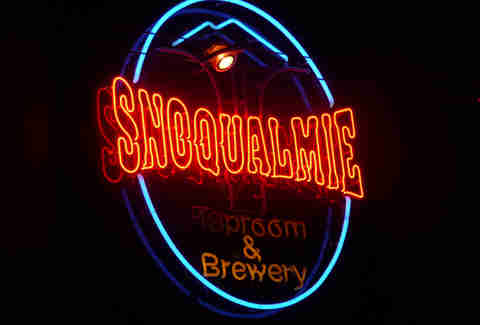 Snoqualmie
They say it's all about location, location, location, but in a state like Washington, even if you put your brewery on the way home from the local ski resorts, hikes, and biking trails, you'd still better serve some sweet suds. These guys do: Snoqualmie's Wildcat IPA is a local favorite, but save that for later, because the taproom offers "small batches of fanciful beers head brewer Rande dreams up" and special releases to guzzle as you work your way through a food menu stocked with pizzas and brewpub standards.
 
Winthrop
Being located in a tiny town in the middle of nowhere hasn't stopped this adorably housed (in, duh, an old schoolhouse) pub from gaining fame for its beer -- it won two gold medals at the North American Brewer's Association beer competition last year. Even more impressively, people have figured out that it's worth the drive, thanks in part to open mic nights and live music on the riverside patio.
Sign up here for our daily Seattle email and be the first to get all the food/drink/fun in town.