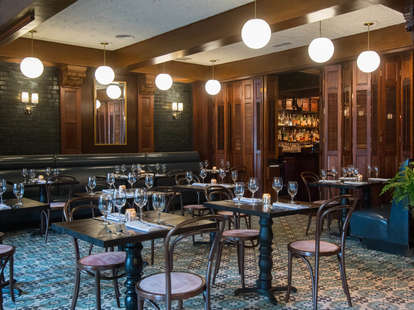 Chona Kasinger/Thrillist
Chona Kasinger/Thrillist
Everything that's old is new again, which is why nowadays cool kids are wearing their granddad's cardigans, a certain lifestyle site is starting its articles with seemingly random idioms, and Seattle's oldest boutique hotel has opened a brand-new bar that's named after an old bar and is filled with new finishings that look like old finishi... oh, you know what we mean. But here're seven things you probably don't already know about the Dunbar Room...
1. The whole hotel is "new"
The former Hunt Club space, now named after the hotel's bar back in the '60s, is just the most obvious part of a hotel-wide renovation that includes everything from a swanky Fireside Room, to updated guest rooms, to a brand-new patio in what used to be the circular driveway.
2. You'll be walking on 7,000lbs of hand-made Moroccan tile...
... which arrived in the US on a container ship, and then sat unloaded for weeks during the Long Beach dockworkers strike.
3. There's a "Secret Burger" on the menu
Chef Seth Caswell, formerly of emmer & rye and The Willows Cafe on Lummi Island, has created an approachable, but seriously badass menu boasting things like an orecchiette pasta dish with bacon, leeks, oregano & shellfish called Little Clams With Little Ears, the Boneless Beef Short Ribs with horseradish-polenta cakes and gathered & grown mushrooms, plus a (not so) Secret Burger that's made from short rib trimmings, which means there's only a limited number available each night.
4. Its toast is the best thing since sliced bread
These finger foods come on Grand Central Bakery Como bread and boast spreads ranging from Dungeness crab & avocado, to a chèvre & pea puree.
5. The entire menu's available in the Fireside Room...
... or on the new patio, so you don't HAVE to sit in the DR's stylishly retro dining room or dark wood-paneled bar if you don't want to.
6. The bartender worked for famed chef Jose Garces in Philly
Now he's here making his own Amaro with spices from Pike Place Market, and an absinthe cocktail named after Gertrude Stein's muse and life partner, Alice B. Toklas, who was a Sorrento regular and is said to haunt the fourth floor.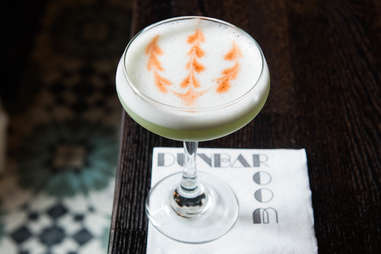 7. The hotel was once traded for an orchard
Seriously. The sons of the founder -- who the Buffalo Trace Bourbon/Bärenjäger/lemon juice/habanero bitters Rosenberg cocktail is named after -- made the trade so they could start a line of preserves.
Sign up here for our daily Seattle email and be the first to get all the food/drink/fun in town.