A beer fest, a food fest, and a mega <em>Mario Kart</em> tourney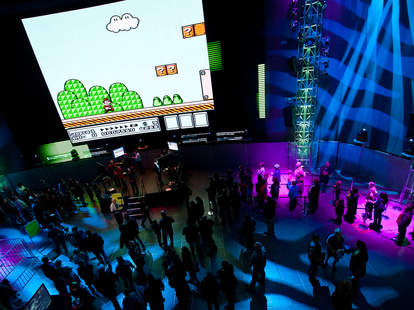 Thursday
The EMP is staying open until 8p so it can host a "mega" Mario Kart tournament on its mammoth Sky Church screen and lace you with food and drink specials from POP Kitchen + Bar. To start Kartin', click here!
Friday
At 7p, the Pike Place Market is trickin' out the North Arcade with bites from a shton of local purveyors (Zaccagni's, Sweet Iron Waffles, etc.) and local brews like Emerald City and Odin. You know you want tickets, so click here
Saturday
Hit the road to Leavenworth for an ale fest with brews from 20 Northwest suds-makers, jams from a slew of local bands, and eats from places like Smokin' Joes BBQ and Cheesemonger. It's totally worth the drive, so start clicking
Sunday
Tavolata's Sunday Feast = foie gras, duck tenderloin, duck confit, and whole roasted duck, so don't be a chicken, and hit 'em up for a reservation. Dinner starts at 6p and is $60 per person
Next Week
It's not 'til next Thursday, but space is limited at the Hotel 1000's virtual golf & beer experience, featuring flights of Georgetown brews, and bites from BOKA... so get your tickets now!