Ever Green
Sponsored by

St. Patrick's Day Green Items, Ranked
Sponsored by

If you've ever been to Ireland, then you'd probably take it on faith that the country's official color is green because of its landscape. Seriously, the place glows green. And yet, that's not the reason the Irish rep green, or that the millions of Irish-for-a-day do it on March 17th. No, Ireland's original color of choice (according to some sources) was blue. But during the Great Irish Rebellion of 1641, a band of militants resisting the English crown flew a green flag with a harp on it as their official colors, and the Irish have been wearin' the green ever since.
Of course, when it comes to St. Patrick's Day celebrations, green is not just limited to the wearin': It covers drinking, eating, lighting, accessorizing, and even boating. Here, the definitive and indisputable ranking of all St. Patrick's Day Green Items.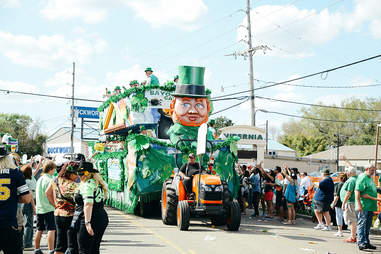 Siouxsnapp / Shutterstock
20. Parade Floats
Festooned with shamrocks or leprechauns, rainbows or harps—and plenty o green—St. Patrick's Day floats will star in many a March 17 parade. Speaking of, here's a three-pack of fun facts about the Grandaddy of all US St. Patrick's Day parades, the New York City edition: it's been going for 256 years (the country's only been going for 242); it includes approximately 200,000 marchers; it attracts 2 million spectators.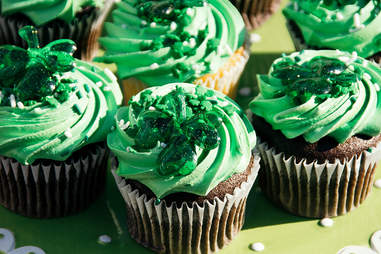 Globalphotogroup / Shutterstock
19. Cupcakes
Cupcakes are like ice cream, music, and Bob Ross. Everybody likes them. Top them with green frosting (and maybe a shamrock) and they're even more grand, as the Irish would say.
Spine / Shutterstock
18. Business suits
Unless you win the Masters (and with your slice, come on, it'll never happen), you're not going to have many opportunities to rock a kelly green suit jacket, much less the whole suit. Don't let the chance pass you by on March 17.
17. Body suits (aka Morphsuits)
There's no question you're going all-in for green when you zip yourself into one of these things (and yes, they have zippers; two, in fact). And that amazing head-to-toe-green factor would put them higher up this list, if not for their combination of mild creepiness and lack of tradition.
Carolyn Lagattuta / Stocksy
16. Hair and/or Wigs
A green wig will put any St. Patrick's Day reveler into the proper spirit of the day, but dyeing your hair green shows deeper commitment. And if you happen to have strawberry blonde hair, you can do a whole Irish-flag color-scheme thing.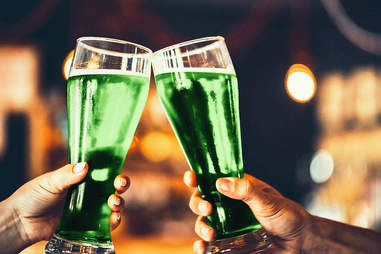 Ievgenii Meyer / Shutterstock
15. Beer
If you don't at least witness someone imbibing emerald-hued suds on St. Patrick's Day, you're doing it wrong.
Andrew Pustiakin / Shutterstock
14. Cocktails
Mix up any one of the multiple classic cocktails that are naturally green, such as the Last Word, and the Grasshopper, or create signature green drinks on your own—or, as a last resort, break out the food coloring.
Brian Yarvin / Shutterstock
13. Bagels
A Jewish-American specialty tweaked for an Irish-American celebration and best enjoyed in the ultimate melting pot city, New York. It's a St. Patrick's Day miracle. Mazel Tov! Slainte!
12. Tower of Pisa
Like blackened chicken, the leaning Tower of Pisa is a mistake that morphed into a classic. Lit up green for St. Patrick's Day, it gains novelty without losing any of its stately beauty.
Sean Locke / Stocksy
11. Eggs (with a side of ham)
LIttle known fact about the Dr. Seuss classic: the unnamed protagonist's change of heart vis-a-vis the titular dish came about on St. Patrick's Day, 1960, after he (finally!) tried them.
Enzart / Shutterstock
10. Roman Colosseum
An ancient Italian ruin with connections to the Catholic Church, the Colosseum got lit up in spectacular green on St. Patrick's Day, 2015. And it was awesome.
9. Allianz Arena
An ultra-modern German soccer stadium with zero connection to any church, or to Ireland, the Allianz Arena also went green on St. Patrick's Day, 2015 (for the third year in a row). And it was even more awesome.
Vera Lair / Stocksy
8.   Donuts
Mmmm, donuts.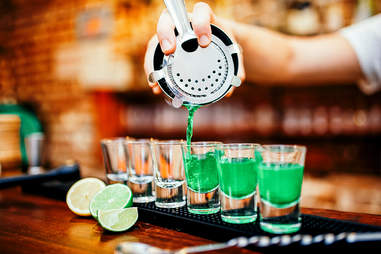 bogdanhoda / Shutterstock
7. Shots
Pair a green shot with some green beer and you have a St. Patrick's Day Boilermaker. Then drink a glass of water (dye optional).
6. Pets
The shaggier the better—dye your dog, cat, or long-haired guinea pig green for the day. Erin go bark.
5. Milkshakes
There's a fast-food chain that offers these every year, and there's a reason for that: they're flat-out amazing. You can make them at home with mint or pistachio ice cream; they're delicious and triumphant either way.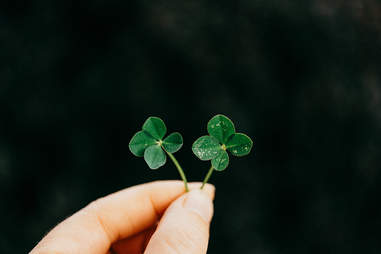 Melanie DeFazio / Stocksy
4. Shamrocks
From Shamrock Shakes to actual shamrocks, which are not to be confused with four-leaf clovers (see above!). There's actually no definitive version of clover that qualifies exclusively as a shamrock, but there is an important distinction between a four-leaf clover and a proper shamrock. It's simple but oft-overlooked: the shamrock has three leaves. Those leaves are purported to symbolize faith, hope, and love (and in some retellings, the holy trinity)—and they adorn just about every emblem of Irish life, from sports teams' uniforms to Aer Lingus's logo.
3. Beards
You could visit a costume store and acquire a fake green beard that works for the day's festivities. Or… you could rise to the occasion and dye your beard green like these heroes.
2. Another cocktail
It's no secret that imbibing is a central part of St Patrick's Day. So go ahead and have a second classic or signature green cocktail.
Steve Wood / Shutterstock
1. Chicago River
While New York has the longest-running and best attended St. Patrick's Day celebration in the country, Chicago knows how to bring it on March 17th, too. The centerpiece of the Windy City's St Paddy's bash is the dyeing of the Chicago River, a 56-year-old tradition that wows some 400,000 onlookers between Wabash Avenue and Columbus Drive.