Everything You're Going to Drink This Summer, Ranked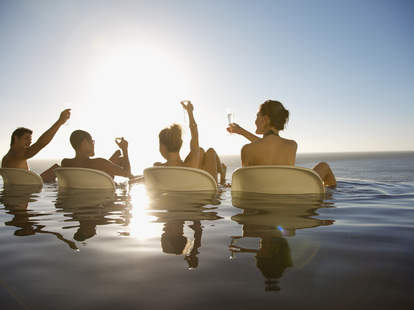 When the weather gets hot, the drinks get light and cold. The summer months have their own set of acceptable beverages, although some are more acceptable than others. Here's what we'll all be drinking this summer, ranked from worst to best. Consider this the good, the bad and the frozen.
15. Cheap Beer
When you can pay for a can of beer with whatever is in the "take-a-penny, leave-a-penny" dish at the grocery store, you know nothing good can come from that can. It tastes like nothing, it smells like your buddy Blake's basement and it will provide a buzz only if you are committed enough to drink half a cooler's worth. On the other hand, it might be cold.
14. Mysterious Punch
It might be Jungle Juice. It might be red Gatorade with a bottle of 151 dumped into it. No one knows what's in this bowl that magically appears at every summer party. And yet, we still ladle it into cups, spin that alcoholic roulette wheel and hope for the best.
[sigh] We guess this is still a thing.
The watermelon keg is a staple of summer drinking, but boy oh boy does it take a lot of scooping to get that melon into a shape that's capable of holding a large amount of drinks. Can't we just put something in a glass and pretend it came out of a melon?
It's impossible for your cocktail to be colder than it is when it's literally frozen to a stick. But not everyone is a skilled popsicle eater, and some of us (not pointing fingers here) end up with more of it on our shirt than in our mouth. You could always go the safe route though and keep the popsicle in a glass.
10. Water
Cool. Hydrating. Necessary for continued life.
9. Lemonade
Like water. But better! It's also better to spike.
Look, we've got no quarrel with the Mojito. It's refreshing and delicious. But ask a random sampling of bartenders, and it will probably be on the short list of drinks they hate to make. (So. Much. Muddling.) If you want to stay on your bartender's good side during the summer months, consider other options.
7. Expensive Beer
A session IPA, a Czech pilsner, maybe even a watermelon beer—they all take the edge off a hot day.
Like a tropical storm blowing in off the Pacific Ocean, they are beautiful and generally do much more damage than you think they will. But tiki drinks do offer a bit of summer magic. If your tiki bar isn't stocked and ready for summer, now's the time to fix that.
5. Cold Brew Coffee
You're going to need something to perk you up after all those Zombies and Scorpion Bowls, and nothing makes your eyes wide and your hands shake like 16 ounces of slowly extracted coffee.
A Frozen Daiquiri or Frozen Margarita could be the summer drink in its most perfect state. But so often they're loaded to the brim of their enormous vessels with extra sugar and artificial flavors that you start checking the bottom of the glass for a list of unpronounceable ingredients. Homemade is always better.
The classic Margarita and all its fruity variations don't disappoint in the summertime. Or the wintertime or the springtime or the falltime, for that matter.
Margaritas are good, but Daiquiris are just a little bit better on a hot day. Close your eyes and that rum can transport you to a Caribbean Island—or, at the very least, a Caribbean Island-themed bar near the subway.
Drinks are better with bubbles. Full stop. No one is immune from the tractor beam-like pull of an Aperol Spritz or anything strong, topped with Prosecco. A tall spritz will taste crisp and tickle your nose. It's light enough to drink (and drink and drink) from brunch to sunset.