The Ultimate Super Bowl Drinking Game for Fun People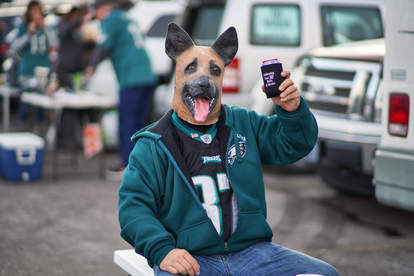 Robin Alam/Icon Sportswire/Getty Images
Like Halloween, New Year's Eve, and Arbor Day, Super Bowl Sunday has turned into yet another 24-hour excuse to drink sweet, sweet alcohol with little-to-no societal stigma. And just in case you are sick of merely pouring a drink and then sipping it like some normie, we've created a Super Bowl drinking game to get you through the Big Game with the right amount of humor and excess. Just please for the love of the game and all that is holy be a responsible adult about it (and remember to eat!).
The Philadelphia Eagles face off against the New England Patriots in Super Bowl 52 at 6:30pm EST on Sunday, February 4 on NBC.
TAKE A DRINK:

1. Patriots are referred to as a "dynasty." (If they say "double dynasty," drink twice)
2. Sideline shot of Bill Belichick scowling, generally
3. Someone at your party says "Dilly Dilly!'
4. Someone on TV says "Dilly Dilly!"
5. Cris Collinsworth muses that quarterback is "the hardest position to play in NFL"
7. Someone (on TV or in the room -- makes no difference!) mentions the Eagles have zero Super Bowl wins
8. Camera finds a shirtless human and stays on them for more than three seconds or cuts back to them at least once
9. Someone cries over a commercial (you should probably drink twice here)
10. Announcers reference Tom Brady's diet
11.There's a turnover (I know that's not creative but it's still exciting)
12. The Eagles are referred to as "underdogs" while a dog mask is shown
13. Carson Wentz is shown staring wistfully at the field with a headset on
14. Someone mentions, shows, or eats a cheesesteak
15. Someone brings up Donovan McNabb puking in the Super Bowl
16. There's a Winter Olympics promo
17. Someone in the room says "I only watch this for the commercials!"
18. Mark Wahlberg is at the game
19. Mark Wahlberg leaves the game early
20. A commercial tries to be funny, but isn't
21. Al Michaels tries to be funny, but isn't
22. They make fun of the Browns -- "they" meaning announcers, players, or P!nk
23. There's a Deflategate reference
24. There's a commercial for something involving Star Wars
25. A Mall of America montage appears
26. Justin Timberlake sings a Prince song
27. The graphics team spells P!nk's name without the appropriate exclamation point
28. Someone's helmet comes off on the field
29. You think a player is kind of sad
30. Belichick cries
31. You cry (drink twice)
WILD CARDS:

1. If Belichick is NOT wearing a hoodie take a full shot at the opening kick off
2. You must be drinking beer during the whole duration of P!nk singing the word "Free" at the end of the National Anthem
3. If the two teams get in a scuffle, you must play a game of Rock, Paper, Scissors with the person immediately to your left. The loser must finish their drink.
4. If Nick Foles, who is already a backup, get knocked out of the game, you cannot drink at all anymore. Sorry.
FINISH YOUR DRINK:
1. Justin Timberlake exposes his private parts
2. A Prince hologram appears
3. Fan runs on the field
4. It goes to overtime
5. Your friend falls asleep
 
FINISH YOUR DRINK AND THEN ALSO AN ADDITIONAL DRINK (but only if you want to):

1. Britney Spears and Justin Timberlake reunite and fall back in love on the field
2. The Dilly Dilly people meet the WASSSSSUP people and advertising catchphrase history is made 
3. The Patriots don't win
Wil Fulton is a staff writer for Thrillist. He is really hoping for that Britney-JT reunion. Follow him @wilfulton.