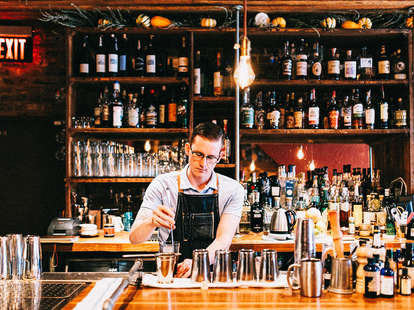 Taste Bar
Taste Bar
About 10 years ago, when the imbibing public in St. Louis became fascinated with the idea of the sexy, venerable craft cocktail, it also fell in love with its natural illicit partner in crime -- the speakeasy bar. The St. Louis nightlife community responded with the opening of several top-tier drinking establishments all featuring lengthy lists of thoughtfully crafted cocktails, dimly lit spaces, snappily dressed bartenders, and hand-cracked artisan ice cubes. What also mattered was an obvious rebellion against what most bars were known for -- being loud, crowded, and filled with televisions and neon signage circling pool table lights.
Today, you will find competent, if not comprehensive, and inspired cocktail programs at almost all mid-to-top tier St. Louis restaurants and bars. However, amongst the crowd of establishments serving classic Negronis alongside 10-ingredient concoctions, a few St. Louis bars also possess the enigmatic old-timey allure of a speakeasy. The following are a few of the city's most clandestine watering holes where passwords, hidden side bars, and a guarantee of a delicious boozy concoction await.
Downtown
When Blood & Sand opened in the fall of 2011, it was the first St. Louis drinking and dining establishment of its kind to require a membership. Despite some locals snubbing the exclusive arrangement, the venue operated successfully using the members-only model until this summer, when they opened to the general public. Blood & Sand is named after the classic cocktail and, from the beginning, has been known for their exceptional and cheeky bar program. (The current menu follows a musical theme.) Take Beach House's "Dark Spring," described as a "complex, herbaceous, and quaffable" combination of Batavia arrack, yellow Chartreuse, Cap Corse Blanc, lime, and celery & fennel cordial. Or you can always order their namesake, the Blood & Sand -- Scotch, cherry liqueur, sweet vermouth, and fresh orange juice.
Lafayette Square
Ask your Uber driver to drop you off at the Bullock Room and they won't know what you're talking about. Up a side staircase and behind a heavy velvet curtain is an intimate second bar located inside the grand and glorious Planter's House restaurant and bar, owned by St. Louis bartender royalty Ted Kilgore. The small room, clad in velvet brocade wallpaper and featuring a U-shaped bar, was named for Tom Bullock, a longtime bartender at The St. Louis Country Club and the first African-American to write a bartending book (published in 1917). The Bullock Room celebrates the skill and finesse that makes a truly outstanding bartender with a lengthy cocktail menu of classics and new creations. For something uniquely savory try the "Skater Tot": mezcal, Kina d'Or, peppadew-chive syrup, and lime served with a salty manchego cheese garnish. Desire something more fragrant? The "Jump the Apex" combines beet-infused gin, beet-infused green chile vodka, green Chartreuse, rhubarb liqueur, lemon, and strawberry. Or, best yet, fully embrace the spirit of the Bullock Room by allowing the bartender to create a custom concoction just for you.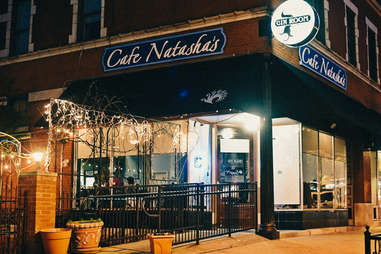 South Grand
Tucked inside the front room of the Persian restaurant Cafe Natasha's, The Gin Room is the kind of spot you could walk right past without knowing it. The definitive place in St. Louis to enjoy and discover gins from around the world, it boasts a collection of over 100 different gins between their commercial and private collection -- which may be the most complete, curated gin list in the Midwest. When you first walk in the room, it's hard not to be awed by the expansive bar that reaches to the ceiling, every inch stocked with bottles of spirits and liqueurs. Proprietor and gin ambassador Natasha Bahrami, or "The Gin Girl" as she is called, is an adroit educator, always ready to engage with patrons about the history, distillation process, and particular qualities of her collection, and her house-made tonics create sublime mixers. Plus, while the space is recognized primarily for its gins, few know that the bar also pours over 100 kinds of amaros.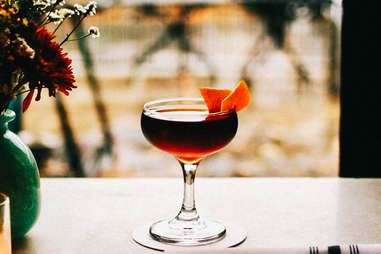 Central West End
Taste opened in July 2009 as a tiny eight-seat bar that neighbored James Beard Award winner Gerard Craft's Niche restaurant. The bar and restaurant shared a kitchen and offered innovative small plates, but the real focus of Taste was the cocktail program headed by Ted Kilgore (now of Planter's House). After moving to larger digs in the Central West End in 2011, the bar continued to build upon its reputation as the consummate choice for an inventive craft cocktail in St. Louis. Open Taste's massive wooden door, pass through the dark velvet curtains, and you'll enter a small, dimly lit room. Dominating the clay-red wallpapered space is a wooden bar that sparkles and gleams with rows of antique-cut crystal glassware and countless bottles of spirits and liqueurs. The vibe here ranges from subdued and cerebral during the week to celebratory and spirited on the weekends, but one thing that is predictable: finding a seat during prime hours is painfully difficult. Expect to wait with fellow thirsty folks for a spot inside or, on balmier days, on the patio, which is the choicest spot to people-watch in the STL.
Downtown
Thaxton Speakeasy is St. Louis' only password-protected bar. It's located in the historic Thaxton Building, whose front entrance is under a huge deco marquee sign bearing the building's name -- but you won't get in that way. The entrance that must be used is around the building in the back alley. Once you prove that you're privy to the password (find it by checking their website), descend the stairs into a basement level where the space opens up into a glorious display of sweeping painted murals and large backlit faux windows. Thaxton is open to the public on Thursdays, Fridays, and Saturdays (except when booked for one of its frequent private events), but Thursday is the night to really dig in your heels, when regular patrons often dress in era-appropriate fashion and a live band plays old-timey throwbacks meant for dancing. Unsure of your moves? Free swing lessons are also offered on Thursday evenings to get you flipping and scootin' to the brass. Friday and Saturday nights feature a more restrained atmosphere with DJs playing tunes while the house-made moonshine and barrel-aged cocktails flow.