Tanqueray London Dry Gin
Sponsored By
The Best Gin Cocktails, According to Bartenders
Sponsored By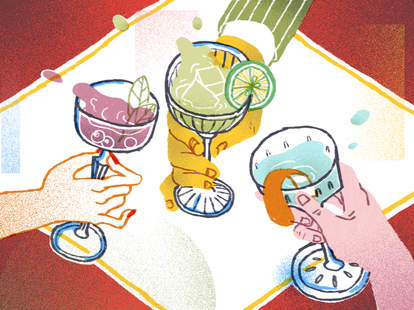 There's no doubt that gin is an OG spirit, and in fact it might be the OG spirit: There's evidence that the very first cocktail ever created contained a base of gin. Whether that's true or not, gin's place in drinking history is undeniable. Sixteen of the recipes in the first cocktail book ever published, Jerry Thomas's Bar-Tender's Guide (1862), contained gin. Gin is the base for the most famous drink of all, the Martini, and it also anchors the Negroni, Gimlet, Tom Collins, and, of course, the Gin & Tonic, along with literally dozens more.
To help navigate the major points of interest in the vast ginscape, we've enlisted a few guides—some seasoned bartenders—and asked them to weigh in on the best gin tipples out there, from Monkey Glands to Last Words. They came up with something for everyone, from gin die-hards to newbies.
Bijou
"Also known as the
Jewel
, this one has sweet vermouth, green Chartreuse, and orange bitters. It's my favorite gin cocktail because it's simple, elegant, and generally converts non-gin drinkers to the fold. It's also
a classic steeped in history
. What's not to love?"—Steven Lewis,
Bar Belly
, New York, NY
.75 oz gin
.75 oz sweet vermouth
.75 oz green Chartreuse
Dash orange bitters
Stir all ingredients with ice, strain into a chilled Coupe glass, garnish with lemon twist.
Clover Club
"I'm not usually one to praise an egg-white cocktail, but my all-time favorite gin cocktail does indeed contain an egg white. That's what makes this the best gin cocktail ever. Gin can sometimes put the other ingredients in a drink in the shadows, but the
Clover Club
is the quintessential cocktail, achieving balance, texture, and superior mouth feel. It tastes like a raspberry lemon meringue pie, without the guilt of indulging in dessert. If you haven't had one yet, you are truly missing out."—Nicole Battle,
Täko
, Pittsburgh, PA
1.5 oz gin
1 egg white
.5 oz fresh lemon juice
.5 oz raspberry syrup
3 raspberries, for garnish
Shake gin, egg white, lemon juice and raspberry syrup with ice, strain into a Coupe glass, garnish with speared raspberries.
Jasjyot Singh Hans
Eastside Cocktail
"Made with fresh lime juice, simple syrup, and muddled cucumber and mint, it's supremely bracing, and suits almost everyone's taste. But for some reason, it isn't really widely known. So it's a pleasant surprise for a lot of guests who are looking for a recommendation for a great gin drink."—Brian Hawthorne,
The Wayland
, New York, NY
1.5 oz gin
1 oz fresh lime juice
.75 oz simple syrup
8 mint leaves
2 cucumber slices
Gently muddle cucumber and mint in a mixing tin. Add gin, lime juice, simple syrup, and ice. Shake well. Strain into a chilled Coupe glass.
Advertisement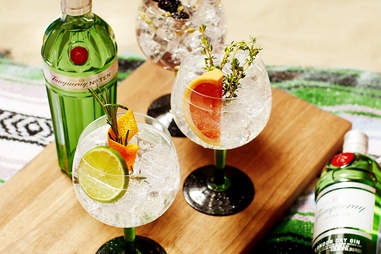 Launched in the 1830s, Tanqueray London Dry Gin was a part of the first Martinis, Gin & Tonics, and Negronis ever made. With its crisp, balanced flavor profile, it's an icon of the London Dry style, and an ideal base for classic gin cocktails. For a more citrus-forward accent, try Tanqueray No. TEN, an award-winning gin distilled with whole fresh white grapefruits, Mexican limes, and Florida oranges. It's a perfect match for Gin & Juice.
50:50 Gin Martini
"It's such a great drink and so simple. Just pair a great gin with a great dry vermouth, equal parts, and sip away!"—Zach Lynch, ex-
Ice Plant
, St. Augustine, FL
1.0 oz gin
1.0 oz dry vermouth
Stir gin and vermouth with ice to combine and chill, strain into a Coupe glass. Add garnish of choice (olive, or twist).
Jasjyot Singh Hans
Hanky Panky
"This one's a classic, dating back to
Ada Coleman's time behind the Savoy bar
in London in 1903. She was the first female head bartender at a time when women weren't even allowed in bars. And she created a great, complex cocktail with a nice bite."—Amie Lynch, ex-
Ice Plant
, St Augustine, FL
1.0 oz gin
1.0 oz sweet vermouth
2 dashes bitter Italian amaro
Stir all ingredients with ice to chill and dilute, strain into a Coupe glass. Garnish with an orange twist.
Martinez
"I love this drink, especially with a genever [a Dutch gin similar to Old Tom-style gin]. Most people wouldn't think of sweet vermouth and gin/genever together, yet the Martinez is a balanced and intriguing stirred cocktail that showcases all the ingredients involved."—Crystal Chasse,
Seamstress
, New York, NY
1.5 oz genever [or gin]
1.5 oz sweet vermouth
.25 oz Maraschino liqueur
2 dashes orange bitters
Stir all ingredients with ice to chill and dilute. Strain into a chilled coupe. Garnish with a lemon twist.
Jasjyot Singh Hans
The Aviation
"Feauturing gin, Maraschino liqueur, fresh lemon juice, and Crème de violette, the Aviation is a classic. When executed correctly, it's an amazing, floral cocktail like none other."—Torrence Swain,
Bourbon Steak
, Washington, D.C.
1.5 oz gin
.5 oz Crème de violette
.25 oz Maraschino liqueur
.25 oz fresh lemon juice
Shake all ingredients with ice and strain into a chilled Coupe glass. Garnish with a brandied cherry.
Peach Blow Fizz
"A variation on the
Ramos Gin Fizz
, it trades the orange flower water for fresh strawberries. It's a great dessert drink that requires careful construction to execute and is as fun to make as it is delicious. Strawberries and cream balanced by a botanical dry gin is a match made in cocktail heaven."—Jon Nutter,
Pouring Ribbons
, New York, NY
1.5 oz gin
3/8 fresh lemon juice
3/8 fresh lime juice
3/4 simple syrup
1 egg white
3 medium strawberries
1 oz cream
This one's involved, but well worth it: Combine gin, simple syrup, lemon and lime juice. Add strawberries and muddle to a fine pulp.
Add egg white and dry shake the mixture until well incorporated. Add a couple small ice cubes and whip shake until the ice has fully dissolved. Add cream and shake for an additional five seconds.
Pour an ounce of club soda into a chilled Collins glass and and dump the contents of the drink into the soda. Put the drink into a freezer for one minute to allow it to settle. Place the end of a bar spoon down the middle of meringue that has formed on the top of the cocktail and splash an additional ounce of club soda carefully down the bar spoon in order to cause the meringue to rise a half inch above the rim of the collins. Remove spoon carefully, insert a straw, and enjoy.
*To simplify, you can just put 2 oz of club soda at the bottom of the Collins and dump the mixture in and it should rise slightly above the rim without using the spoon technique. The longer method produces a more visually pleasing and smooth texture to the rising meringue, but it tastes equally delicious either way!