The Best Thing We Drank This Week: A Painkiller with 7 Rums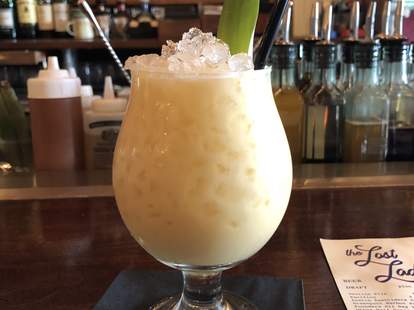 A Painkiller is a cocktail that does not mess around. It's one of those deceptively strong beach drinks that is easy to suck down, and before you know it you're in over your head (if you're at the beach, hopefully this does not happen literally). And Ryan Hazen's Painkiller at The Lost Lady in New York's Alphabet City takes all the good things about the original and turns the volume knob up on all of them.
The key, as best we can tell, is the mix of seven (!) rums that goes into the drink. They run the gamut from smooth, aged bottlings to slightly funky ones to a 151, which makes for a complex and potent mixture. The coconut, pineapple and orange juices though, make it extremely easy to drink—we were halfway through one before we knew what was going on.
Lucky for anyone who stops by the bar, Hazen's Painkiller is a permanent fixture on the menu now, but that wasn't originally the plan. The drink began its life as one of The Lost Lady's Grogs of the Day (Hazen says the drink special actually changes about once a week). But people liked it so much he decided to keep it around. The Grog of the Day, it turns out, is a great way for the bar to test out drinks and keep its menu fresh without having to go through the herculean lift of remaking the entire thing at once. They can keep what works and dump anything that doesn't.
If you're in New York, don't let the summer pass without sipping on at least one of Hazen's Painkillers (you can come for the drinks and stay for the street tacos, which we also highly recommend). If you're not, you'll just have to shake one up yourself. And while we can't make you use seven rums to do it, we promise you'll be happy if you do.