Don't Miss the Bloody Mary Festival, Coming to a City Near You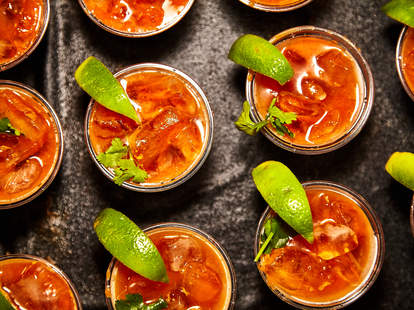 Courtesy of The Bloody Mary Festival
At some point after the first restaurant in America offered a drink garnished with an entire appetizer sampler platter, the country went into Bloody Mary overdrive. The savory mix of vodka, tomato juice and a grab bag of other ingredients from Worcestershire sauce to Tabasco found itself at the center of an Instagrammable arms race. Bartenders buried the savory cocktail under whole chickens and crab legs and pepperoni pizzas. Meanwhile, others took advantage of the Bloody's stardom and tackled remaking the actual liquid inside the drink.
And now those variations, in all their glory, will be on full display at The Bloody Mary Festival, a five city tour making stops in Nashville on March 11, New Orleans on March 24-25, Brooklyn on April 8, Minneapolis on April 22 and Dallas on May 20. It may be the biggest collection of Bloody Marys under a single roof, aka Bloody Mary heaven.
While there will certainly be photogenic garnishes adorning some of the many Bloodys available for sampling, bartenders from each city are turning out to celebrate the magic that's happening inside the glass as well. Each city will feature its own unique set of Bloody Marys, so anyone particularly committed to savory cocktails can follow the festival around the country like a series of umami-filled Phish concerts.
The organizers shared a bit of what they have planned to whet your appetites. In Nashville they'll have a Lebanese-inspired Bloody from Epice made with roasted sweet peppers, onions and garlic as well as a blend of aromatics from the Middle East. In New Orleans, a Verde Mary from the Red Fish Grill will be made with tomatillos and golden heirloom tomatoes as well as jalapeño and cilantro. And in New York, Gristmill will use tomatoes—canned during the height of the season at its own farm—along with wax pepper vinegar, mustard and habanero.
Tickets for the festival are available online for $45 (except in Brooklyn, where they're $50) and include a bottomless brunch's worth of different Bloody Marys as well as food from local restaurants. But you better grab them fast, Minneapolis is already sold out and the others can't be far behind.