Winter Carnival
Sponsored By

Toasting the Winter Games, Korean Style
Sponsored By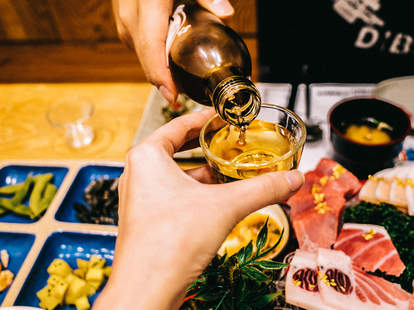 From February 9th to the 25th, people all over the world will gather to watch top international athletes compete in the Winter Games. This year's edition has a majestic setting indeed, in the dramatic, rugged mountains of Gangwon Province, South Korea. Visitors to the three regions hosting the Games—Pyeongchang, Gangneung, and Jeongseon—can expect to marvel at ancient temples and meandering trails while catching competitions atop silver patched cliffs.
While viewers around the globe will toast the competition in their own particular styles, how will the locals (and adventurous visitors) celebrate the great winter sports spectacle unfolding in their backyards? Here's a guide to celebrating this year's Winter Games, Korean style—with an emphasis on how both natives and tourists alike will eat, drink, and be merry.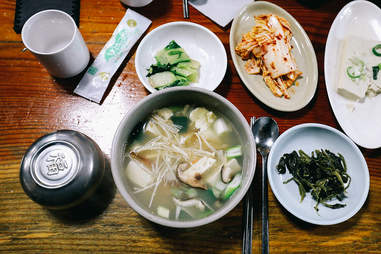 Chung Sung-Jun / Getty
A High Bar for Food and Drink
Most locals hit the markets for casual dining and quick bites, and the standard for food in Gangwon Province is high. Spectators eating their way through Pyeongchang, Gangneung, and Jeongseon's restaurants and vendors can be rest assured they're in for only the most reputable regional dishes, such as hot stews, fresh-caught seafood, and herbal, fermented liquors.
Here's a list of traditional cuisines and beverages from Gangwon Province for spectators to look forward to:
Fresh seafood
Fermented vegetables like kimchi
BBQ, of course
Soju — an ancient, clear distilled beverage most frequently made from rice (but also wheat, barley, or potatoes). It's consumed throughout the country, particularly at mealtimes, and according to the International Wines and Spirits Record, six Korean Soju brands are among the top 100 best-selling spirits on the planet.
Bibimbap — assorted rice, vegetables and meat
Steamed cod and rice
Baekseju — a sticky-rice–based fermented drink seasoned with herbs; notably ginseng. More old-school than soju or beer, baekseju often accompanies spicy meals and contains 10 other herbs besides ginseng, including licorice and cinnamon.
Citron/yuzu tea
Barley tea
Sikhye — a sweet, non-alcoholic rice beverage, often served garnished with pine nuts and served at the end of meals or at saunas.
Makgeolli — a milky unfiltered rice (or wheat) wine blended with nuruk, a Korean fermentation starter. Traditionally served in bowls (then ladled out into individual servings), it has an abv (6-8%) comparable to that of beer.
Banana milk
Mitsugaru —a protein shake made of barley, black, brown, and white rice, millet, soybeans, and sesame seeds.
Sujeongwa — a persimmon/cinnamon/ginger punch/tea often served garnished with pine nuts, at the end of meals.
Advertisement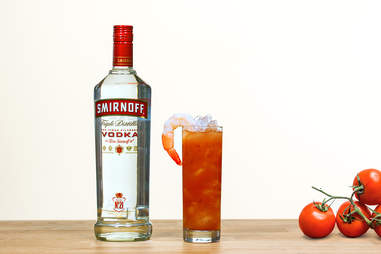 Supercall
South Korea staged the Summer Games back in 1988, but the East Asian nation has never hosted the winter version of the event before this year. You can bet the hosts in Pyeongchang are going to put their own unique twist on the festivities. While you're watching, why not put a Korean spin on that classic all-weather cocktail, the Bloody Mary, using Kimchi and smooth Smirnoff No. 21 Vodka? Click here for the amazing recipe.
Local Drinking Etiquette
Korea's drinking culture is strongly embedded with social customs originating from the country's long held ties to Confucianism and filial piety (a "virtue of respect for one's parents, elders, and ancestors"). Usually when people reach legal drinking age, they're taught the culture's drinking traditions by a family member or friend who is older than them. It's not uncommon to abide by these main tableside norms—in fact, it's straight-up rude if you
don't
—even in casual settings:
If you're the youngest at the table, pour the glasses of your elders first
When receiving a pour from your elder, bow your head and politely say thank you
Always pour and receive glasses with two hands (one is considered careless!)
After toasting "Gun-bae!", drink facing away from your older friend/guest/family member
You must drink your first shot in one gulp!
Sam Mellish / Getty
Events Schedule
Alpine Skiing: Feb 8-15, 17-24
Biathlon: Feb 7-8, Feb 10-23
Bobsleigh: Feb 15-25
Cross-Country Skiing: Feb 10-11, Feb 13, Feb 15-18, Feb 21, Feb 24-25
Curling: Feb 8-25
Ice Hockey: Feb 10-25
Luge: Feb 7-15
Nordic Combined: Feb 11-14, Feb 17-22
Short Track Speed Skating: Feb 10, Feb 13, Feb 17, Feb 20, Feb 22
Skeleton: Feb 12-17
Ski jumping: Feb 7-8, Feb 10-12, Feb 14-19
Snowboard: Feb 10-16, Feb 19, Feb 21-24
Locals will be expecting good things from Koreans in:
Figure Skating: Feb 9, Feb 11-12, Feb 14-17, Feb 19-21, Feb 23
Freestyle Skiing: Feb 9, Feb 11-12, Feb 15-23
Speed skating: Feb 10-16, Feb 18-19, Feb 21, Feb 23-24
SiHo / Shutterstock
Local Culture
In between events, spectators can head to the ice rinks for some snow sporting of their own. Throughout the days, street artists will be seen parading near venues, performing magic, busking, and performing traditional Korean folk dances called
madang nori
. To get fully immersed in Korea's cultural experience, visitors can head to museums in Gangneung, one of the tour routes during the Winter Games. There they can explore the historic shrine
Ojukheon House
,
Museum of Oriental Embroidery
, and the
Chamsori Gramophone & Edison Science Museum
.
Markets, Vendors, Shopping ... and More Shopping
Outdoor flea and grocery markets are one of South Korea's biggest attractions, as alleyways are filled with vendors selling ingredients, supplies, and traditional food made by grandmothers. Gangwon in particular boasts a
variety of these markets
worth visiting. One major outlet is called
Bongpyeong
, which is open five days a week and known for selling signature dishes of Korean buckwheat pancakes and noodles. Other venues include
Jinbu
and
Arirang
Market, where visitors can go for fresh street-food snacks and produce. Visitors should also be sure to relish the delicious aromas and flavors of
Anmok Coffee Street
. That's right, there's an
entire street
dedicated to coffee.
Alexander Khitrov / Shutterstock
Majestic Mountains, Fir Forests
Meditation and connecting with nature are integral to the lifestyles of Koreans, restless tourists, and winter-sports athletes alike. Folks in Gangwon Province can enjoy the fresh mountain air and—in between watching or participating in competitions—go hiking on
Odaesan Mountain
, or take pine-scented trail walks connected to
Gangmun Beach
.