These Women Are Rare Spirits Hunters (aka Our Dream Job)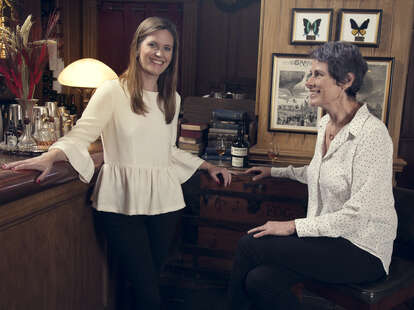 Indiana Jones is cool with his whip and his relics and all—but he never brought anything potable back from his adventures. For the ladies of The Last Drop, on the other hand, that's all they do: unearth rare and delicious spirits.
The company, which sources and bottles unique, limited production spirits, was founded by James Espey and Tom Jago, liquor industry legends responsible for things like Johnnie Walker Blue Label, The Classic Malts and Baileys Irish Cream. Today, their daughters Beanie Espey and Rebecca Jago run the show, which means it's their job to hunt down the best of the best from forgotten casks and ancient cellars.
Though the company has primarily concentrated on finding rare scotches and Cognacs, it is now turning to fortified wines. Next year, Last Drop will release its first port, which is actually two ports in one package: a duo of a 1970 and a 1870. While you probably won't find them searching around for dusty bottles of vodka, rums and American whiskeys could be on the way—unless you start your own spirit hunting agency and find the best ones first. Here, Beanie Espey and Rebecca Jago talk about what it's like to track down, taste and bottle rare spirits for a living.
Supercall: What was it like growing up with dads in the spirits industry?
Rebecca Jago: Because my dad's role was always in product development, we always got a wide range of really odd things to drink from a very early age. My dad is very fond of his whisky, but he also likes to try anything else out on himself and whoever else is around. My memories are very much of my dad saying, "Here, tonight we'll be trying a strawberry ice cream-flavored drink," or whatever it was that night.
Beanie Espey: One of my memories is seeing my parents get dressed up in their tartan, and my dad in particular in his kilt. The whole family would go up to Scotland for these banquets, and my sister and I would see my parents all dolled up in their finery and see the bagpipes. I have this wonderful recollection of this pageantry and fraternity that is part of being in the Scotch whisky industry.
RJ: It always seemed like the most fun you could have at work was working in the spirits industry.
SC: What was your first drink?
RJ: Baileys, which my father was responsible for. The first sample ever was made in our kitchen. I tasted the first ever sample. I can't say I liked it straight away. I think what we taste now is a much more sophisticated, much more homogeneous product. I remember my father's excitement; it was really a groundbreaking product.
BE: The first recollection I have is of having a Hot Toddy. When I was a mid-teen my dad would wink and drop a little whisky into it, which was technically not allowed, but gave it an extra kick. I remember thinking, "What a marvelous drink." Growing up in Europe, our parents took a slightly more liberal approach to drinking. We were certainly not encouraged to drink, but it wasn't held away from us like poison. If wine was being served, from about the age of 16, we could have a white wine spritzer or a taste of something. There was never the sense that this was a forbidden fruit.
SC: So, how do you find these rare spirits?
RJ: When Tom and James started the business, they used their contacts. They would just talk to people until they found something that they thought would work. They tasted hundreds of whiskies before the first release. We've generally followed the same principals: listen, ask, talk, taste, and eventually you'll find something. We buy less than 5 percent of what we taste.
SC: Where have you traveled to find these spirits? Did you ever find something in an unexpected place?
RJ: My daughter was in university in Scotland, and we'd gone up to see her and went for a trip around. We knew that there were some parcels lying in Glen Garioch, but we didn't know what we were going to find. I was shown a cask that was considerably less than a third full and was able to taste it there, and thought it might be good enough for us to release. So it isn't pure luck. To a great extent you make your own luck, and if we hadn't known that there might be something at Glen Garioch, it's unlikely that I would have walked in as a random visitor, but that was a real find. That was a particularly lovely find, one we're all really proud of because it's a relic of days gone by.
SC: You've talked about branching out to American whiskeys. How will you find those spirits?
RJ: We were bought by Sazerac recently, so we are fortunate to be given the opportunity to talk to them about their stocks. And that's our starting point, to see what they might have. One of the principles that we've built the business on is that we are a potential home for "nuisance casks"—after a distillery produces a run of bottles, there'll be a remnant that might be blended away, but might be too good to just be thrown into the next batch. We are a home for those. There may be small parcels of old bourbons and ryes that we can do something with.
SC: How do you determine if something is good enough for you to release?
BE: To pass muster, it really needs to have this rare combination of great age and great freshness. If you close your eyes and hold a glass of Last Drop 48 or 50-year-old whisky to your nose, you would probably struggle to believe that it's as old as it is, but they're all incredibly vibrant and incredibly fresh. That's a key hallmark of Last Drop releases. But when it comes down to it, the thing that matters is if it's an absolute pleasure to drink. That's when all the expertise goes out the window.