The Pioneer Saloon: A Whiskey Oasis in the Middle of a Desert
Travis Nathan Thomas flies helicopters in Afghanistan. When he returns home to Las Vegas for short breaks, Travis and his fiancee Shelley love to visit the newest steakhouses, ride motorcycles and get a little taste of what they playfully call "moonshine"—100-proof whiskey stored in a charred oak barrel, enhanced with their own flavoring agents. With the turn of a tap, Travis pours a sample that eagerly flows from a nozzle into a shot glass.
"I can smell the oakiness," he says, bringing the whiskey to his lips. "It's smooth. I can see how it's aging and getting better. I think the next time I get back, it's going to be just right."
The whiskey is dubbed TNT—after Travis' initials—and the padlocked barrel is one of more than a hundred kept about 30 miles outside Las Vegas at the Pioneer Saloon. Sitting quietly near the California border, the first and oldest bar in Southern Nevada was founded in 1913 on the edge of Goodsprings, a town with less than 300 people according to the latest census. Housed in a tin structure purchased from a Sears & Roebuck catalog, the Pioneer Saloon would eventually become a hotspot for car clubs, and that's how Shelley first heard about it. She brought Travis along to check it out on New Year's Eve a few years ago—but decided to take the scenic route.
"We took our Ford F-250 truck and drove it through the desert by the mountains," she remembers. "It took us three-and-a-half hours, but we wound up here. We spent New Year's Eve at the Pioneer Saloon."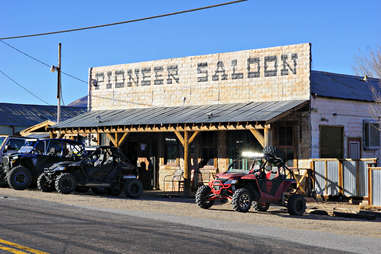 Serving drinks for more than a century, the weathered watering hole has come to represent a piece of Wild West history. Look carefully and you'll see bullet holes in the wall, said to be from a poker game gone bad. You can also sit at the same counter where Clark Gable frantically stamped out cigars while waiting to hear that his wife, actress Carole Lombard, was indeed killed when a plane crashed into a nearby mountain in 1942.
"If you think about it, the West was the last frontier to be settled on the continent," says owner Noel Sheckells. "The Pioneer Saloon is one of the best preserved relics of that time frame in the United States."
When Sheckells took ownership of the property in 2006, it was rickety and in desperate need of repair. "The first thing we did was take all the tin off the walls and clean out a hundred years' worth of soot, dead rats and dirt," he remembers. "We reskinned it with plywood and added insulation. Then we put each piece of tin back in place—we had them all numbered."
Since then, the Pioneer Saloon has expanded to include a courtyard, outdoor patio, fire pits, dining room and a kitchen that serves enough steaks, burgers and all-day breakfast scrambles to keep any cowboy—or biker on a desert road trip—happy.
At one point, the Pioneer Saloon offered barbecue grills, on which visitors could cook their own steaks, but demand tapered off as the in-house food menu grew more popular. After the grills were removed in mid-2016, Sheckells wanted something unique to take their place.
"That's where the idea of the whiskey barrels came up," he remembers. "We built a little five-foot section with four barrels and sold them the first weekend. Everybody seemed to want one."
Sheckells had additional racks built—enough to include nearly 100 15-gallon Kentucky barrels—across a 60-foot wall behind the Saloon. Those sold out in about six months and racks for five-gallon barrels were added near the front patio.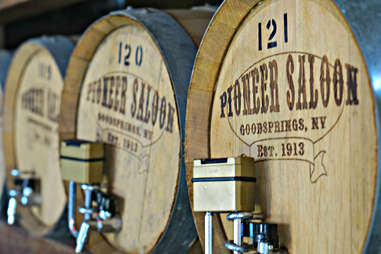 The first barrels sold for $299 then went up to $399—before whiskey was even added. The program quickly developed with the help of George Racz, the owner and founder of the Las Vegas Distillery, who originally wanted to partner with the Pioneer Saloon for a branded whiskey product. The plan evolved into the barrel-aging concept, in which visitors could customize their own creations. "In America, it's not illegal to age your whiskey," says Racz. "It's illegal to distill it and make it."
The Las Vegas Distillery is more than happy to cover that end of the deal. The business opened back in 2011 as the first legal distillery in the state—and the first of any kind since Prohibition. It took Racz, a Hungarian immigrant, nearly two years of securing the permits and licenses to make his dream a reality, working with lawmakers, including Governor Brian Sandoval, to get the necessary legislation in place.
One of his products, a craft spirit called Nevada Moonshine, is a popular choice for filling barrels at the Pioneer Saloon, and it follows a local four-grain recipe. "We have corn, wheat, rye, and malted barley," says Racz. "We're using corn from Penoyer Farms next to Area 51, not far from us. I try to use as many grains as possible from our state."
It's a three step process to make the whiskey at the distillery's home base in Henderson. "The goal is to preserve the flavor of the grain," says Racz, who starts by blending 2,000 pounds of it with 800 gallons of water, creating a sweet mash that's heated for up to eight hours. Yeast is added to create carbon dioxide and the resulting alcohol is then distilled twice in copper stills. To be considered bourbon, the product must be aged in brand new American white oak barrels.
Travis and Shelley knew Nevada Moonshine would be the perfect base spirit for TNT, which like all the barrels at the Pioneer Saloon, is stored outside and subject to Nevada's desert weather without any sort of climate control. The whiskey tends to age slower during the cold winter months and quicker during the triple-digit summer heat. Travis and Shelly are happy to let the aging process take its course, waiting at least six months before bottling gifts for friends.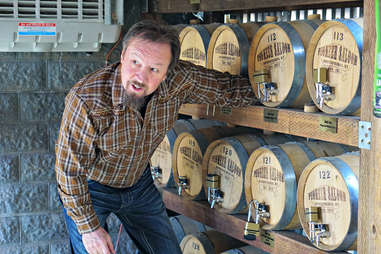 Despite its name, TNT isn't spicy at all. The flavor profile is robust and smooth, with a touch of sweetness, thanks to a few ingredients added early in the process.
"We were going to do peppermint," says Travis, who reveals that cherry and lemon were also considered. "We thought about throwing some peppers in there, but just decided on a little bit of cinnamon and orange. It does smell beautiful when mixed with the ash of the wood."
The aroma is sure to be on his mind when Travis returns to Afghanistan. The army vet works for a private contractor and is based at a 10-acre compound in Kabul, sharing space with about 800 people, as well as aircrafts and other heavy equipment.
"The perimeter is pretty secure, expect for rockets and whatever," says Travis, whose main duty is transporting embassy personnel. It's also part of the job to be armed and ready in case something serious goes down. The roads outside—described as "terrible, a bad situation"—remain targets for car bombers.
Travis works a shift of 90 days on and 30 days off. ("It used to be 60 on, 30 off.") Unfortunately, there's no whiskey allowed—or any other drinking for that matter. Company policy. "That's OK," he says. "It gives my liver time to be happy."
It also gives him time to plan his next trip to the Pioneer Saloon, where his TNT can be found among other barrels with names like Cowboy Brew, Jet Fuel, Tim's Fire Water, Liquid Sunshine, and We Got Balls. Clearly, picking a title for your whiskey is part of the fun. So is making a few friends and trying out some of their stash.
The 15-gallon barrels are currently sold out. Five-gallon barrels remain available for a flat $1,500, including the Nevada Moonshine. A deal can be worked out to substitute rum or another spirit instead, but Travis and Shelley are more than happy to stick with whiskey. They own barrel No. 121 outright so once it runs dry, they plan to fill it back up again—eyeing a spicier creation with jalapeños or another spicy chili pepper the next time around.
When the program first took off, Sheckells admits there was some initial concern the bar would lose money, since instead of buying $5 shots of whiskey, barrel owners would hang out and drink their own. "But what we found out is that, even though we lose sales at the bar level, these people don't come alone. They usually bring friends to sit around and drink from the barrel. And then they get hungry and buy hamburgers or a T-shirt. It drastically increases our sales overall."
Ultimately, the Pioneer Saloon provides a true escape that's authentically American. And it's a place where Travis Thomas feels right at home.
"We love coming out here" he says while putting the padlock back on his barrel. "You can be on the Strip—and the Strip is beautiful—but this is something different."