the bar.com
Sponsored by

The Ultimate Party-Planning Checklist
Sponsored by

With a little forward planning, being a host at your own party can be more enjoyable than being a guest at someone else's event. No, really—think about it: You get to be in charge of the night's atmosphere—including food, drinks, decor, and music—you get to handpick the guest list (thereby eliminating the chance of awkward run-ins), and you get to showcase your budding home bartending skills. All without ever leaving your house.
But the importance of that advance planning cannot be underestimated; it's no exaggeration to say it's more important than the actual event. If you don't get it right, then your night could go sideways in a hurry. You could end up short on seating, food, or—gasp—drinks. You could have a pair of oil-and-water guests show up; you could run out of TP; or, worst-case, that irritating Ed Sheeran song could pop up unexpectedly and cause a mass exodus.
To ensure that none of the above happens to you, we've created a two-tiered party-planning checklist. One track will help you create a fun night without breaking the bank, while the other assumes a little bit of budgetary leeway and guides you toward hosting a next-level soirée.
Jo Yeh
Go ... Medium

Make a guest list
Unless you're organizing a block party for the whole neighborhood, you're gonna want to set your roster of guests in advance. This will ensure you avoid forgetting to invite anyone you want to be there and … the reverse scenario. Set your date and get out your invites (email is free) well in advance. You're well on your way to party success, and you haven't spent a dime yet!
Set up get-home-safe options for everyone
These can include the names and numbers of nearby cab companies, rideshare service options, or the almighty Designated Driver. Get it done ahead of time and you won't have to worry about it on the night of.
Recruit a few friends to help
The friends who helped you move last time are exempt, but you can definitely find a few others to lighten your preparation load. Many hands make light work, and tasks like cleaning up your place, knocking off the shopping list, scoring decorations will be 10x more fun when you're not doing them alone.
Visit a discount store for decorations/supplies
You know those places named after US currency that don't actually require a lot of US currency to shop in? Hit up one of those for inexpensive party supplies such as coasters, streamers, balloons, even party favors and games. You'd be surprised at what you can find there.
Make a shopping list for drinks—and food
You're not splurging here, but you do want to set up beverage options (including water and other non-alcoholic options) and, equally important, provide food. Because drinking on an empty stomach is never a fun time. So allocate for both food and drink. The grub doesn't have to be fancy—you can find ready-made crudité spreads at most supermarkets; you can order up some wings; or you can put together some chips and dips. If you're really strapped, organize a potluck and have each guest bring a different contribution.
Check with guests about any allergies
This may require you to ditch that mixed-nut display you were so fired up about, but it's much better than the alternative.
Rearrange/remove/supplement your furniture to optimize your party space
Do not underestimate the power of ambience. You want to create both space and flow for this event. That could mean adding or subtracting furniture, or rearranging it, depending on what you're working with. You'll also want a central location for a spread of food and drink.
Add an extra wastebasket or two, and stock up your guest bathroom
Okay, you don't have a "guest" bathroom—that was a joke. Stock your regular bathroom(s) with plenty of TP, hand soap, extra hand towels, and—can't hurt—air freshener. Pop the extra wastebaskets around the party space to ease the cleanup process.
Notify your neighbors
It's possible you live in a place where this is not necessary, but if you're in an apartment building or the lots are snug in your neighborhood, or lots of cars will be parked in front of neighbors' houses, you'll be doing your neighbors—and yourself—a favor by letting them know in advance about your upcoming shindig.
Pick a theme
This won't cost you a dime to dream up, and it doesn't have to cost much to execute, either. The low-budget options are literally limitless. Some suggestions: a 90s theme/maritime/white party/ugly sweater party/football party (everyone wears their team's jersey)/tie-dye party (or its offshoot, a graffiti party, where everyone wears a white T-shirt and guests take turns "tagging" them with markers), concert-T party ("21 Pilots, Blurryface Tour, Dallas? I was there too!").
Develop a playlist that suits the occasion
Don't just wing it when it comes to music for your party. Take some time and sequence the right collection of tunes to set the mood.
Create a DIY photo booth
Pick up a large picture frame—yes, just the frame—or create one out of poster board, and caption it with a placard touting the date and the occasion. Guests pose within the frame and have an instant memento of the occasion. You can get as creative as you want, or can afford, with additional props.
Don't overdo it
This isn't technically planning advice, but it's a worthwhile party tip: don't be that guy or gal, the one who has one too many at their own party. It's not a good look.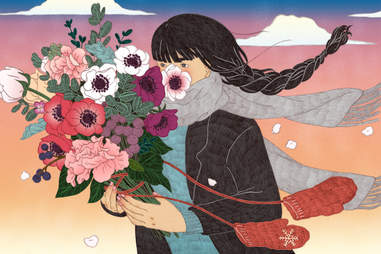 Jo Yeh
Go Big
Of course, elements of the economy-class checklist above also apply to a party that has a little budget to work with. You still want to cover the basics, like safe rides home for everyone, a guest list, and shopping lists, only now you can do it with extra flair. You can also add more items to your checklist, like these:
Hire a bartender
We have no doubt that your mixology skills are on point, but they don't hold a candle to your ability to work a room, right? You want to be out there hosting, mingling, meeting-and-greeting. A bartender is a good starting point for a next-level event: not too expensive, and well worth it for the quality they'll bring to the evening's cocktails.
Book catering services
Before you rail that we've blown your budget in just two checklist items, bear in mind that there are degrees of catering services available. They range from a drop-off, "to go" set up to a full-service package with a staff that roams your party doling out hors-d'oeuvres. Find the one that works for you.
Two words: Ice Sculpture
Your party needs an impressive centerpiece. You could ask your local florist to go nuts and surprise you with a signature seasonal floral arrangement, which would be awesome. You could opt for an impressive candles-and-glass-vase combo. But you—and your guests—will be surprised and amazed by what's possible with ice and the latest technology.
Cast a spell with your lighting
As mentioned, ambience cannot be underestimated, and the most underestimated element of ambience is lighting. Get creative. Pick up a few disco balls. Or hang Christmas lights from the ceiling to create a welcoming soft light. Partition the space with curtain lighting. For a summertime backyard party, go with tiki torches.
Rent out a venue
Setup, cleanup, and everything in between gets a lot easier if you can afford an outside venue to stage your event. But give yourself at least a month or two in advance to research, call, and book event spaces. Most venues will not be available to book on the day of your event (obv) so be sure to jump on this task way ahead of time.
Take the safe-rides concept next-level
Instead of providing the means to a safe ride home for everyone that needs it, with a few extra dollars to spend, why not provide the actual ride? You can book a car service to cover your party, or hire some responsible locals as designated drivers. Bonus tip: Spring for some extra smart phone chargers to ensure guests have the battery power to use their ridesharing apps if they go that route.
Rent a karaoke machine
Whether you're marveling at Irene the accountant crushing it with "Wrecking Ball," or Steve (not Perry) butchering "Don't Stop Believin'", karaoke is always a good time.
Bring in an actual photo booth
DIY is definitely fun, but if you have the option, a real photo booth, with all the bells and whistles, is an upgrade.
Hire a cleaning service
There's no scientific data on it, but we'd wager that the percentage of people who bail on the idea of hosting a party simply because of the huge cleanup job it will inevitably produce is extremely high. If you have the budget for it, go ahead leave what's pretty much the only downside to a party in the hands of professionals.
Drop the curtain gracefully
Here's another item that's not planning-related, exactly, but useful nonetheless: If you're worried about how to politely draw the night to a close, simply shut down the bar. The message will gradually circulate and your guests will understand the night is over—leaving you to retire and let that cleaning crew get to work.