If you happen to be at The Wayland at the exact right time, a magical lobster party might break out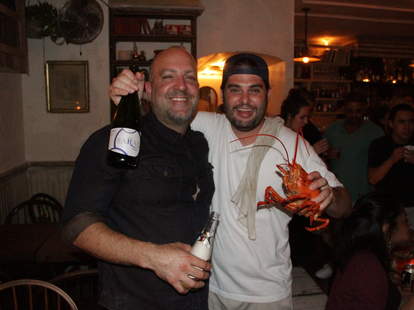 The Wayland just came up with a terrific idea: throwing parties with tons of free booze and food. Here's the catch: they're not telling anyone when they're going down.
Two weeks ago, the Avenue C cocktail mecca's kitchen man Pete Canny threw 12 lobsters in the back of his Saab in Maine, drove them back, and served the bounty to unsuspecting late-night guests and anyone following their Twitter feed.
Last week, he hauled nearly 30 pounds of crustaceans, then told the cocktail crews from Pouring Ribbons, Summit Bar, and Evelyn Drinkery to stop by at 2:30am Wednesday morning. With the long communal table shielded by heavy paper, they dumped out the lobsters, smashed 'em with a mallet that may or may not belong to Thor, and told everyone to attack.

The plan is to have a few more impromptu bashes before the end of the summer, including one featuring Naked Cowboy oysters in all manner of preparations. Those'll lead up to a slightly more-formal "harvest party" in the community garden across the street just before fall, for which other Alphabet City bars will create punches and other group-appropriate libations.

About 30 to 45 minutes or so beforehand, they'll put out a call on Twitter, but that's about it. "We don't want people to be planning their night around it -- we just want it to happen." Folks who lobster just happened to at last Tuesday's boil included a Midwestern couple who hit a Broadway show and voyaged to Ave. C for a drink on a family member's tip, and a guy who dropped in for a sandwich at 2am, then abandoned it on the bar once it was covered with giant hunks of lobster meat and cups of melted butter.

Below's a look at some of the action from last week's lobster extravaganza -- be sure to follow @TheWaylandNYC and be ready to sprint over there when the Bat-tweet goes out.