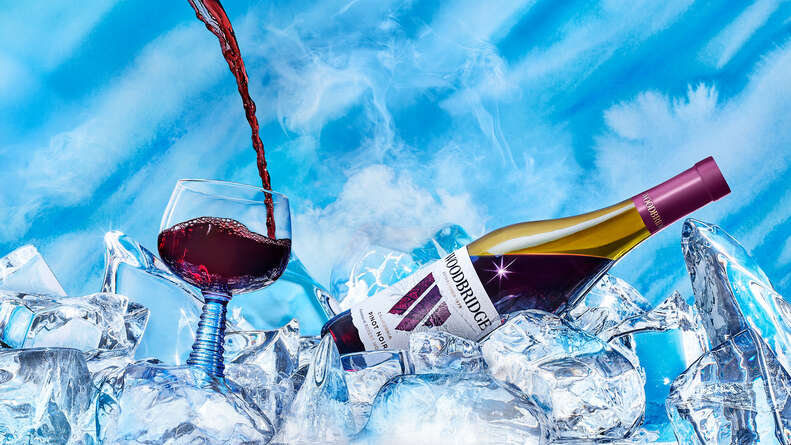 Advertiser Content From
We're Turning Up Our Noses at These Totally Breakable Wine 'Rules'
No shame in pouring yourself a Chardonnay with a steak.
Advertiser Content From
When did wine become so pretentious? From what's on the label to what glass you pour it in, there are just way too many "rules" when it comes to drinking wine. And, when something has so many rules, it's bound to turn away new enthusiasts who are trying to navigate the world of vino. We're calling B.S. That's why we talked to two experts from Woodbridge Wines about all the wine rules you should feel free to toss out the window. Go ahead, enjoy zero judgment when you pour your next glass.
B.S. Rule 1: Rosé is only for the summer
Unlike your flip flops, you don't have to put your rosé away once the weather gets a little cooler. While most people do reach for lighter wines when drinking outside or in warmer temperatures, that doesn't mean you have to switch to reds in the fall if that's not your bag. "The idea that you can't drink rosé or white in the fall or winter, it's just as arbitrary as you can't wear white after Labor Day," Eric Schultz, director of winemaking for Woodbridge Wines tells Thrillist. Woodbridge Rosé, for example, is made with Pinot Noir and Syrah grapes, giving it a little bit of full-bodied sweetness that allows it to complement the heavier food you'll typically serve in the colder seasons (think: Thanksgiving stuffing or spicy homemade ramen).
B.S. Rule 2: Red wines shouldn't be served cold
The thinking once was that red wines should be served at room temperature, while whites and sweeter wines could benefit from a slight chill. However, the average room temp is between 68 and 77 degrees — and that's just way too warm for your wine. As Schultz explains, warmer temperatures can actually make the taste of alcohol in your wine stand out more, and make it less sessionable. Conversely, some white varieties, like Woodbridge's Chardonnay or Sauvignon Blanc, actually get a little more complex when allowed to warm up just slightly. "With just a warmer glass of white wine, you're going to get more of that tropical fruit and that baked apple pie notes," he says. "All these aromas will pop a little." Oh, and when it comes to the controversial ice cube, Shultz says to do what tastes best to you. But if you're embarrassed about it (or just don't want to water down your wine), frozen fruit works just as well to cool things down.
B.S. Rule 3: Never drink white wine with beef
The pairing of a full-bodied red wine and a medium rare steak is a classic for a reason, but that doesn't mean it's the be-all and end-all — especially if the beef's got an acidic sauce or topping on it, like chimichurri. The saltiness and acidity will almost act as a palate cleanser, Shultz says, and a bottle like Woodbridge's Buttery Chardonnay will complement it. Conversely, lighter reds, like Pinot Noir, can be perfect with white fish or salmon, depending on how it's prepared.
B.S. Rule 4: Wine should be reserved for special occasions
Maybe it's the fancy glassware, maybe it's the implicit romance… but for some reason, many only reach for wine when they want to set the mood, and a fancy one at that. But, Simone Burke, senior brand manager for Woodbridge Wines, says this rule is made to be broken. "The right time to drink wine is whenever you want." she told us. "Over half of Americans (myself included) actually prefer drinking wine over beer when watching sports, but you rarely see that play out in sports bars or at tailgates because unchallenged 'wine rules' like this keep many of us from enjoying wine how we really want to." So, feel free to break out a bottle, even if it's just to watch the game.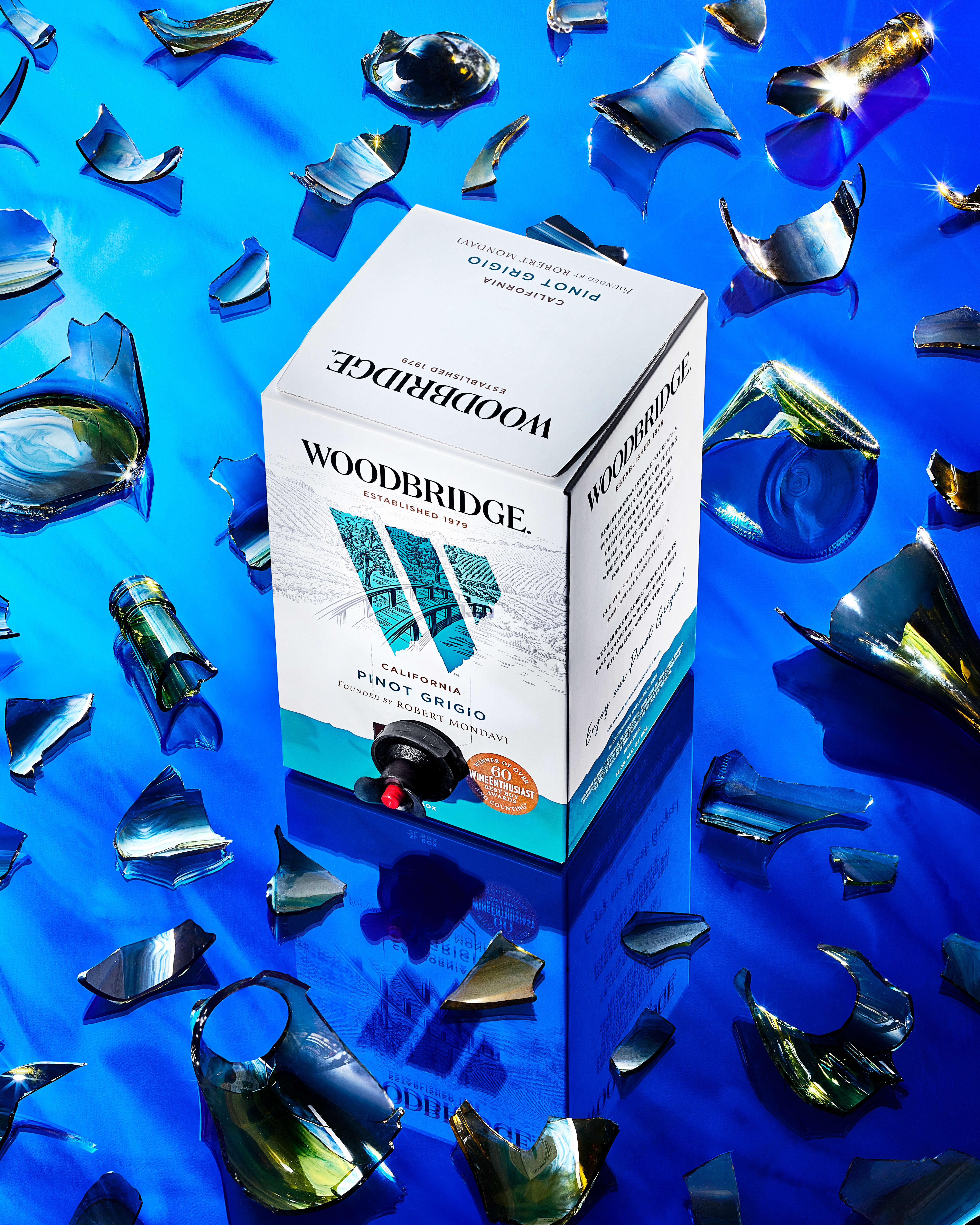 B.S. Rule 5: Quality wine only comes in a glass bottle
We're not quite sure why some folks turn their noses up at boxed wine, especially because of this one simple fact: An open glass bottle of wine only lasts about three days in the fridge. A box though? That can last you four to six weeks, because the wine remains vacuum-sealed in an airtight bag inside the box as you pour it out. On top of that, they are generally a better value, are the exact same product you'll find in a bottle, and you'll never have to worry about getting cork pieces in your wine glass. Plus, new tech in this space is making it more sustainable, too, which is why you're seeing more boxed beverages in general, like water and coconut water. (One 3-liter box of Woodbridge's wine is also the equivalent of four standard 750ml bottles, so they're perfect for a party, while the 500ml grab-and-gos are great for packing in your bag for a picnic or barbecue.)
B.S. Rule 6: Good wine shouldn't be mixed with anything
Just like a chef is only as good as their ingredients, a drink is only going to be as good as what you put into it. From Aperol spritzes to pitchers of sangria, all wine-based cocktails and mixed drinks will benefit from the inclusion of a wine you'd be content drinking on its own. That also goes for Woodbridge's new Wine Sodas, which combine the flavor, sweetness, and pop of lemon-lime, orange, and grapefruit sodas with crisp white wine into a new sessionable (and approachable) canned wine experience. So, don't be afraid to reach for the good stuff when mixing up a wine cocktail at home! And for those who never brunch without a mimosa, Woodbridge Wines' Sparkling Infusions infuse fruitful flavors right into the Sparkling Wine, so you can spend more time enjoying the weekend — and less time mixing drinks.
B.S. Rule 7: "Real" wine aficionados don't drink sweet wines
It's a myth that only inexperienced wine drinkers are more likely to pour a glass of sweet wine, especially because a whopping 47% of Americans actually prefer wine that is sweet. And if you also like sweet wines, there's absolutely nothing to be ashamed of. Varietals like Rieslings have rich winemaking traditions that helped put entire regions on the wine map, and fruit-flavored effervescent wines like Woodbridge's new Fruitful Blends are quickly becoming wine's next big thing with newbies and pros alike. Ultimately, you should be pouring whatever you damn well please into your glass anyway.
Art Credits
Photographer: Ian Shiver, Art Director: Meg Konigsburg, Prop Stylist: Beth Pakradooni, Food Stylist: Maggie Ruggiero, Retoucher: Zach Vitale, Associate Photo Producer: Hannah Lee